Pennsylvania electoral college voters sent books on courage and called thousands of times to change their vote
As all 20 electors voted for Mr Trump and Mike Pence, while protesters in the gallery called out 'Shame on you!'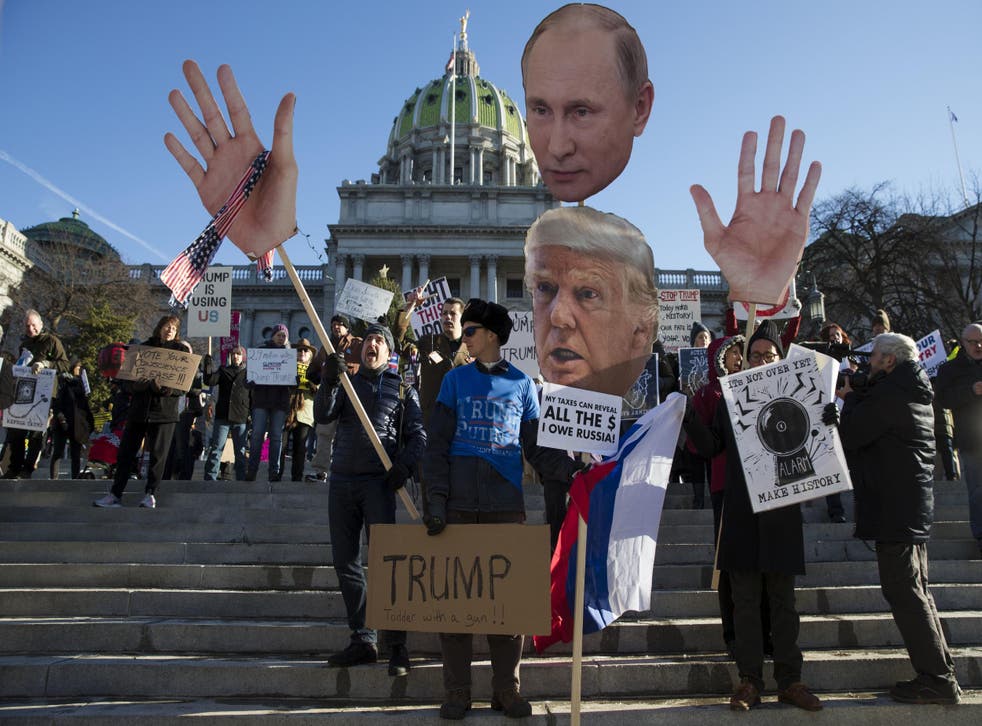 Members of the electoral college in Pennsylvania who are voting for Donald Trump have been sent thousands of calls, letters and emails, urging them to vote for anyone else.
The Keystone State has one of the highest number of electoral votes in the country – 20 – and was crucial in the path to Mr Trump's victory. All of them voted for Mr Trump on 19 December.
But Mr Trump's critics were determined to at least try and change the course of history.
As the Electoral College members headed to their State Capitol, they were accompanied by state police troopers in plainclothes and met with protesters.
According to the Post-Gazette, electors have been inundated with letters and calls for the last few weeks, as their contact details had been made public.
Elector Ash Khare said he was once called at 1am, and one woman phoned to say her husband had left the country. He was sent a copy of John F Kennedy's Profiles in Courage, which focused on eight senators whom Kennedy felt showed courage under enormous pressure from their parties and constituents.
Mr Khare said he also received a letter from a seven-year-old who was scared of Mr Trump.
Michael Moore calls for protests and civil disobedience to stop Donald Trump two days before Electoral College votes
But Mr Khare said he would not change his mind, despite acknowledging that the country was deeply divided.
Another elector, Richard Stewart, told the Post-Gazette that he had received more than 60,000 emails and hundreds of letters, describing the people behind them as "sincere but ill-informed and uneducated with respect to the process".
Elector Mary Barket said she had been sent federalist papers and urged to read them.
Electoral College voting: How the United States decides its president
At the voting ceremony on Monday, Robert Gleason, Pennsylvania Republican Party Chair, said the last time the state voted Republican was 1988, when the youngest state elector was four years old.
"I know what Donald Trump and Mike Pence will be working to make America great again, for everyone, and help shape the future of our country," he said. "For me the ceremony is the completion of a dream that is more than decade old."
The state's Democratic governor, Tom Wolf, also made a speech, thanking electors for their role and telling them to "savour their walk to the ballot box".
"We don't need armies, uprising or violence to change our country's leadership. All we need is 538 people in rooms like this all around the country," he said.
In Pennsylvania, electors are required to write down their vote as opposed to saying it outloud. As the electors filed to the front of the room and cast their ballot, four voices of protest could be heard - "vote your conscience!" - from the gallery.
Millions of people signed multiple petitions to scrap or reform the electoral college, which saw Mr Trump win the election despite Hillary Clinton gaining at least 2.8 million more votes.
A small group of so-called faithless electors around the US have vowed to break ranks with their promise to vote for the winning candidate in their state, yet most of them are democrats and pledged to vote for Ms Clinton.
The Pennsylvania voting ceremony went without a hitch, despite protesters outside the building. When Mr Trump was announced as the president, the electors clapped loudly, then protesters called out from the gallery: "Shame on you!" and "He's not our president!"
It turned out the electors were determined not to change their minds after all. All 20 electors voted for Mr Trump and vice president Mike Pence.
The electoral college votes will not be made official until 6 January when they are tallied by US Congress. Mr Trump will then be inaugurated on 20 January.
Join our new commenting forum
Join thought-provoking conversations, follow other Independent readers and see their replies