Pentagon warns against Syria intervention which could cost US '$1bn a month'
Warning comes as the US and Britain concede that Assad could remain in power for a long while, albeit controlling only a portion of his country
Rupert Cornwell
Tuesday 23 July 2013 22:44 Comments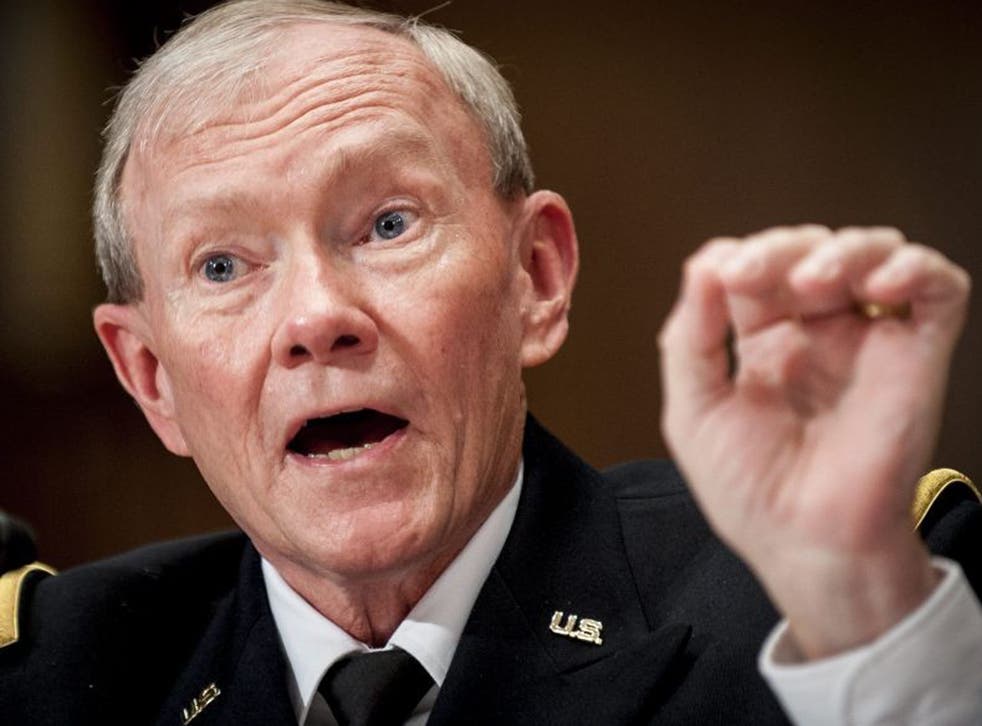 The Pentagon's top uniformed official has given one of the clearest signals yet of the reluctance of the Obama administration to intervene militarily in the Syrian civil war, warning that to do so would cost billions of dollars annually and possibly backfire against US interests.
In a letter to the Senate Armed Committee, General Martin Dempsey, chairman of the Joint Chiefs of Staff, set out five options, ranging from training and arming the opposition to establishing buffer zones or or a no-fly zone and direct strikes against regime targets. The pricetag would vary from $500m a year to $1bn a month, as well as thousands of troops.
His warning came as the US and allies including Britain have begun to concede that after his recent successes on the battlefield, President Bashar al-Assad could remain in power for a long while, albeit controlling only a portion of his country.
Thus far, after considerable delay and pressure from some on Capitol Hill for more robust action, Mr Obama has approved shipments of only light arms and ammunition in a CIA covert operation, using funds from the agency's existing budget. That move was endorsed last week by the House and Senate Intelligence committees. The shipments are expected to start soon, analysts here say.
Anything more, Gen. Dempsey warned in his letter, could have "unintended consequences" for Washington – not least an implosion of the regime that could open the door to extremists, or "unleash the very chemical weapons we seek to control." The direct use of force could moreover damage US combat readiness elsewhere.
Nor did the letter even mention broader non-military obstacles to intervention, including Russia's steadfast opposition at the United Nations to more forceful action, and polls here which show that after Iraq and Afghanistan, a majority of Americans are against another US war in the Middle East, and all that it might involve.
Gen Dempsey left no doubt that those misgivings are shared by the military brass. "We have learned from the past 10 years," he wrote, "that it is not enough to simply alter the balance of military power without careful consideration of what is necessary in order to preserve a functioning state." The decision to use force "is not one that any of us takes lightly. It is no less than an act of war," he added.
In two years of civil war, over 90,000 people have died, while 1.7m have been made refugees. Syria's population is around 23m.
Register for free to continue reading
Registration is a free and easy way to support our truly independent journalism
By registering, you will also enjoy limited access to Premium articles, exclusive newsletters, commenting, and virtual events with our leading journalists
Already have an account? sign in
Join our new commenting forum
Join thought-provoking conversations, follow other Independent readers and see their replies