Peru prison riot over coronavirus fears leaves nine dead
Inmates shot during clash with authorities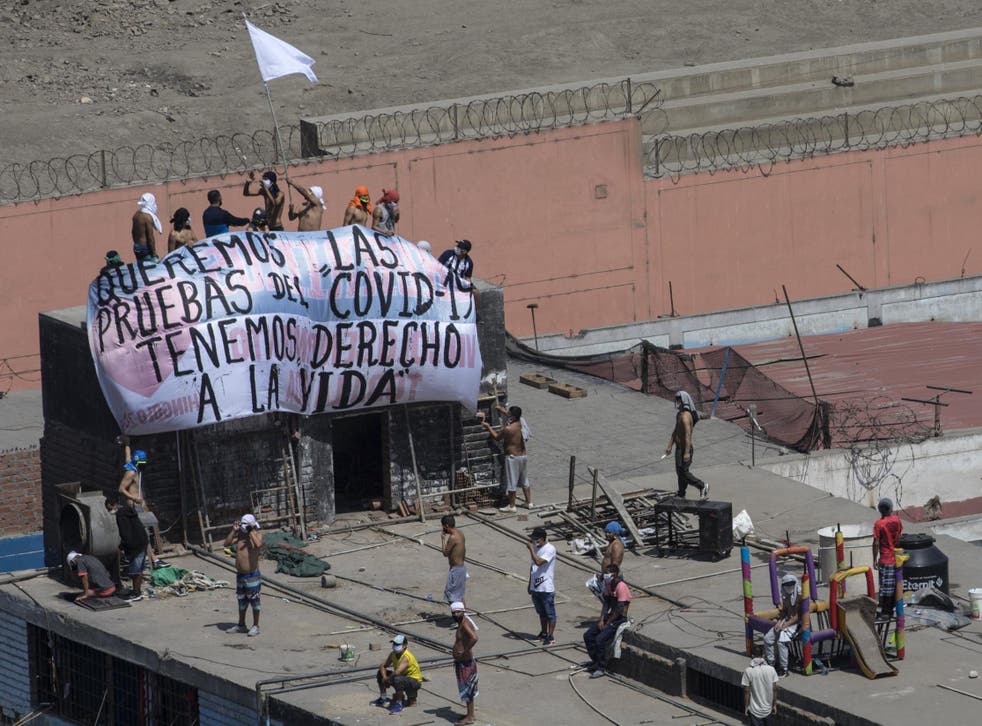 Nine prisoners have been killed during a prison riot in Peru over demands for better living conditions after several inmates died from the coronavirus.
The inmates were shot during a clash with authorities at the Miguel Castro Castro prison in Lima on Monday, the Associated Press reported.
An investigation has been launched into who fired the deadly shots.
Protesting inmates managed to "climb to the roofs with the aim of preventing access by (security forces) by throwing stones and other blunt objects at them," the National Penitentiary Institute (INPE) said in a statement.
They attempted to escape but were not successful, the INPE added. Around 200 security officials managed to get the riot under control later in the day.
Pictures showed hundreds of inmates gathering around the bodies of two of the dead in a common space of the prison late on Monday afternoon.
Another showed a large sign made from black cloth with white letters reading: "We want Covid-19 tests, we have the right to life."
The prisoners, who rioted over demands for better sanitary measures and medical care amid the coronavirus crisis, also called for pardons.
At least 13 prisoners have died and more than 600 have been infected by Covid-19 in Peru. Over 100 prison workers have also fallen ill.
Last week, the Latin American country approved a decree allowing its president, Martin Vizcarra, to grant humanitarian pardons to prisoners to prevent the spread of coronavirus in the country's jails, which are at more than double capacity.
Peru has nearly 30,000 confirmed Covid-19 cases, the second highest in the region, following Brazil. The health ministry says 782 have died.
Register for free to continue reading
Registration is a free and easy way to support our truly independent journalism
By registering, you will also enjoy limited access to Premium articles, exclusive newsletters, commenting, and virtual events with our leading journalists
Already have an account? sign in
Register for free to continue reading
Registration is a free and easy way to support our truly independent journalism
By registering, you will also enjoy limited access to Premium articles, exclusive newsletters, commenting, and virtual events with our leading journalists
Already have an account? sign in
Join our new commenting forum
Join thought-provoking conversations, follow other Independent readers and see their replies