Philadelphia rail crash: Why do Amtrak trains derail with such frequency?
There were two derailments in 2012, three in 2013, six in 2014, and there have been nine already this year so far
Justin Moyer
Wednesday 13 May 2015 10:03 Comments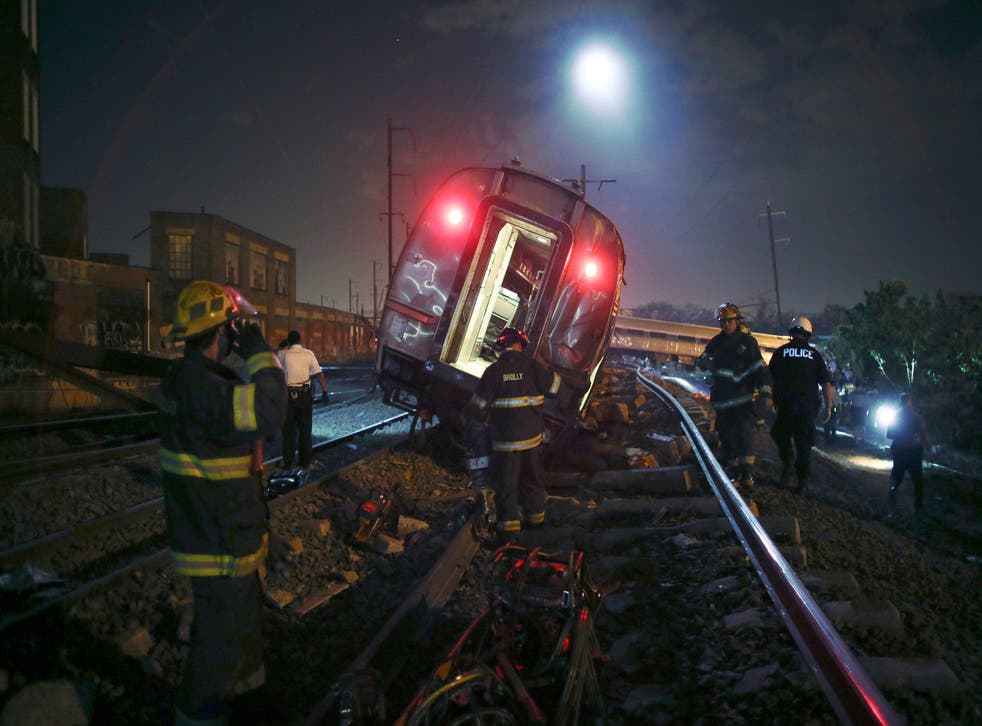 "Most derailments are relatively benign, and can be compared to a person walking down the street, tripping, getting back up, and continuing on her or his way," University of North Dakota mechanical engineering professor George Bibel wrote in Train Wreck: The Forensics of Rail Disasters in 2012. "… Yet derailments have been responsible for some of the greatest train wrecks ever."
In Philadelphia, it seems Amtrak is facing one of its most serious wrecks in recent years. As a swarm of flashlights and floodlights swept the scene of an Amtrak derailment in Philadelphia, the spectacle was horrific. A train car rolled on to its side. Emergency responders uncovering bodies. A survivor covered in grime sipping from a bottle of water in a daze. Just before midnight, officials announced a toll: five dead, dozens injured.
Amtrak derailments have been increasing in recent years, according to the Federal Railroad Administration's office of safety analysis. There were two in 2012, three in 2013, six in 2014, and there have been nine already this year so far. An Amtrak train derailed in North Carolina in March. An Amtrak train derailed in Massachusetts last June. An Amtrak train derailed in South Carolina the year before that.
In pictures: Amtrak Philadelphia train crash

Show all 15
Why do Amtrak trails derail with such frequency? While the cause of the most recent derailment was still undetermined, the answer has a lot to do with America's crumbling transportation infrastructure, and a little to do with freak accidents.
The United States's disinterest in funding rail transportation is long-lamented. Amtrak, a for-profit corporation subsidized by the federal government that doesn't turn a profit with no dedicated funding stream, is a Republican punching bag — the subject of a perennial struggle for funding each year on Capitol Hill.
"The problem that you have — and you've had it since 1976 and even before — is that there's never been an investment program that would bring the infrastructure up where it belongs on existing capacity," Amtrak President and chief executive Joseph Boardman told the Atlantic last year. "There isn't even an understanding about the need to increase capacity in order to continue to increase the GDP in this nation. Not only on the Northeast Corridor but all over the country."
Amtrak was faced with mechanical problems almost immediately. It opened for business in May of 1971. A month later, it was counting bodies.
"Amtrak train No. 1, a southbound passenger train operating on the tracks of the Illinois Central Railroad between Chicago, Illinois, and New Orleans, Louisiana, derailed near Salem, Illinois, on June 10, 1971," the National Transportation Safety Board reported. "Two locomotive units and the first seven cars were turned over on their sides. The derailment resulted in 11 fatalities and 163 injuries."
The cause of what was called "the first major accident under the Amtrak system": a mechanical failure in a wheel. Tighter safety regulations were recommended. Yet, though the number of all train derailments — not just Amtrak's — have fallen since 1980, they continue, and most are caused by such problems.
"Derailments are usually caused by equipment failures," Bibel wrote. "Broken, settled, spread, shifted, or overturned rails account for about 50% of the equipment related derailments."
But though one can always try to blame the train or the track, there are also the people operating them — people who can't always control the surrounding environment.
"Poor train handling, incorrectly set track switches, unsecured cars on a hill, shifted loads, vandalism, or obstructions on the track are among the human causes of derailments," Bibel wrote. "Derailments can also be caused by flash floods, avalanches, rock slides, and high winds."
Perhaps the worst Amtrak derailment for which Amtrak couldn't be blamed came on Sept. 23, 1993. More than 40 people died in Alabama when a train "hurtled off a 12-foot-high trestle into a bayou and caught fire, trapping sleeping passengers in black water up to 30 feet deep," as the New York Times put it. What's known as Big Bayou Canot train wreck is still the deadliest crash in Amtrak's history.
"We were throwing sheets and blankets out of the cars that were still on the track to the people who were wet from being in the water," a survivor told the paper. "Some people were hysterical. There were a lot of old people on the train."
The cause of the crash was human error, not Amtrak's. The wreck came less than 10 minutes after a river barge hit the trestle, displacing the track. The NTSB blamed, among other causes, reduced visibility and "the pilot's lack of radar navigation competency."
Amtrak, of course, can't be held responsible for acts of god, rail-jumpers or people who park houses on train tracks. But it will have to find a way out of its endless fiscal crisis if it is to survive and thrive.
"There was no question that it would probably not pay for itself," Anthony Haswell, who lobbied for the creation of Amtrak, told the National Journal. "But the Nixon administration and other conservatives thought that once it was demonstrated that it wouldn't pay for itself, it would be abolished."
Copyright Washington Post
Register for free to continue reading
Registration is a free and easy way to support our truly independent journalism
By registering, you will also enjoy limited access to Premium articles, exclusive newsletters, commenting, and virtual events with our leading journalists
Already have an account? sign in
Join our new commenting forum
Join thought-provoking conversations, follow other Independent readers and see their replies