Philip Chism: CCTV image shows Danver High School murder and rape accused pushing wheelie bin 'containing dead teacher Colleen Ritzer's body'
Prosecuters say the teenager followed the 24-year-old teacher into the girls' toilets before raping her and slitting her throat with a box cutter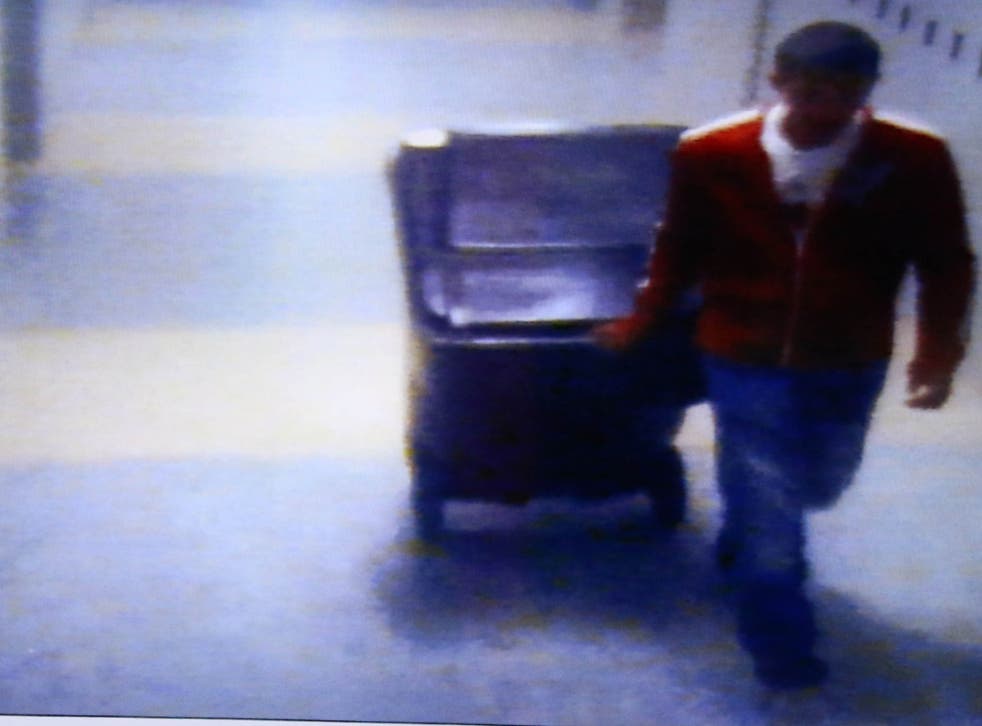 The teenager accused of raping and murdering his maths teacher was captured on school security cameras pushing a recycling bin that prosecutors say he used to dispose of her body.
Philip Chism, 16, is accused of following Colleen Ritzer, 24, into the girls' toilets at Danver's High School and raping her before sliting her throat with a box cutter.
Video played to Salem Superior Court shows the then-14-year-old walking through school with the bin, which prosecutors say he used to take her corpse to the woods behind the school where he dumped it.
Security camera footage previously played to the court showed Chism, wearing a hooded jacket, appearing to bow his head and cover his face while walking in the corridor.
He can be seen following Ms Ritzer into the toilets and putting on a pair of white gloves.
In the new images shown to the court, he is seen standing outside the toilets with no shoes on and what prosecutors say is blood on his hands and jeans.
At 3.23pm on the day of the murder in October 2013, prosecutors say he left the Massachusetts school to retrieve the recycling bin.
Footage then shows him wearing a black sweatshirt, black shorts and blue trainers after, prosecutors say, he changed in the toilets on the third floor of the school.
He can then be seen taking the recycling bin into the toilets and coming out again with a balaclava over his face.
Kevin Hebet, one of Chism's friends testified that he saw the accused outside the school later that afternoon and had a normal conversation with him, which was also caught on camera.
Chism also went to the AMC Theater to watch Gravity after the alleged murder and used Ms Ritzer's credit card to pay, according to the receipt, security footage and testimony by the cinema's general manager.
It comes after the court was shown a stick that Chism allegedly used in the attack on his victim. Jurors heard the three-foot tree branch was still inside the corpse when Ms Ritzer's body was found in a shallow grave.
A hand-written note was also found next to the makeshift grave, which read "I hate you all", along with Mr Chism's identification card 10 feet away from the body.
Chism's attorney, Denise Regan, claimed he "was severely mentally ill" and had been "suffering from a psychiatric disorder since the age of 10".
The prosecutor Kate Macdougall said in her opening statement: "When a 14 year-old Philip Chism arrived at Danvers High School, he had in his possession a blue sweatshirt with a hood, gloves, a mask, a box cutter, and a terrible purpose", CNN reported.
Chism is claimed to have become upset when Ms Ritzer began talking about his home state of Tennessee, after she had asked him to stay behind class on the day she died. His parents were also said to be going through a difficult divorce.
He is being charged as an adult and has pleaded not guilty to murder, aggravated rape and robbery charges.
The trial will resume on November 30.