Giant wall of 'apocalyptic' dust engulfs Phoenix, Arizona
The 'haboob' was formed as strong winds churned up dust following a thunderstorm
Charlotte Beale
Saturday 04 August 2018 19:06 Comments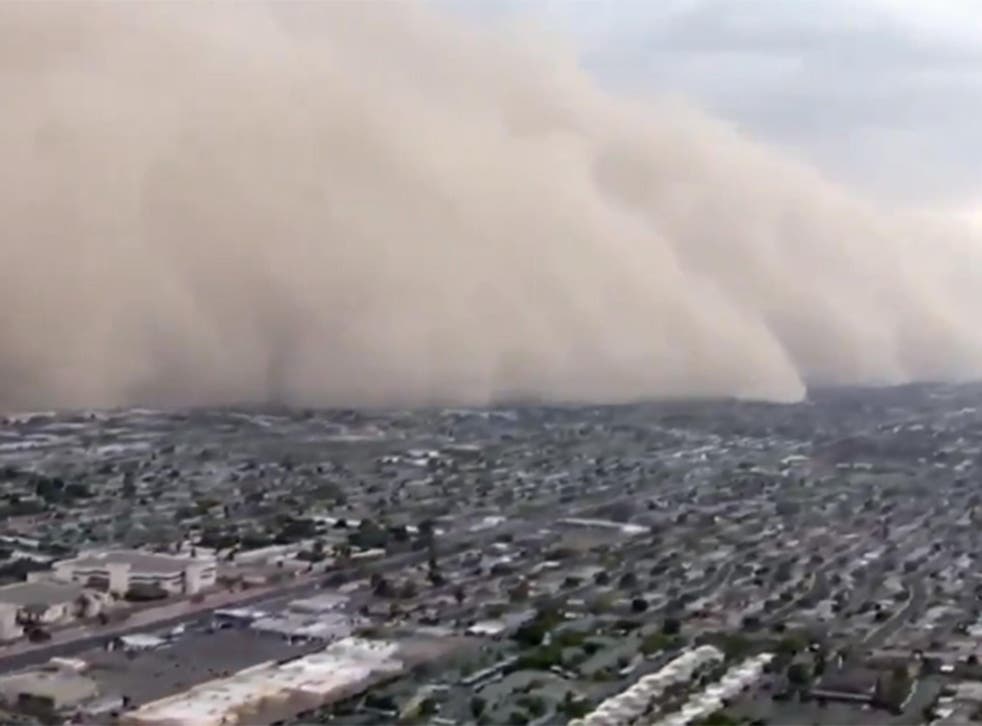 A towering "apocalyptic" wall of dust has engulfed Arizona city of Phoenix.
Known as a haboob, the cloud was almost a mile high and 230ft wide as it swept in from the desert, leading to near-zero visibility, flight delays and treacherous on the roads.
The National Weather Service Phoenix issued storm warnings and advised people against "dangerous life-threatening travel".
Haboob is the Arabic term for a giant dust storm. They form as winds rush out behind thunderstorms, whipping up dust. Some travel hundreds of miles.
Social media users posted images of the looming dust cloud, which caused dusk-like conditions during the day, blocking out the sun's natural light.
Monsoon season in southwestern America typically runs from mid-June to September. Daily downpours are common. Towards the end of last month, thunderstorms caused more than 120,000 people to lose power, electrical utilities companies said.
Winds of up to 70mph were recorded, tearing up trees and blowing the roof off an apartment building in Glendale.
The latest haboob is the third this year - the same number the region typically sees during the whole season.
Arizona has been suffering from severe to extreme drought, which is thought to be one cause of this year's high number of dust storms.
Usually, monsoon rains dampen the dust and prevent haboobs, but some parts of the state are still very dry.
World news in pictures

Show all 50
Haboobs that travel south to north are likely to be the most intense, meteorologist Ian Schwartz told The Washington Post, as they cover big swathes of farmland, picking up more dust.
"The prime haboob zones... need about five to eight inches of monsoon rain to reduce drought to moderate levels over the next two months," Mr Schwartz said.
Other areas, including Mayer in north-central Arizona, have endured flash floods as results of heavy rain.
The town received two inches of water over a very short period, causing some areas to be evacuated.
Register for free to continue reading
Registration is a free and easy way to support our truly independent journalism
By registering, you will also enjoy limited access to Premium articles, exclusive newsletters, commenting, and virtual events with our leading journalists
Already have an account? sign in
Join our new commenting forum
Join thought-provoking conversations, follow other Independent readers and see their replies