Phoenix mayor Greg Stanton asks Donald Trump to delay rally due to Charlottesville violence
'I am disappointed that President Trump has chosen to hold a campaign rally as our nation is still healing from the tragic events,' says mayor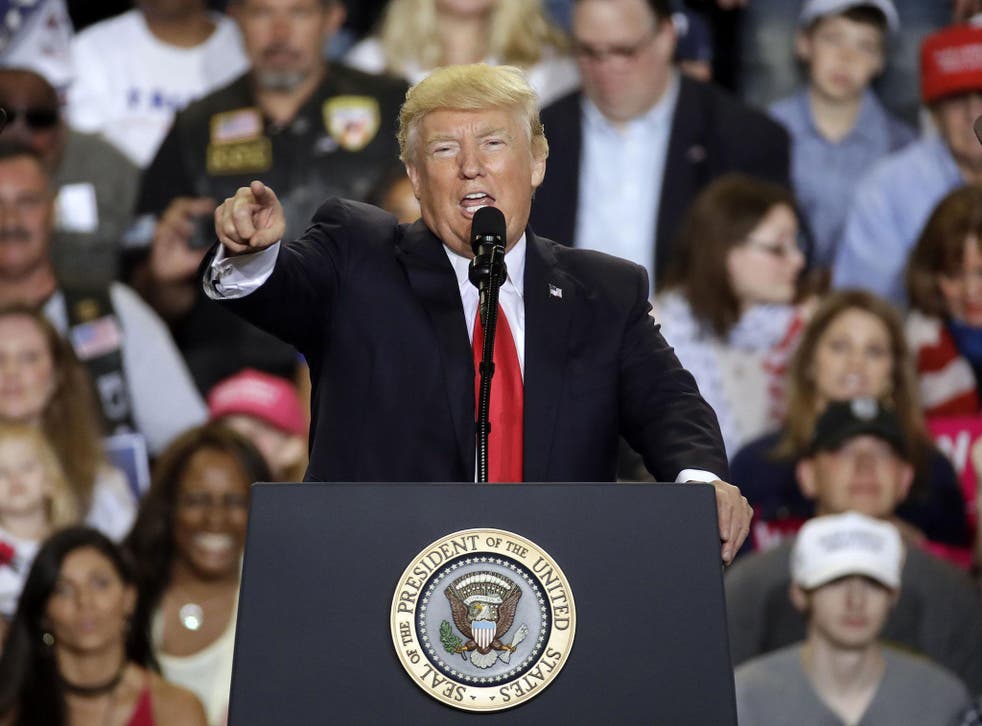 The mayor of Phoenix has said he is "disappointed" Donald Trump plans to hold a rally in his city in the wake of Charlottesville violence and urged the US President to delay the event.
President Trump is planning one of his signature campaign style rallies in Arizona next week despite America being in a state of national turmoil over the three people killed at a white supremacist rally over the weekend.
In a statement on Wednesday night Mayor Greg Stanton said: "I am disappointed that President Trump has chosen to hold a campaign rally as our nation is still healing from the tragic events in Charlottesville".
The Democrat said he was concentrating his energies on ensuring the event ran safely and smoothly for attendees and protesters, saying: "My focus and that of the Phoenix Police Department is on keeping everyone – those attending the rally, those expressing their First Amendment rights outside and the general public – safe."
President Trump's rallies, which he started hosting over two years ago and became notorious for during the presidential campaign, have turned violent in the past, with clashes breaking out between Trump supporters and anti-Trump protesters. The billionaire property tycoon has also been accused of inciting violence against the demonstrators who attend his rallies on a number of occasions.
At a campaign rally last year he recounted an event where a protester tried to storm the stage, saying he would have fought the person if they had reached the lectern, miming punching him and mouthing: "I'll beat the crap out of you".
During the statement, Mr Stanton also warned President Trump against potential plans to pardon former Maricopa County Sheriff Joe Arpaio who was found guilty last month of refusing to follow a judge's order barring him from racially profiling Latinos. Mr Trump earlier this week said he was seriously considering pardoning the controversial sheriff who is known for his hardline position on immigration.
He said: "If President Trump is coming to Phoenix to announce a pardon for former Sheriff Joe Arpaio, then it will be clear that his true intent is to inflame tensions and further divide our nation".
Violence on the streets of Charlottesville

Show all 9
Neo-Nazis, KKK members, "alt-right" activists and others assembled in Charlottesville to protest the removal of a Confederate statue over the weekend. Scores were left injured and one killed after a car ploughed into a crowd of anti-fascist protesters. Two policemen also died in a helicopter crash while trying to reinstate peace to the area.
Mr Trump has prompted fury and consternation from across the political spectrum for his response to the ugly clashes between white supremacists and anti-fascists. After initially blaming the casualties on "violence on both sides", the President succumbed to fierce criticism and political pressure and explicitly denounced the actions of white nationalists.
Nevertheless, just a day later he doubled down on his initial comments and drew a moral equivalence between white supremacists and anti-fascists, saying counter-protesters were as violent as the KKK and neo-Nazi protesters and the "alt-right" groups included some "very fine" people.
Donald Trump blames both sides for Charlottesville violence
Addressing reporters during a rowdy press conference in the lobby of Trump Tower, he said: "I'm not putting anybody on a moral plane. You had a group on one side and group on the other and they came at each other with clubs – there is another side, you can call them the left, that came violently attacking the other group. You had people that were very fine people on both sides."
He added: "Not all those people were neo-Nazis, not all those people were white supremacists. Many of those people were there to protest the taking down of the statue of Robert E Lee. So this week, it is Robert E Lee. I noticed that Stonewall Jackson is coming down. I wonder, is it George Washington next week? And is it Thomas Jefferson the week after? You know, you really do have to ask yourself, where does it stop?"
Register for free to continue reading
Registration is a free and easy way to support our truly independent journalism
By registering, you will also enjoy limited access to Premium articles, exclusive newsletters, commenting, and virtual events with our leading journalists
Already have an account? sign in
Register for free to continue reading
Registration is a free and easy way to support our truly independent journalism
By registering, you will also enjoy limited access to Premium articles, exclusive newsletters, commenting, and virtual events with our leading journalists
Already have an account? sign in
Join our new commenting forum
Join thought-provoking conversations, follow other Independent readers and see their replies