Planned Parenthood clinics defiantly remain open after fatal Colorado shooting
Three people - one of them a police officer - was killed in the six-hour attack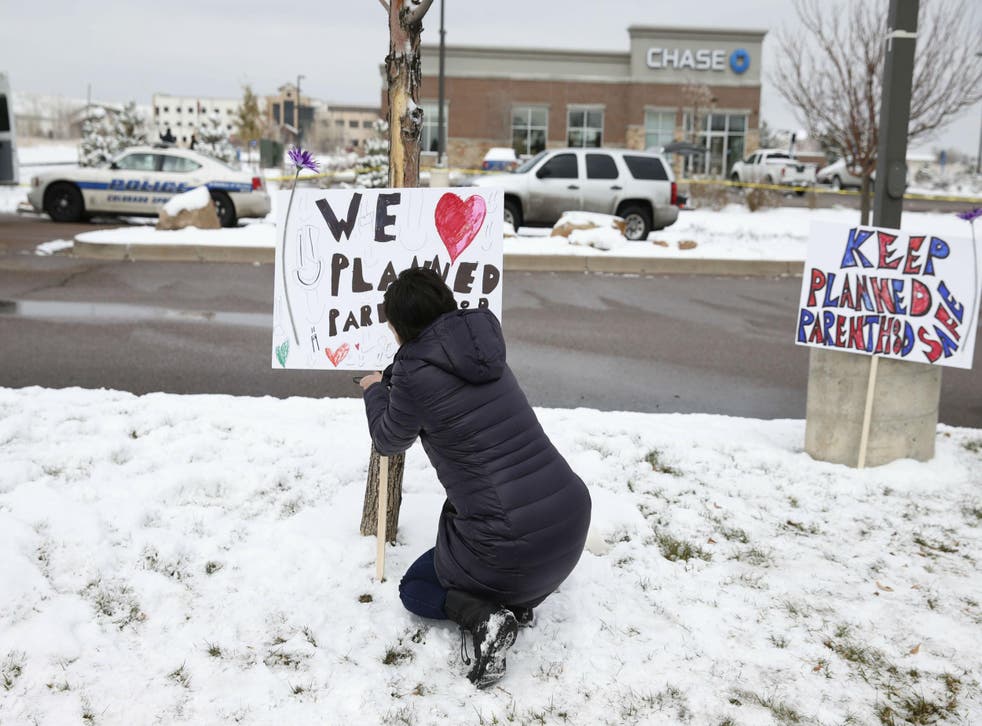 The head of Planned Parenthood, the healthcare provider that was attacked by a gunman in Colorado Springs, has revealed its clinics remained open over the weekend and that "thousands of women" were able to make use of them.
Cecile Richards, the president of Planned Parenthood, also condemned what she termed the intimidation and rhetoric leveled at the providers of healthcare and abortion services.
"There has been an escalation of the intimidation aimed at Planned Parenthood and other groups," she told NPR. "Since 2010, there has been a doubling of such incidents."
Three people were killed after a gunman opened fire during a six-hour assault on the Planned Parenthood offices in Colorado Springs on Friday night. Reports said that when he was detained, suspect Robert Dear talked of "no more baby parts"
His reported comments appeared to refer to video footage released this summer by anti-abortion activists they claimed showed Planned Parenthood personnel negotiating the sale of fetal organs. Planned Parenthood has denied seeking any payments beyond legally permitted reimbursement costs for donating the organs to researchers.
Police have declined to comment publicly on the motivation for the attack on the clinic. Mr Dear is due to be brought before a court later on Monday.
Asked whether she believed the release of the video - widely considered to have been heavily edited - may have contributed to the attack, Ms Richards said it was important to remember that words can have "real impact".
At the weekend, several of the Republican presidential candidates sought to dismiss suggestions that conservative criticisms of Planned Parenthood might have played a role in the attack.
Senator Ted Cruz, who has called for an end to federal funding of Planned Parenthood, said such suggestions was part of a "vicious rhetoric on the left, blaming those who are pro-life".
Speaking to reporters in Iowa, Mr Cruz said: "We don't fully know the motivations of this deranged individual."
When he was told of Mr Dear's reported comments, Mr Cruz said: "It's also been reported that he was registered as an independent and a woman and a transgendered leftist activist."
Another candidate, Carly Fiorina said that attempts to link Friday's Planned Parenthood shooting with anti-abortion comments were "typical left-wing tactics."
Over the weekend, the details of the three people who lost their lives emerged.
John Ah-King told The Denver Post that his daughter, 36-year-old Jennifer Markovsky, was one of three people killed. Ke'Arre Stewart, 29, a father of two, was also killed. The third victim was 44-year-old University of Colorado police officer Garrett Swasey.
There are roughly one million US abortions yearly. In its most recent annual report, Planned Parenthood said it performed 328,000 of them.
But the group said that abortions account for three per cent of the 10.9m services its provides in nearly 700 clinics. It also provides tests and treatments for sexually transmitted diseases, pregnancy tests and cancer tests and treatment.
Join our new commenting forum
Join thought-provoking conversations, follow other Independent readers and see their replies