Poignant last picture of bride-to-be en route to hen party moments before she died in car crash
Collette Moreno, 26, was travelling in a car driven by her friend when it was struck by an oncoming vehicle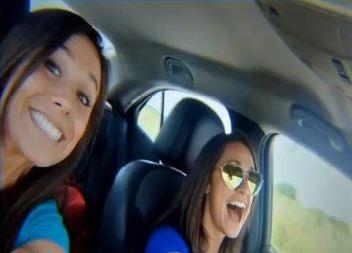 A bride-to-be on the way to her hen party died when the car she was travelling clipped an oncoming vehicle.
Eight minutes before the crash on Friday afternoon, 26-year-old Collette Moreno had taken a happy-go-lucky selfie of both her and best friend driver Ashley Theobald.
The two were excitedly travelling to the Lake of the Ozarks, a lake resort in Missouri, when Ms Theobald, who survived, said that she had tried to overtake the truck in front.
"[Collette] had bad asthma and there was a truck in front of us that was releasing a lot of exhaust," Ms Theobald, also 26, told KCTV5. "She started coughing."
In attempt to prevent her friend from having an attack from the fumes, Ms Theobald tried to pass the truck but found herself bounding towards a Dodge Ram pickup on the other side.
"We both thought it was clear and there was a hill that neither one of us saw," she said.
Despite both cars swerving to avoid a head-on crash, the 1999 Dodge hit the passenger side of Ms Theobald's Chevy Malibu and both spun off the road and crashed.
Both women were wearing seatbelts. The 25-year-old driver of the Dodge was also wearing a seatbelt and did not suffer serious injuries.
Ms Theobald, who suffered minor injuries, will not face criminal charges but will face traffic charges related to careless and imprudent driving.
A report by the Missouri State Highway Patrol states that both cars were totalled.
Moreno leaves behind her fiancé, Jesse Arcobasso, and a five-year-old son, Braden. The engaged couple were due to get married next month.
A fund has been set up for the family on crowdfunding website YouCaring, which has garnered $11,700 in donations so far.
Join our commenting forum
Join thought-provoking conversations, follow other Independent readers and see their replies