Vester Flanagan: Everything we know about gunman who killed two WDBJ journalists on air
The suspect was also known as Bryce Williams
Justin Carissimo
Thursday 27 August 2015 10:18 Comments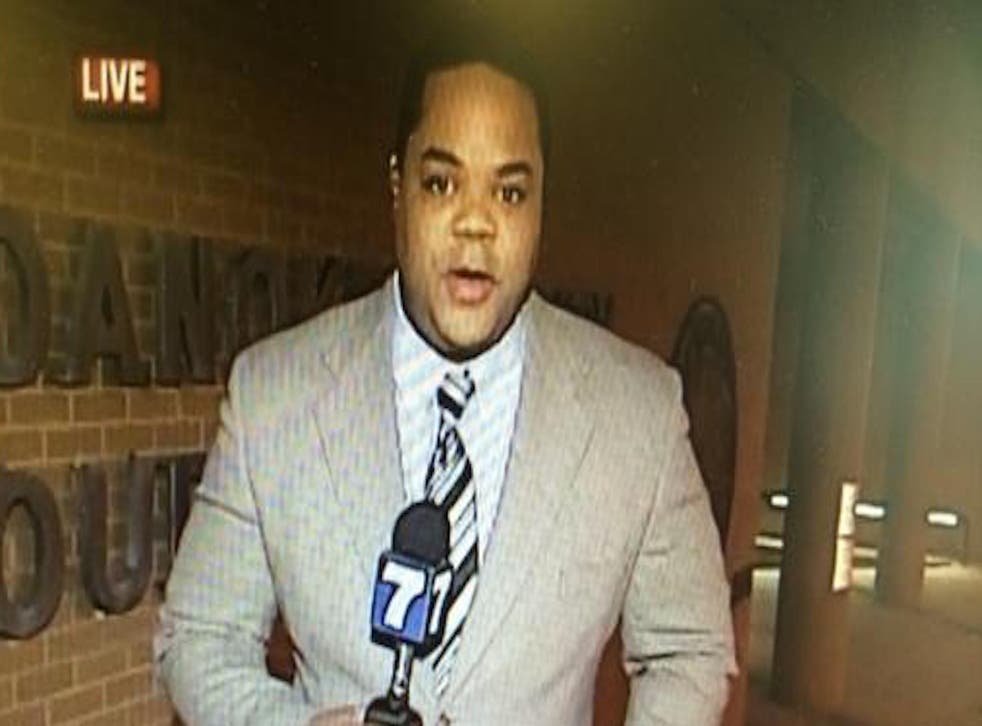 A former WDBJ employee suspected in killing two journalists on-air Wednesday morning has died from a gunshot wound after shooting himself.
Authorities have identified the suspect as 41-year-old Vester Lee Flanagan II, of Roanoke, Virginia. The suspect also goes by his on-air name Bryce Williams.
Mr Flanagan worked as a WDBJ multimedia journalist between 2012 and 2013.
ABC News received a lengthy 23 page fax they believe is a manifesto from the suspect. ABC News reports that they have turned it over to authorities.
The outlet later reported that the manifesto said the shooting was triggered by the Charleston massacre of nine black parishioners.
"Why did I do it? I put down a deposit for a gun on 6/19/15. The Church shooting in Charleston happened on 6/17/15," he wrote. "What sent me over the top was the church shooting. And my hollow point bullets have the victims' initials on them."
"As for Dylann Roof? You (deleted)! You want a race war (deleted)? BRING IT THEN YOU WHITE …(deleted)," he continued.
Virgina Governor Terry McCollough said Mr Flanagan was a "disgruntled employee." One report suggests he may have taken legal action against an NBC affiliate accusing them of racism.
According to his LinkedIn page, the suspect attended San Francisco State University where he earned his Bachelor's Degree in Broadcast Journalism.
In 2000, Mr Flanagan filed a discrimination lawsuit against WTWC-TV, an NBC affiliate in Florida, where he alleged that he and another black coworker were called "monkeys" by a producer who also said "blacks are lazy and do not take advantage of free money" from scholarships and other economic opportunities, the Tallahassee Democrat reported.
The suspect allegedly posted comments regarding the shooting as well as two videos of the shooting to his Facebook and Twitter accounts. Both accounts, including his LinkedIn profile, have since been suspended.
"Alison [Parker] made racist comments," one post read. Another claimed that he had filed a report with the Equal Employment Opportunity Commission against WBDJ after his firing.
Jeffrey A Marks, the station's general manager, told CNN that the suspect was hired as a reporter and fired nearly two years ago. Mr Marks also confirmed that Mr Flanagan filed a complaint with the EEOC against the station after he was terminated.
"He was sort of looking out for people to say things that he could take offense to," he recalled on-air Wednesday. "And eventually, after many incidents of his anger coming to the fore, we dismissed him. And he did not take that well. We had to call the police to escort him from the building."
"Since then, well, he then fired an action with the Equal Employment Opportunity Commission, in which he made all kinds of complaints. And there may have been one about Alison and/or Adam – I frankly don't remember – but about members of the staff making racial comments. He was African American. And none of them could be corroborated by anyone. We think they were fabricated."
Register for free to continue reading
Registration is a free and easy way to support our truly independent journalism
By registering, you will also enjoy limited access to Premium articles, exclusive newsletters, commenting, and virtual events with our leading journalists
Already have an account? sign in
Join our new commenting forum
Join thought-provoking conversations, follow other Independent readers and see their replies