Police shoot carrier pigeon dead as it flies drugs into jail in 'backpack'
Officers in La Pampa, Argentina, downed the bird and found 7.5 grams of cannabis as well as 44 pills of the sedative Rivotril and a USB stick in a tiny pouch attached to its feathers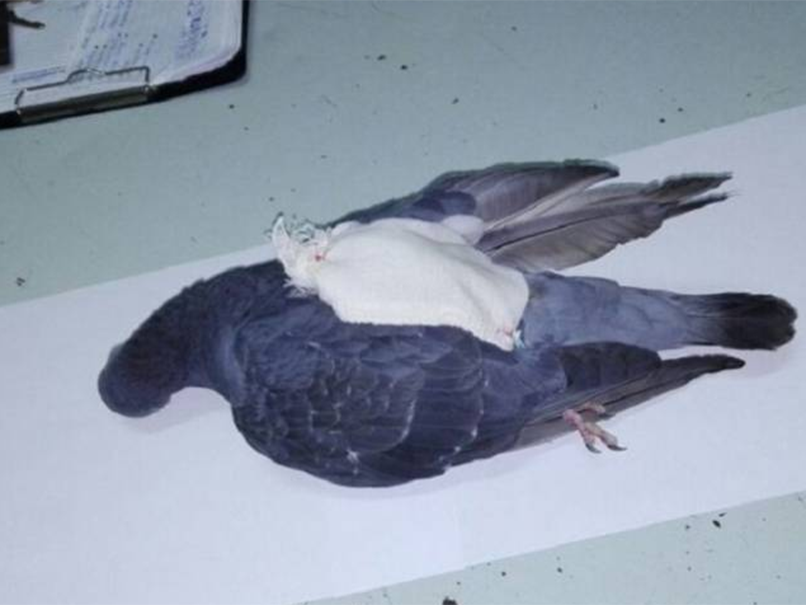 Police in Argentina shot and killed a carrier pigeon as it flew into a prison, then found a stash of cannabis and other contraband in a tiny backpack sewn to its feathers.
Officers at the Colonia jail in Santa Rosa, La Pampa, became suspicious after noticing the bird flying back and forth into the building over a number of days.
After downing it, they discovered 7.5 grams of cannabis as well as 44 pills of the sedative Rivotril and a USB stick.
A prison source told the Clarin newspaper: "It came with a small piece of fabric in the form of a backpack tied to it, the interior of which had narcotics, according to our test."
In 2013, police detected and broke up a similar operation run by gangs in the prison.
Officers arrested three inmates in the latest operation and discovered a loft which they were allegedly using to receive the small shipments of contraband the birds carried.
They also captured about 15 pigeons which were said to have been doing up to 15 trips a day back and forth from a location outside the jail.
The method is also the most common way to sneak drugs into the Federal Penitentiary jail in Buenos Aires, the authorities said.
Other unusual ways drugs are smuggled into prison include inside tennis balls knocked over the walls with racquets.
Earlier this year, authorities in Kuwait reportedly captured a pigeon carrying 178 illegal pills in a tiny backpack.
World news in pictures
Show all 50
A fabric pocket attached to the back of the bird was found to contain tablets believed to have been a form of ketamine, reports said.
Drug smugglers apparently used the animal to fly across the border from neighbouring Iraq.
It was intercepted above a building near Kuwait's customs department, according to reports.
And in Costa Rica in 2015, guards captured a pigeon flying cocaine and cannabis into a prison.
It was carrying 14g of cocaine and 14g of cannabis into the facility stuffed into a pouch attached to its body.
Join our commenting forum
Join thought-provoking conversations, follow other Independent readers and see their replies