'This could be the start of an arms race': Three more police officers shot on the same day as Dallas shooting
One policeman remains in a critical condition in Tennessee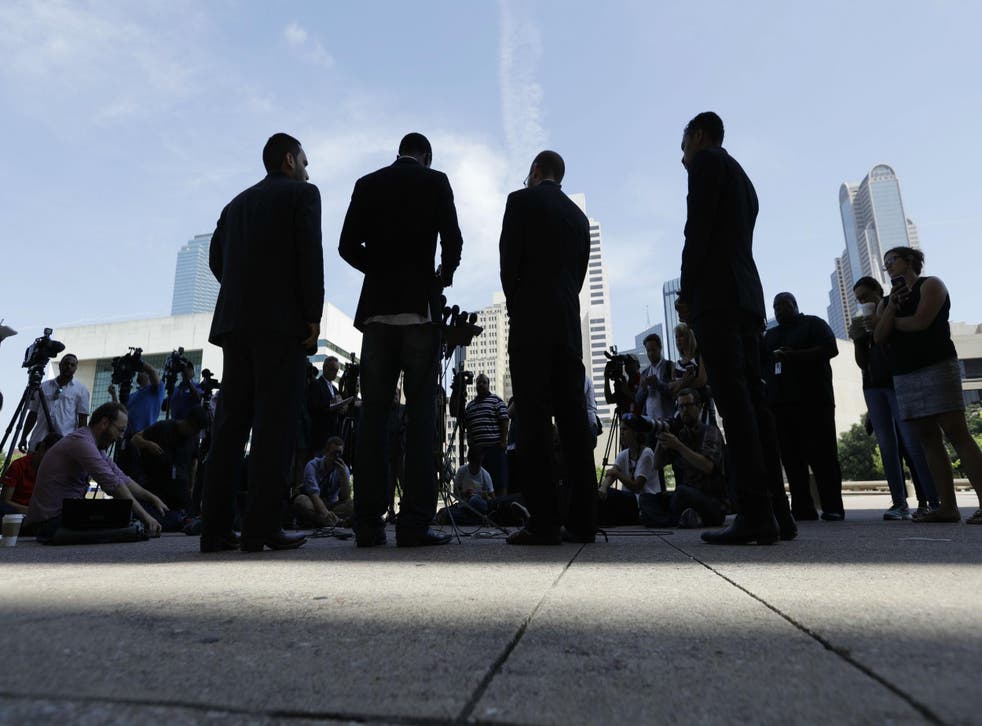 Within 24 hours of five police officers being shot dead and six wounded in Dallas, Texas, three more police officers were shot in Tennessee, Missouri and Georgia.
Soon after 25-year-old Micah Xavier Johnson killed five officers and wounded six more during a peaceful protest in Dallas, one police officer was shot in the neck three times during a traffic stop in Ballwin, Missouri.
The male police officer remains in a critical condition, according to the St Louis Post-Dispatch.
The same afternoon, a man opened fire on a Tennessee highway and killed one person and wounded three others, including a police officer.
Authorities say the suspect in Tennessee, Lakeem Keon Scott, who shot indiscriminately at passing cars and then at police who approached him, was "troubled" by the the week's incidents, including the killing of two black men by police officers in Louisiana and Minnesota.
Lakeem Keon Scott was shot by police officers and is being treated at hospital, according to the Associate Press.
A fourth incident occured when a police officer was reportedly ambushed and shot in Georgia at a house where police had received a 911 call about a break-in. He is expected to survive.
"It's extremely rare [for officers to be shot at] and statistics bear that out," said Peter Kraska, a professor and chair of graduate studies and research in the School of Justice Studies in Eastern Kentucky University.
"Everyone is so shocked and nothing like this has happened in a long time."
Automatic Gunfire Rings Out in Dallas City Center During Sniper Shooting
"We're talking about the potential for an internal arms race between police and the public," he said. "We're getting into serious issues of conflict. Obviously there are huge racial issues that haven't been addressed and now looks like it's getting out of hand."
The killings of Philando Castile and Alton Sterling by police this week have caused international outrage after witness videos of the shootings quickly went viral.
The incidents prompted Minnesota governor Mark Drayton to tell reporters that if Mr Castile had been white, "this would not have happened" to him.
A similar remark was made regarding Matthew Fogg, a retired chief deputy US Marshal in Washington DC who won the largest ever employee Title VII discrimination lawsuit against the US department of justice in 1998.
"If they [my colleagues] treated me like that, just think how they treat the public," he said, referring to police aggression against black people.
He added the violent incidents this week against the police was evidence of a chain of events.
"The one thing that changes this from years past is smartphones. It has made White America wake up and think," he said.
He praised Mr Drayton and president Barack Obama for forcing America to face its "denial" about racism.
"They called a spade a spade," he said.
Register for free to continue reading
Registration is a free and easy way to support our truly independent journalism
By registering, you will also enjoy limited access to Premium articles, exclusive newsletters, commenting, and virtual events with our leading journalists
Already have an account? sign in
Register for free to continue reading
Registration is a free and easy way to support our truly independent journalism
By registering, you will also enjoy limited access to Premium articles, exclusive newsletters, commenting, and virtual events with our leading journalists
Already have an account? sign in
Join our new commenting forum
Join thought-provoking conversations, follow other Independent readers and see their replies