Pope Francis visits Chile as protesters raise spectre of church sex abuse scandal and accuse Vatican of cover-up
Demonstrators angered over pontiff's endorsement of Bishop Juan Barros, accused of shielding mentor Father Fernando Karadima after latter found guilty of molesting boys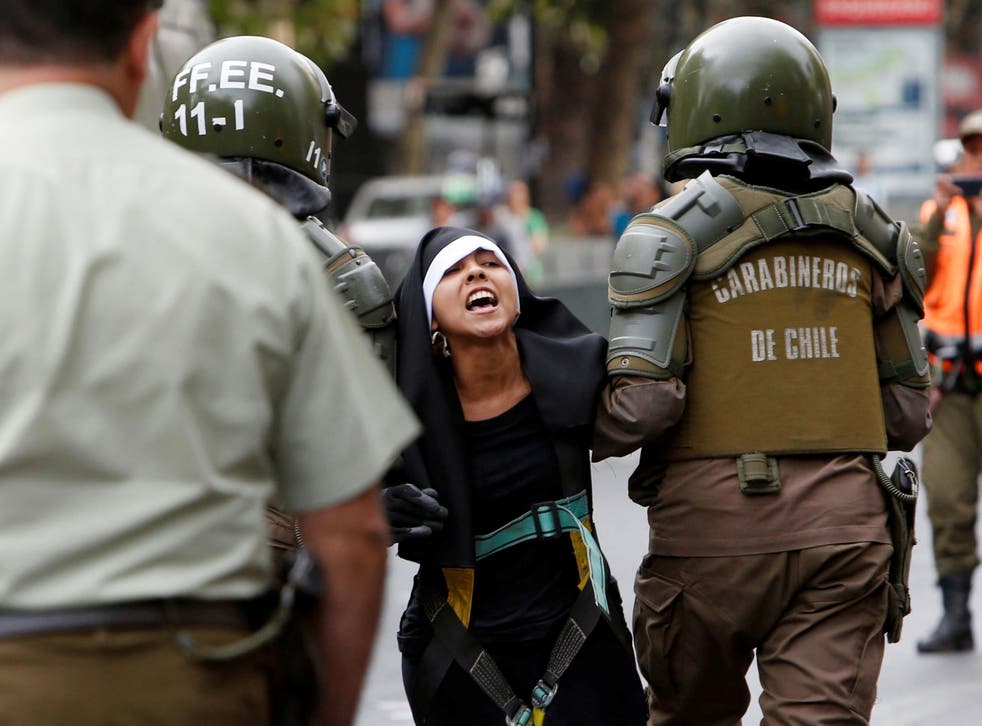 Pope Francis has arrived in Chile on a visit intended to soothe relations as protesters remain angered by the legacy of a local child sex abuse scandal and the Vatican's alleged complicity in shielding its perpetrator.
Catholic demonstrators are still aggrieved over the pontiff's 2015 appointment of Bishop Juan Barros to head the small diocese of Osorno in the country's south.
Barros is accused of protecting his former mentor, Father Fernando Karadima, after a 2011 Vatican investigation found the latter guilty of abusing teenage boys over many years.
​Karadima has denied the allegations and Barros contends he was unaware of any wrongdoing.
Despite the lingering controversy, tens of thousands of people chanting "Viva Papa Francisco" lined the streets of his route from the airport, where the Pope was greeted by President Michelle Bachelet, to the Vatican embassy, his official residence for three days before he moves on to Peru.
A youth orchestra played on the tarmac at an otherwise low-key arrival ceremony when the pope arrived from Rome on an unusually cool and cloudy austral summer evening.
Bachelet said on social media shortly after greeting Pope Francis that Chilean society was much changed since the visit of Pope John Paul II in 1987, during the dictatorship of Augusto Pinochet.
"We are a society more just, more free, and more tolerant," she said, adding, however, that inequality still persisted.
Hundreds of people, many of them children waving Chilean and Vatican flags, greeted Francis outside the Vatican nunciature, or embassy, chanting "Pope Francis, friend, Chile is with you."
However, the festive atmosphere failed to conceal the hurt experienced by many Catholics over the Barros affair, a scandal that has gripped Chile and fuelled growing secularisation, hurting the Church.
A poll by Santiago-based think tank Latinobarometro this month showed that the number of Chileans calling themselves Catholics fell to 45 percent last year, from 74 percent in 1995.
Francis may speak to it and other problems when he makes his first address on Tuesday morning to national authorities and the diplomatic corps.
He then heads to the capital's sprawling Parque O'Higgins, to say a Mass expected to attract more than 500,000 people.
While in Chile, Francis will likely also face protests from indigenous Mapuche who accuse the state and private companies of taking their ancestral land.
Bachelet last year asked for forgiveness from the Mapuche community for such "errors and horrors."
Francis flies south to Temuco in Chile's Araucania region, home of the Mapuche, on Wednesday.
Several churches were attacked in the capital last week, including one with a homemade bomb where unidentified vandals left a pamphlet reading "Pope Francis, the next bomb will be in your robe."
No one was injured in the attacks and no one has claimed responsibility.
Shortly before the pontiff's arrival on Monday, a small group of protesters shut down a street in downtown Santiago, but were quickly dispersed by police.
Speaking to reporters aboard the papal plane on the 15-hour flight from Italy, Francis expressed concern about the danger of nuclear war, saying that the world now stood at "the very limit."
World news in pictures

Show all 50
His comment came after Hawaii issued a false missile alert that provoked panic in the US state and highlighted the risk of possible unintended nuclear war with North Korea.
Asked if he was worried about the possibility of nuclear war, Pope Francis said: "I think we are at the very limit. I am really afraid of this. One accident is enough to precipitate things."
The Pope stopped short of overtly criticising US President Donald Trump or North Korean leader Kim Jong-un, whose sabre-rattling and trading of insults have jangled nerves across the globe.
Reuters
Register for free to continue reading
Registration is a free and easy way to support our truly independent journalism
By registering, you will also enjoy limited access to Premium articles, exclusive newsletters, commenting, and virtual events with our leading journalists
Already have an account? sign in
Register for free to continue reading
Registration is a free and easy way to support our truly independent journalism
By registering, you will also enjoy limited access to Premium articles, exclusive newsletters, commenting, and virtual events with our leading journalists
Already have an account? sign in
Join our new commenting forum
Join thought-provoking conversations, follow other Independent readers and see their replies