Pope launches thinly veiled attack on Trump, saying: 'History will judge climate change deniers'
The Pope also hopes Trump will reconsider his decision to end Daca
Emily Shugerman
New York
Monday 11 September 2017 14:29 Comments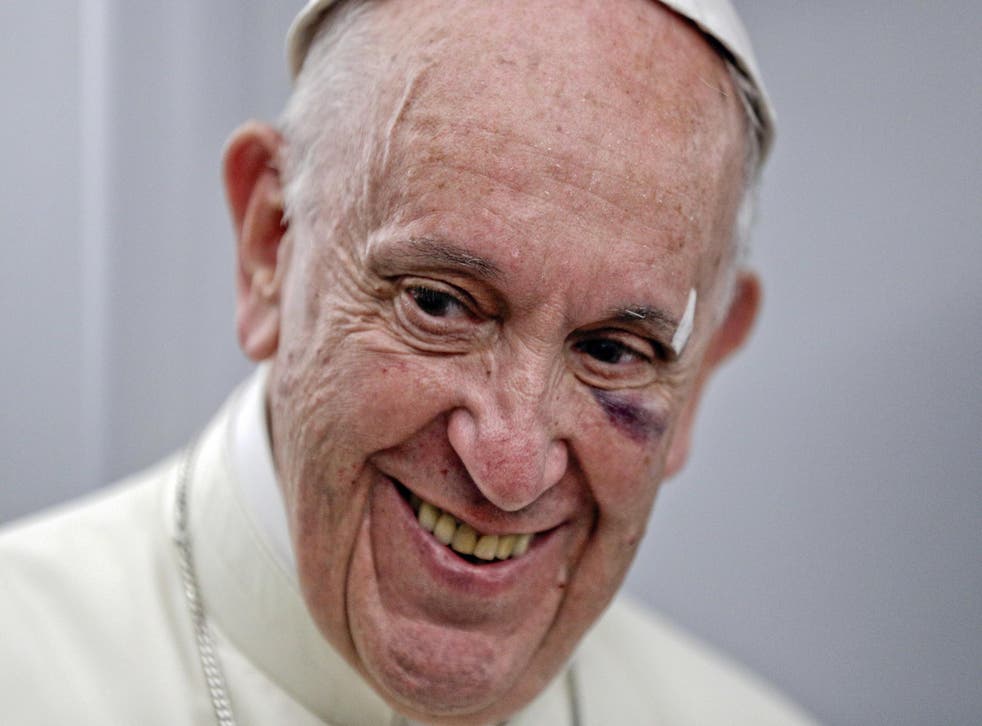 Pope Francis has said that "history will judge" those who refuse to accept the science of climate change.
"If someone is doubtful that [climate change] is true, they should ask scientists," he told reporters aboard the papal plane. "These are not opinions made on the fly. They are very clear. Then each person can decide and history will judge the decisions."
The Pope is a strong supporter of the Paris climate agreement, a pledge by almost 200 countries to reduce emissions linked to climate change. Donald Trump pulled the US out of the agreement in June.
A Vatican official called the move a "slap in the face" to the Pope and the Vatican at the time.
Asked whether politicians have a responsibility to work with other countries to prevent climate change, the Pope responded: "All of us have a responsibility, all of us, small or large, a moral responsibility."
"We have to take it seriously. We can't joke about it," he added. "Each person has their own. Even politicians have their own."
Pope Francis gives life advice: in pictures

Show all 10
His Holiness spoke as Hurricane Irma pummelled Florida with punishing wind and rain. Days before, Hurricane Harvey had submerged parts of Texas in massive floods. Some experts predict the combined damage could cost the US economy up to $290bn.
Scientists have long warned that the warming of the Earth's oceans and atmosphere could strengthen future hurricanes. The latest storms marked the first time two Category 4 hurricanes had hit the continental US in a single hurricane season.
"If we don't turn back, we will go down," Pope Francis told reporters ominously.
According to the Associated Press, the Pope also said that he hoped Mr Trump would reconsider his decision to end Daca, a policy granting certain rights to young, undocumented immigrants.
Mr Trump recently announced that he would rescind the policy in six months unless Congress passed it into law. The decision would put some 800,000 childhood immigrants at risk for deportation.
Pope Francis has previously criticised Mr Trump's immigration policy, calling his plan to build a wall between the US and Mexico "not Christian".
On Sunday, he said that he hopes the decision to repeal Daca will be "re-thought somewhat".
"To take away young people from their families is not something that bears fruit, neither for the young people nor for their families," he said.
Register for free to continue reading
Registration is a free and easy way to support our truly independent journalism
By registering, you will also enjoy limited access to Premium articles, exclusive newsletters, commenting, and virtual events with our leading journalists
Already have an account? sign in
Join our new commenting forum
Join thought-provoking conversations, follow other Independent readers and see their replies