Pope Francis apologises but continues to defend Chilean bishop accused of covering up child sex abuse
The pontiff said his comments about Juan Barros had 'wounded many' but still maintained his innocence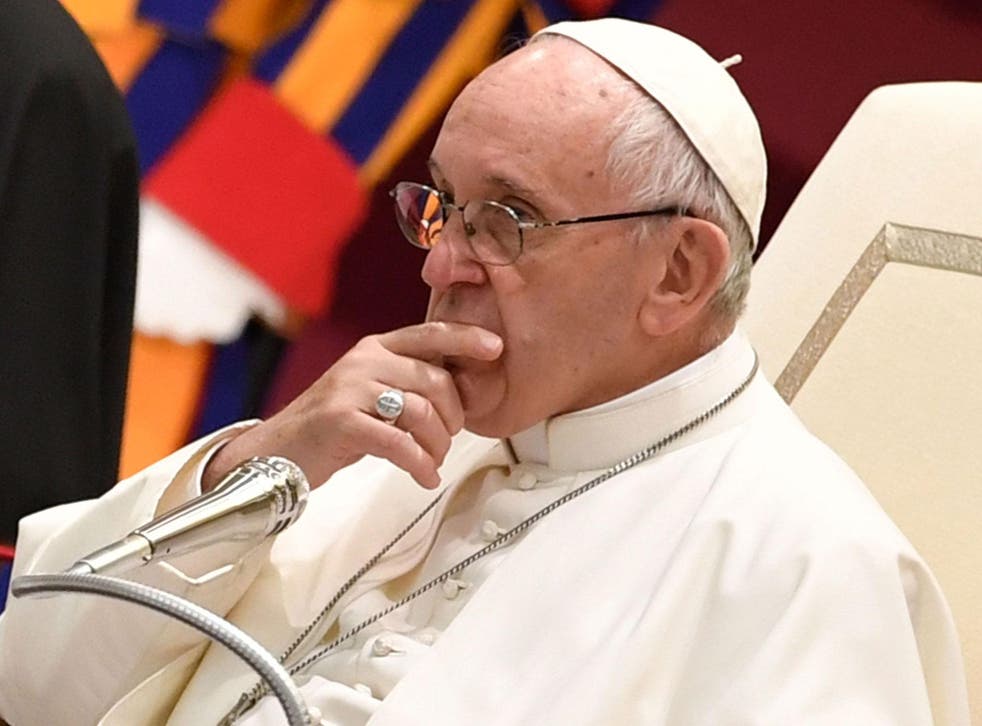 Pope Francis has apologised for suggesting that victims of sexual abuse by priests should show "proof", in a rare act of self-criticism, while continuing to defend a Chilean bishop accused of covering up abuse.
In an extremely rare admission of a mistake, the Pope acknowledged his comments about Juan Barros had "wounded many" when talking to reports abroad the plane returning from a week-long trip to Chile and Peru.
In 2010 Father Fernando Karadima was accused of abusing several teenage boys in the Chilean capital Santiago and in 2011 the Vatican found him guilty and sentenced him to a lifetime of "penance and prayer".
But Bishop Juan Barros at the time, was then accused of covering up the claims and helping to protecting Karadima while he and several other future bishops were training to be priests under his tutelage.
He himself has not been accused of abuse but one of Karadima's victims alleges that he was present while Karadima was abusing and groping him.
Both Bishop Barros and Karadima have denied the allegations against them.
Pope Francis angered many victims groups in 2015 when he promoted Bishop Barros even after he had twice offered to resign.
But the Holy Father added fuel to the fire on Friday when he said those accusing Bishop Barros of covering up Karadima's crimes of "slander".
Pope Francis gives life advice: in pictures

Show all 10
When a journalist shouted out a question about the Bishop during a press conference as part of the week-visit to the Latin American countries, he said the accusers had "no proof".
But on the plane back to Rome the patriarch offered a more conciliatory tone saying: "I apologise to them if I hurt them without realising it, but it was a wound that I inflicted without meaning to.
"It pains me very much."
He did still protest Bishop Barros' innocence saying: "I can't condemn him because I don't have evidence and because I am convinced he is innocent" and said he would remain in his post until credible evidence against him was found.
But there are signs that Pope Francis' response to the questions have not gone down well within his inner circle.
Cardinal Sean O'Malley of Boston, a key papal adviser, issued a statement distancing himself from the Pope's comments saying they had caused "great pain".
Cardinal O'Malley is currently in charge of the papal commission advising the pontiff on how to root out sexual abuse in the Church.
Additional reporting by Reuters
Join our new commenting forum
Join thought-provoking conversations, follow other Independent readers and see their replies