Pope Francis urges youth to shun hatred in war-scarred Colombia as more than one million turn out for visit
Officials estimate that more than one million people attend open-air Mass led by the pontiff
Nicole Winfield
Bogota, Colombia
Thursday 07 September 2017 21:00 Comments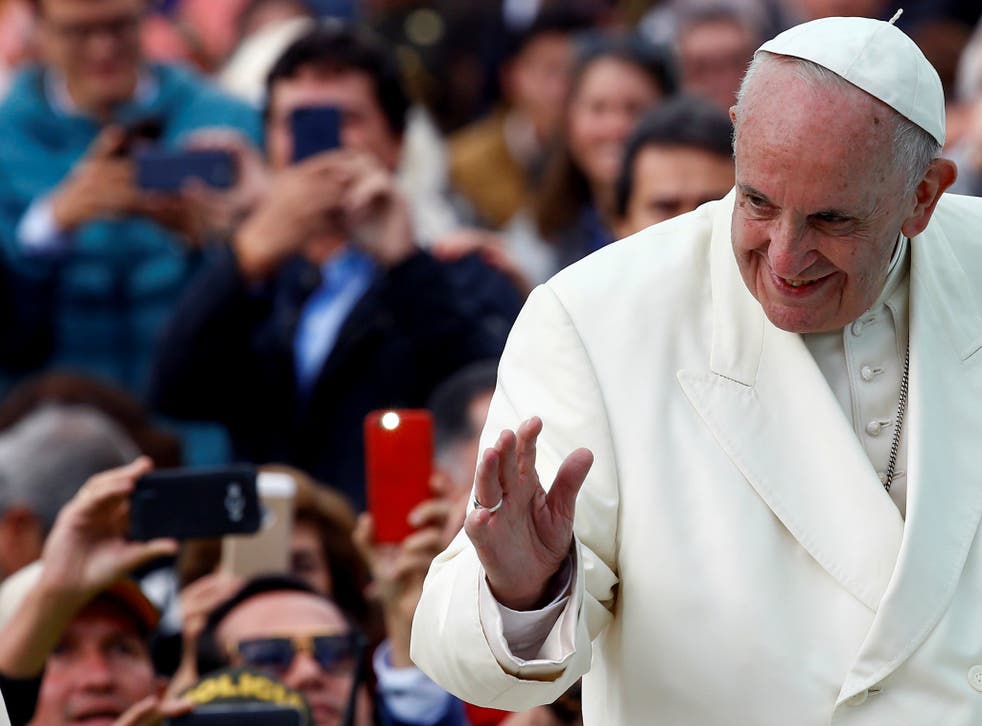 Pope Francis has urged young Colombians to take the lead in promoting forgiveness to help their country heal from a half-century of conflict, saying they should "look to the future without the burden of hatred" that their elders often carry.
From the halls of the presidential palace to the green hills of Bogota's Simon Bolivar park, Pope Francis brought his message of reconciliation to a country still bitterly divided over the peace deal with leftist rebels that is seeking to end Latin America's longest-running armed rebellion. And he demanded that its leaders now address the gross inequalities that sparked the conflict to begin with.
"Let us not forget that inequality is the root of social ills," he told a crowd at Bogota's presidential palace that included disabled children and soldiers with amputated limbs.
While his appeal for forgiveness may be hard for some to swallow, Pope Francis was nevertheless given a rock star's welcome on his first full day in Colombia. Young choir members abandoned their positions in the palace courtyard and threw their arms around him as he arrived. In Bogota's main Plaza Bolivar, thousands of young people interrupted him repeatedly with cheers. And officials estimated 1.3 million people flocked to Bogota's main Simon Bolivar park for his open-air Mass, far more than the 700,000 expected.
History's first Latin American pope took the crowds, interruptions, protocol hiccups and security breaches in stride, seemingly relishing in the adoration of one of the continent's most staunchly Roman Catholic countries.
His message though was stern, urging the country's elite and ordinary to resist the temptation for vengeance, the "corrupting darkness" of self-interest, and instead build bridges to help the nation heal.
Pope Francis gives life advice: in pictures

Show all 10
"The solitude of always being at loggerheads has been familiar for decades, and its smell has lingered for a hundred years," he said, alluding to the most famous work of Colombia's Nobel laureate, Gabriel Garcia Marquez. "We do not want any type of violence whatsoever to restrict or destroy one more life."
One year after the government signed a peace accord with rebels of the Revolutionary Armed Forces of Colombia, better known by its Spanish acronym FARC, the guns have fallen silent and 7,000 rebels are transitioning back to civilian life. But Colombians remain badly divided over the accord, with conservative opponents seeing it as too generous for the guerrillas who were behind scores of atrocities during the conflict.
In all, the fighting left more than 250,000 people dead, 60,000 missing and millions more displaced.
Pope Francis is expected to press his call for forgiveness further on Friday when he travels to Villavincencio, south of Bogota, where he is to preside over a meeting of reconciliation between victims of the conflict and those who victimised them.
"It's a great message for all of the country, especially because of the moment we are living in," said Maria Juliana Higuera, one of more than 20,000 people who packed Bogota's central Plaza Bolivar for a papal blessing. "It's very important to us as Catholics."
The pontiff appealed to Colombia's youth to take the lead in promoting forgiveness, saying young people more than adults are able to "leave behind what has hurt us and look to the future without the burden of hatred."
"You make us see the wider world which stands before us, the whole of Colombia that wishes to grow and continue its development," he said.
Pope Francis makes surprise appearance at TED Talk
Looking ahead, Pope Francis insisted that Colombia now needed to enact "just laws" to resolve the structural causes of poverty and inequality to "overcome the conflicts that have torn apart this nation for decades."
The FARC formed as a Marxist army in the mid-1960s to overthrow Colombia's economic and social system and open the way to redistributing land.
While the first year of the accord's implementation has seen the FARC disarm, it also has been marked by the state's failures to bring services to hard-to-reach communities where the government has historically had little presence and where rebels are beginning a new chapter as civilians. Former guerrillas arriving at many of the 26 demobilisation zones found little more than fields of mud, and months later many remain living in tents rather than the buildings with running water and electricity that the government promised.
Colombia is the most unequal country in terms of land distribution in Latin America, itself the worst region in the world. Large agricultural holdings of more than 500 hectares represent around 0.4 per cent of all farms in Colombia but control more than 67 per cent of the productive land, according to an Oxfam report last year.
The peace deal and an earlier land reform are supposed to redistribute the land and compensate victims driven from their homesteads by illegal armed groups. But authorities overseeing the process have been slow to hand out titles, and peasanto farmers in far-flung regions face numerous threats asserting their rights. Last year, 59 human rights defenders — many of them land rights activists — were killed yet only a handful of their murders ever solved, according to the United Nations.
President Juan Manuel Santos, who won last year's Nobel Peace Prize for his efforts to end the conflict, urged Colombians to let go of lingering resentments.
"Silencing the guns is worthless if we remain armed in our hearts," he told the crowd. "Ending the war is worthless if we still see each other as enemies."
In between his main events, Pope Francis met with bishops from around the region, including his first encounter with clergy from neighbouring Venezuela who are looking for the pope to demand accountability from their country's socialist government and deliver a message of hope to that nation torn by political and economic turmoil.
Cardinal Jorge Urosa Savino, archbishop of Caracas, said the situation was "truly desperate," with people eating rubbish and dying for lack of medicine. "So we want to remind the pope of this again and especially the serious political situation because the government is doing everything possible to establish a state system, totalitarian and Marxist," he said.
Register for free to continue reading
Registration is a free and easy way to support our truly independent journalism
By registering, you will also enjoy limited access to Premium articles, exclusive newsletters, commenting, and virtual events with our leading journalists
Already have an account? sign in
Join our new commenting forum
Join thought-provoking conversations, follow other Independent readers and see their replies