Portland protesters topple George Washington statue on the eve of Juneteenth
Figures like George Washington and Thomas Jefferson have also come under scrutiny in recent weeks, as they both owned slaves
Danielle Zoellner
Friday 19 June 2020 15:06 Comments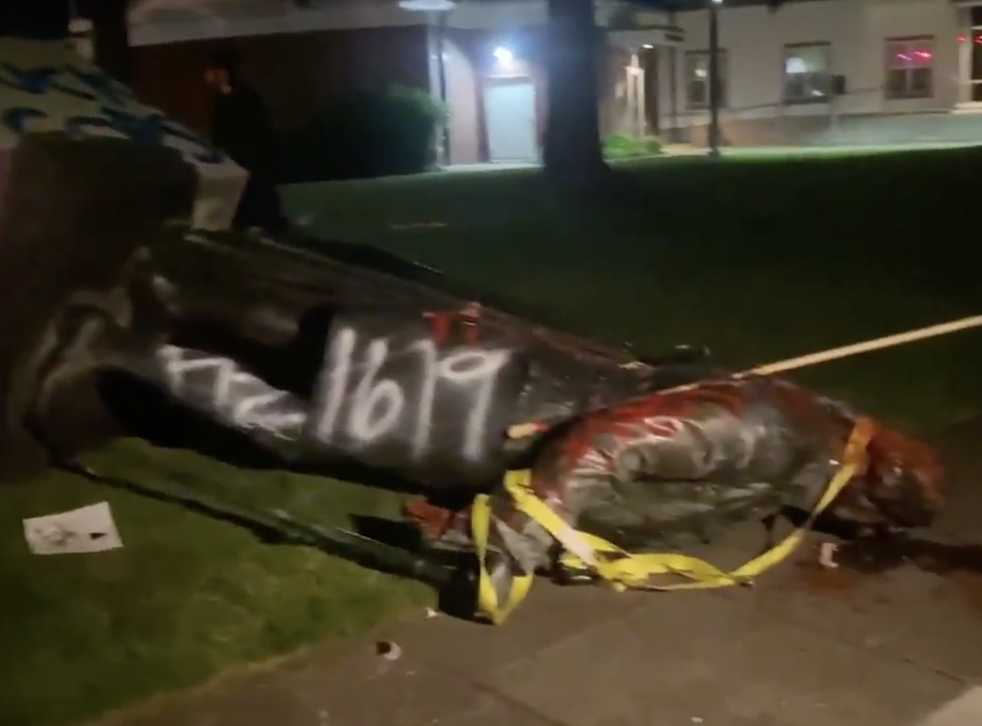 A George Washington statue was toppled by protesters in Portland, Oregon, on the night before Juneteenth, which marks the day in 1865 when all slaves were freed from slavery.
Statues across the United States have come under scrutiny, specifically those of Confederate generals who fought to keep slavery in the country.
But figures like George Washington and Thomas Jefferson have also come under scrutiny in recent weeks, as they both owned slaves.
This has sparked a conversation about how far the toppling of statues should go.
A group of about 20 people first gathered on Thursday evening around Portland's George Washington statue, KOIN reported. First, an American flag was placed around the statue's head and burned.
The crowd slowly grew in numbers until there were enough people to help pull the statue down to the ground, encouraging people to leave the area. Video footage showed the statue toppled with a second American flag burning around it.
Police later responded to the scene and the statue was found on the ground with graffiti that read "genocide colonist" across the surface.
Portland first put up the nearly 100-year-old statue on a date around 1926, and it was expected to be part of the City of Portland and Multnomah County Public Art Collection. The statue was gifted by the Regional Arts & Culture Council.
It now becomes the latest that has toppled in recent weeks as unrest grows across the country.
Register for free to continue reading
Registration is a free and easy way to support our truly independent journalism
By registering, you will also enjoy limited access to Premium articles, exclusive newsletters, commenting, and virtual events with our leading journalists
Already have an account? sign in
Join our new commenting forum
Join thought-provoking conversations, follow other Independent readers and see their replies