Homeless man arrested for stealing items from Portland train stabbing victim
The victim and two others were stabbed while defending two women who appeared to be Muslim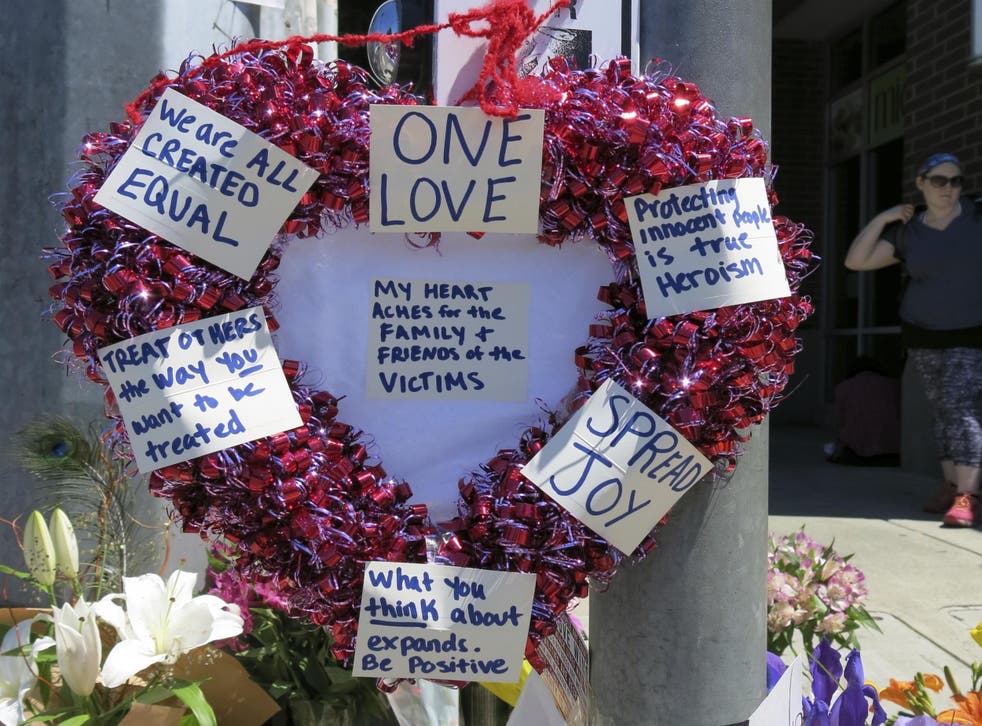 Police in Portland, Oregon, arrested a homeless man for allegedlystealing the wedding ring and backpack of one the two men stabbed to death last week on a commuter train while defending two women.
George Tschaggeny, living in a homeless encampment, was arrested after police received a tip, the Portland Police Bureau said.
Ricky Best, Taliesin Myrddin Namkai-Meche, and Micah Fletcher were stabbed on 26 May when they intervened to prevent a man from harassing and threatening two teenage girls who appeared to be Muslim.
Mr Best and Mr Namkai-Meche died of their wounds. Mr Fletcher survived the stab wound to his neck.
Jeremy Joseph Christian faces multiple charges over the killings, as well as for allegedly chanting ethnic and racial slurs
Police had earlier released surveillance footage of an unidentified man carrying victim Mr Best's backpack, leaving the Portland MAX commuter train shortly after the stabbings.
Mr Tschaggeny was found wearing the victim's ring, which he apparently had removed from Mr Best's finger after the stabbing, said police spokesman Pete Simpson.
Police also recovered the backpack but Best's wallet was missing, Simpson said, adding that his family had hoped to recover phone numbers Mr Best carried in the wallet.
Mr Tschaggeny will be charged with theft, evidence tampering, and abuse of a corpse, according to police.
Over the killings, Mr Christian has been arraigned on three felony murder charges, one felony assault charge, three felony weapons charges, and two misdemeanour counts of intimidation.
In court on 30 May, Mr Christian shouted: "Death to the enemies of America ... You call it terrorism. I call it patriotism."
FBI spokeswoman Beth Anne Steele said the bureau is investigating the attack to determine whether to charge Mr Christian with terrorism or a federal hate crime.
Immediately after the attack, the Council on American-Islamic Relations called on Donald Trump to condemn violence against Muslims.
Several others called on him to express some sentiment since the men who died were also military veterans.
Mr Trump responded via Twitter on 29 May, calling the attack "unacceptable," and commended the stabbing victims for "standing up to hate and intolerance."
According to The Oregonian newspaper, a witness to the incident said Mr Namkai-Meche's last words before being taken away by paramedics were, "Tell everyone on this train I love them."
Register for free to continue reading
Registration is a free and easy way to support our truly independent journalism
By registering, you will also enjoy limited access to Premium articles, exclusive newsletters, commenting, and virtual events with our leading journalists
Already have an account? sign in
Register for free to continue reading
Registration is a free and easy way to support our truly independent journalism
By registering, you will also enjoy limited access to Premium articles, exclusive newsletters, commenting, and virtual events with our leading journalists
Already have an account? sign in
Join our new commenting forum
Join thought-provoking conversations, follow other Independent readers and see their replies