Florida woman sells positive pregnancy tests on Craigslist and makes $200 a day
There is intense speculation over why someone would want such a kit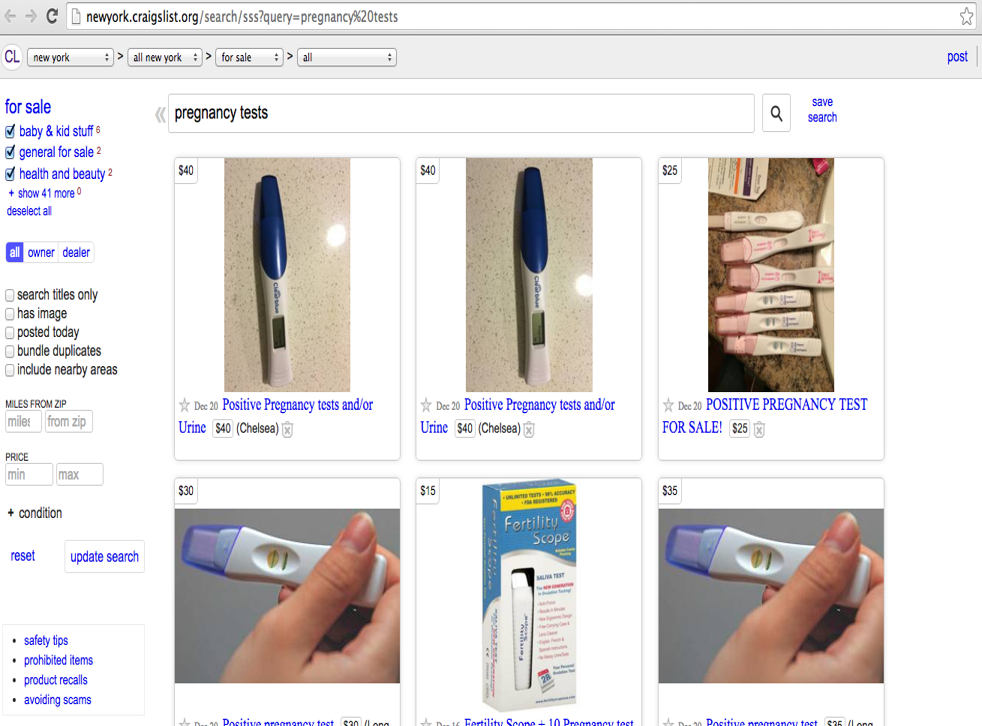 A woman claims to make $200 a day by selling positive pregnancy tests on Craigslist.
The Florida woman said she sells the tests to help pay for her college tuition. The woman, who wanted to remain anonymous, says she got the idea while searching for jobs to do while pregnant.
"$200 in a day off, something I have to do no matter what," she told WJAX-TV. "Me being in college working on a bachelor's and needing all this money to pay for a degree, this was a no-brainer."
She charges $30 per test and never asks the buyers any questions.
The Daily Dot discovered the positive pregnancy test trend in 2013. It interviewed a Buffalo woman who said she sold them for $25 apiece, which at the time, was considered pricey.
The ad read as follows: "Positive Pregnancy Test! – $25 (Buffalo, NY) Yes, you saw that right! I am selling positive pregnancy tests! Ever since I became pregnant, I have been asked numerous times for a positive test, so I decided to start charging for it!" reads a listing in the Salon article. "I will take the test the same day you to pick it up! I don't care what you use it for, not my business!)"
The Independent did a quick Craigslist search for pregnancy tests in New York, which yielded nine ads for positive pregnancy tests and urine ranging from $25-$40.
"No questions asked. Serious inquires only. Contact me regarding any questions or concerns," one read.
Another advertised being "Very discreet and private."
Why someone would buy a positive pregnancy test is still up for debate.
A Facebook commenter speculated that a woman may want her partner to think she's pregnant already to have unprotected sex.
The Florida woman doesn't think that's the case, however. "I don't see how you could trap a man," she said.
John Howley, a lawyer spcialising in healthcare issues, in medicaid and medicare in New York, told The Independent he doesn't know of any law that prohibits selling pregnancy tests, but doing so could open up legal ramifications later on.
"It depends on how [the buyer] uses it," he said. "There's going to be all sorts of crime and legal liability there."
Register for free to continue reading
Registration is a free and easy way to support our truly independent journalism
By registering, you will also enjoy limited access to Premium articles, exclusive newsletters, commenting, and virtual events with our leading journalists
Already have an account? sign in
Register for free to continue reading
Registration is a free and easy way to support our truly independent journalism
By registering, you will also enjoy limited access to Premium articles, exclusive newsletters, commenting, and virtual events with our leading journalists
Already have an account? sign in
Join our new commenting forum
Join thought-provoking conversations, follow other Independent readers and see their replies