Pregnant schoolgirl mannequins shock shoppers in Venezuelan shopping mall
The 'shock front' was set up by children's charities to raise awareness of the country's ever-increasing teenage pregnancy rate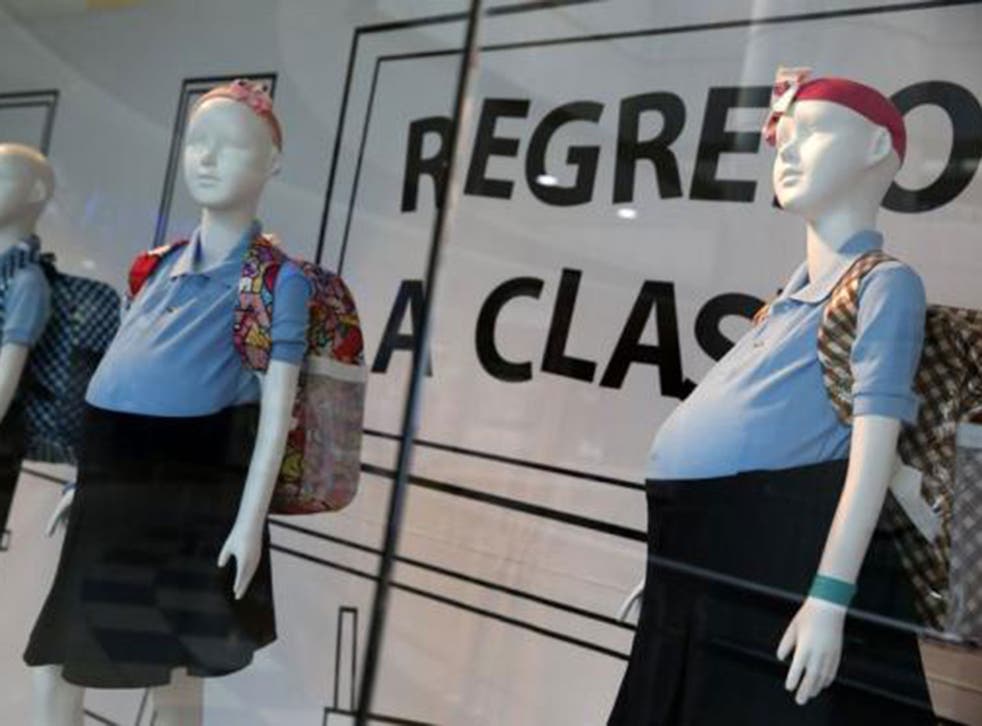 A Venezuelan shop window that shows mannequins of pregnant schoolgirls has shocked shoppers in the country's capital Caracas and has sparked debate over the nation's rising teenage pregnancy rate.
The shop front, which displays three pregnant girls wearing the traditional school uniforms worn by the majority of Venezuelan children under the age of 15, was set up by two local children's charities keen to draw attention to the need for better sex education across the country.
According to the latest figures, Venezuela holds one of the highest teenage pregnancy rates in the whole of South America, with 23 per cent of all births in the country coming from girls under the age of 18.
Construyendo Futuros president Thalma Cohen said: "This is such a taboo subject in Venezuela, we want people to talk about it
"Some people get angry and complain. Others congratulate us."
Of those that witnessed the 'shock front', there was a mixed reaction.
Kelly Hernandez, 18, called the display "horrible", and something that young children should not be exposed to.
Others saw the rationale behind it, saying that it was provided an eyeglass to Venezuelan society.
Auriselvia Torrealba, 20: "Yes, it's disturbing to see in a window. But it's the truth. You see pregnant girls all the time on the streets. So this forces you to think about the problem, doesn't it?"
The display will run for a month in Caracas and the charities have already outlined their plans to set up similar fronts in other malls around Venzuela.
Additional Reporting Reuters
Register for free to continue reading
Registration is a free and easy way to support our truly independent journalism
By registering, you will also enjoy limited access to Premium articles, exclusive newsletters, commenting, and virtual events with our leading journalists
Already have an account? sign in
Register for free to continue reading
Registration is a free and easy way to support our truly independent journalism
By registering, you will also enjoy limited access to Premium articles, exclusive newsletters, commenting, and virtual events with our leading journalists
Already have an account? sign in
Join our new commenting forum
Join thought-provoking conversations, follow other Independent readers and see their replies