Donald Trump's cabinet: The people now tasked with running the country
The majority of the President's cabinet picks have not yet been confirmed by the Senate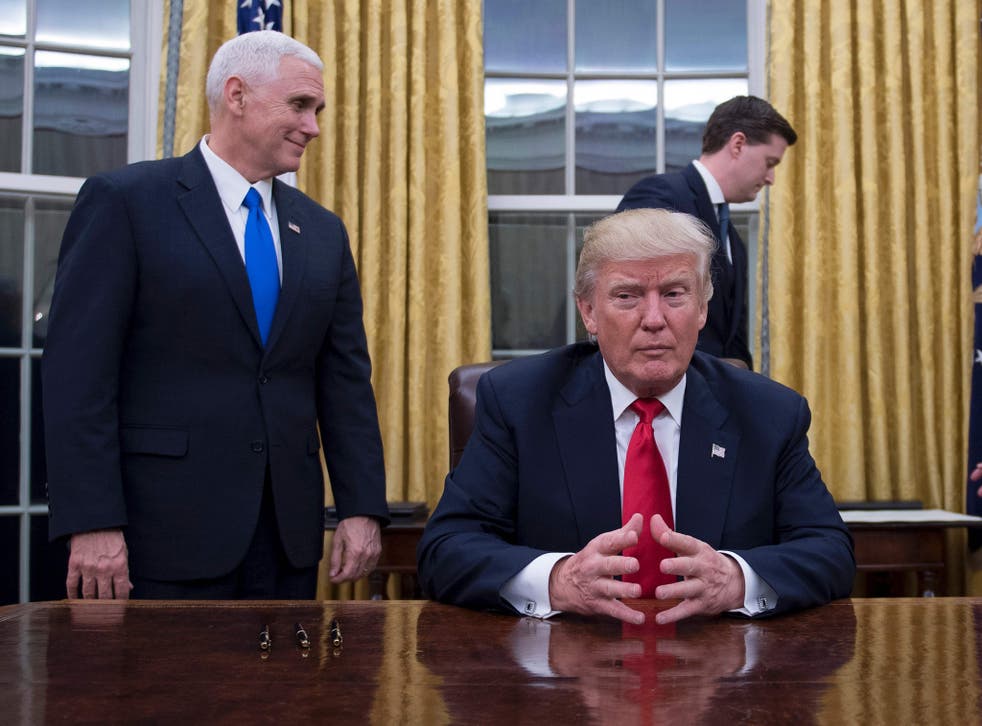 President Donald Trump has filled his cabinet with former generals, millionaires and billionaires, but so far only two – Generals James Mattis and John Kelly – have made it through Senate confirmation hearings. For the rest, a veritable grab bag of people whose CVs do not necessarily match the jobs they have been granted, congressional approval is still required.
Mr Trump, who failed to win the majority of the popular vote, had claimed he called former President Barack Obama for advice regarding whom he should appoint to the incoming administration. But the majority of the people he has officially named do not seem to reflect Mr Obama's input – which is not unexpected, given his criticism of the previous administration.
What concerns critics, however, is how many of Mr Trump's appointees maintain hard-line stances on progressive issues – including LGBTQ, civil, immigrant and women's rights. Others appear to go against his primary campaign promise to "drain the swamp" of Washington DC elite and Wall Street-lined pocketbooks. Additionally, his cabinet appointments has taken shape to be the whitest in decades – it is the first to not include a Latino nominee in decades.
So, who are the people who will now run the US?
Mike Pence
Vice President
Former Governor of Indiana
Mr Pence served in the US House of Representatives from 2003 to 2013. He has built a reputation as a hard line opponent of abortion. During his time as governor, Mr Pence passed a law requiring the burial for foetal tissues and remains – blocked by a federal judge in June. (photo: EPA)
Rex Tillerson
Secretary of State
Former ExxonMobil CEO
Confirmed: No
The nominee for Secretary of State has worked for ExxonMobil for 41 years; he became CEO in 2006. During his tenure as chief executive, he brokered a deal with Russia valued at approximately $500bn (£409bn), per Vladimir Putin's estimation. The arrangement earned Mr Tillerson the Russian Order of Friendship, the highest honour for a foreign national.
But 2014 sanctions imposed on Russia – which the oil giant lobbied against – prevented Exxon from continuing their business in the country. Many suspect Mr Tillerson would work to lift those sanctions despite Russia's illegal annexation of Crimea, as well as further interference with Ukraine.(Brian Harkin/Getty)
Gen James Mattis
Secretary of Defence
Retired Marine General
Confirmed: Yes
Mr Mattis is best known for leading the Marines during the 2004 Battle of Fallujah in Iraq. He had previously ignited controversy for making light of killing people during battle during 2005 remarks, bragging that "it's fun to shoot some people". The retired general diverged from the President's positions on foreign policy during his Senate confirmation, suggesting that he supports a tough approach to dealing with Russia, agrees with the Iran nuclear deal, and supports maintaining Nato. (Getty)
Gen John Kelly
Homeland Security Secretary
Retired Marine General
Confirmed: Yes
Mr Kelly served almost five decades in the US Marine Corps, during which time he was responsible for all military activities in Central and South American while leading the US Southern Command. Should Mr Trump decide to go through with his proposed mass deportations, massive wall and Muslim registry, Mr Kelly would be responsible for overseeing those actions.
During his confirmation hearing, he distanced himself from those positions. For border security, he said he supported a more "layered" approach using technology and drones – like the system already in place at the Mexican border. One the topic of Muslim registration, Mr Kelly said it was not "appropriate to focus on something like religion as the only factor" to migrate to the US. (Getty)
Jeff Sessions
Attorney General
Alabama Senator; former US attorney
Confirmed: No
Mr Sessions will oversee the department that rejected him for being "too racist" during confirmation hearings for a federal judgeship in the 1980s. The Alabama senator supports tough measures on immigration and criminal justice. Senator Cory Booker and Congressman John Lewis testified against Mr Sessions' appointment, saying his confirmation would be a blow to civil rights.
The Alabama Republican has come under fire for comments he made about the NAACP and ACLU, calling them "un-American" organisations that were "trying to force civil rights down the throats of people". After the leak of footage that captured the now-President bragging about sexually assaulting women, Mr Sessions said he did not believe grabbing a woman by the genitals was sexual assault. (Getty)
Steven Mnuchin
Treasury Secretary
Former Goldman Sachs executive; Hollywood producer
Confirmed: No
Although Mr Trump campaigned on the platform of removing Wall Street influence from Washington politics, he nominated Mr Mnuchin, who spent much of his career working for Goldman Sachs. During his confirmation hearing with the Senate Finance Committee, Mr Mnuchin failed to disclose $100m in assets and was interrogated over his use of offshore tax havens.
Mr Mnuchin bought IndyMac Bank, renamed it to OneWest Bank, during the financial crisis in 2009. He sold the business in 2015 for twice the price of purchase. While he was at the helm of OneWest, the bank carried out some 36,000 foreclosures. The company foreclosed on a 90-year-old Florida woman for a 27-cent payment error. (AFP/Getty)
Ryan Zinke
Interior Secretary
Montana congressman; former Navy Seal
Confirmed: No
Mr Zinke studied geology during his undergraduate studies and would be in charge of overseeing National Parks and other land development issues. During his time in Congress, he supported public use of federal lands, but has a consistent record of voting against environmental measures in favour of coal and gas extraction. (Getty)
Wilbur Ross
Commerce Secretary
Investor
Confirmed: No
Mr Ross represented Donald Trump when he found himself in financial trouble during the mismanagement of three of his failed Atlantic City casinos in the 1980s. The investor has a fortune of $2.9bn and has said that he will impose sweeping changes to the North American Free Trade Agreement, and has endorsed tariffs on China. (Getty)
Elaine Chao
Transportation Secretary
Former Labour Secretary under George W Bush; Former Deputy Transportation Secretary under George HW Bush
Confirmed: No
Ms Chao will be in charge of implementing the infrastructure reforms if Mr Trump does, in fact, carry out his promise to rebuild roads and bridges. Of the appointees, Ms Chao has met the least resistance from Congress. She is among the most qualified for her role compared to the majority of the administration's appointees. (Getty)
Betsy DeVos
Education Secretary
Former Michigan Republican Party chair
Confirmed: No
Mr Trump plans to shrink the education department; and Democrats have criticised Ms Devos for apparent intent to "privatise" public schools. Ms Devos largely supports voucher programmes and charter schools. Although she has been involved in some educational activism, her efforts have largely been seen as diverting money from already existing public schools. Ms Devos' contentious confirmation hearing was met with ridicule when she said teachers may need "a gun in the school to protect from potential grizzlies", referring to a Wyoming elementary school. (Getty)
Rick Perry
Energy Secretary
Former Governor of Texas
Confirmed: No
The former Texas Governor will be overseeing one of the departments he had previously argued to dissolve in his failed presidential bid in 2012. He will be in charge of overseeing the United States' nuclear arsenal. A former adviser, Michael McKenna, stirred concerns when he told The New York Times that Mr Perry faced a "learning curve" upon taking the job. (AP)
Tom Price
Health and Human Services Secretary
Georgia congressman; former orthopaedic surgeon
Confirmed: No
Mr Price has been a central voice in the GOP movement to repeal the Affordable Care Act. He has denied that the move would result in 20 million losing their insurance; he still has yet to indicate any plan Republicans have to replace the law. (Getty)
Ben Carson
Secretary of Housing and Urban Development
Neurosurgeon
Confirmed: No
Mr Carson, who ran for president, said that he was not qualified to run a government agency, but he still accepted Mr Trump's nomination to oversee the nation's affordable housing programme. He has repeatedly criticised social assistance programmes, stoking concerns of fair-housing advocates. It still remains unclear why Mr Trump chose him to run the department. (Reuters)
Nikki Haley
UN Ambassador
​South Carolina Governor
Confirmed: No
Ms Haley has diverged from the Trump administration and admitted that Russia has committed war crimes in Syria. She has faced little resistance in her confirmation hearings. (Getty)
Scott Pruitt
EPA Administrator
Oklahoma attorney general
Confirmed: No
Mr Trump has promised to completely dismantle the Environmental Protection Agency. Appointing Mr Pruitt, the pro-fossil fuel advocate who is suing the EPA, would be consistent with that position. Mr Pruitt, however, admitted that climate change is real, despite the President's denial of science that proves otherwise. (Getty)