Barack Obama eats $6 dinner in Vietnam with chef Anthony Bourdain
'Low plastic stool, cheap but delicious noodles, cold Hanoi beer'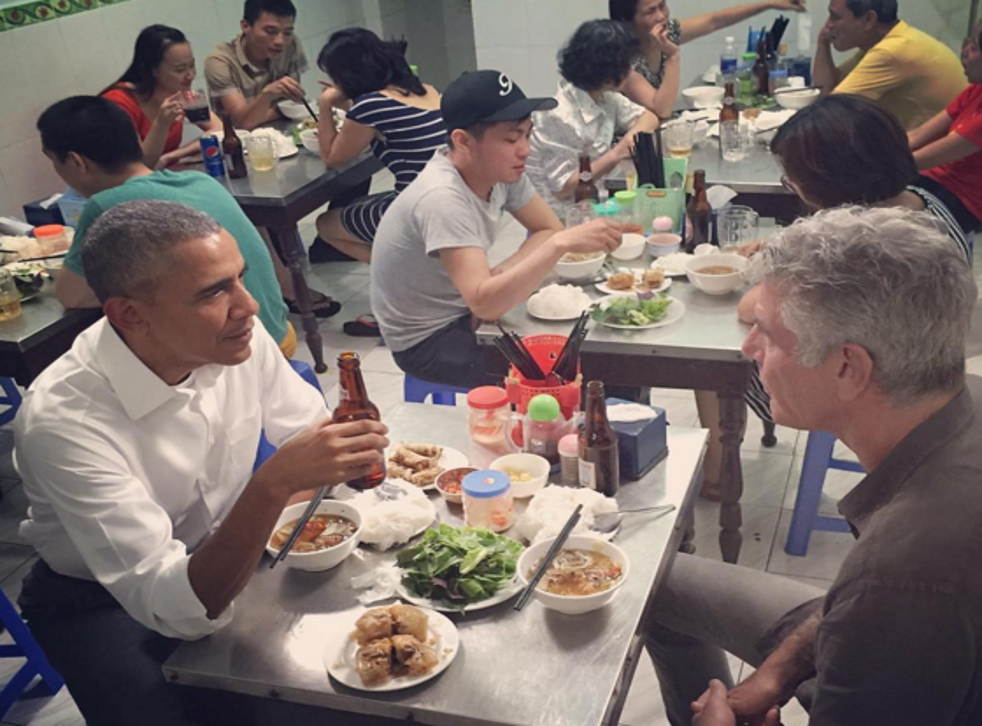 What's a trip abroad without some good local cuisine?
Barack Obama didn't want to miss out Monday night in Hanoi, so he hit the town with renowned chef-turned-television host Anthony Bourdain. The pair dined together at Huong Lien, a bún chả restaurant that serves the grilled pork and noodle dish thought to originate in Vietnam's capital city.
Obama, who arrived Sunday night for his first presidential visit to Vietnam, shared the meal as part of a Anthony Bourdain: Parts Unknown episode that will air on CNN in September.
The US reporters in the White House press pool that was accompanying Obama in the presidential motorcade were not allowed to follow the pair inside the restaurant, which was crowded with local patrons. But social media lit up with photos from those who were present for the surprise visit, which was not listed on the president's public schedule.
Bourdain made clear that the most powerful man in the free world was eating at an ordinary, local hole-in-the-wall. A photo on his Instagram account showed a fan cooling down the joint as he and the president chatted over beers.
By the time Obama left the restaurant, a huge crowd had gathered outside, according to a pool report, and cheers erupted at the sight of the president. Obama shook hands before entering his limousine.
Total cost of the meal was $6 (£4), according to the TV chef. Bourdain tweeted that he picked up the check.
Copyright: Washington Post
Register for free to continue reading
Registration is a free and easy way to support our truly independent journalism
By registering, you will also enjoy limited access to Premium articles, exclusive newsletters, commenting, and virtual events with our leading journalists
Already have an account? sign in
Register for free to continue reading
Registration is a free and easy way to support our truly independent journalism
By registering, you will also enjoy limited access to Premium articles, exclusive newsletters, commenting, and virtual events with our leading journalists
Already have an account? sign in
Join our new commenting forum
Join thought-provoking conversations, follow other Independent readers and see their replies