Prince Harry outsprints Usain Bolt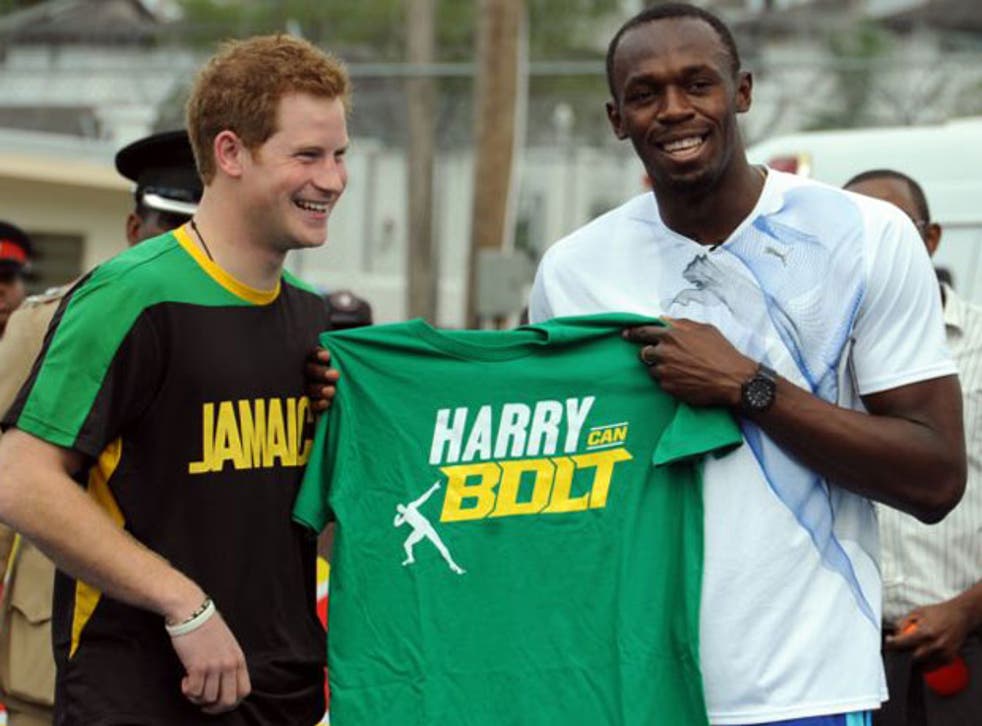 Usain Bolt was beaten in a race by Prince Harry today who left the fastest man in the world behind in a cloud of dust.
Harry flashed through the finishing line arms held aloft as the Jamaican looked on bemused and with his hands on his hips.
But the historic win owed more to the royal jumping the gun and starting when the Olympic 100-metre champion was not looking than raw speed.
Bolt, 25, immediately called for a rematch against the third-in-line to the throne who side-stepped the issue.
The Jamaican sprinter, who lined up against the prince when the pair met at the athlete's training track in Kingston, said: "He cheated, I said we would have a rematch in London 2012 and Harry said 'I'm busy'."
He went on to praise the Queen's grandson, visiting Jamaica to mark her Diamond Jubilee: "He's cool, very down to earth.
"When you meet dignitaries you think it will be difficult but he just wanted to laugh - it was an honour and a pleasure to meet him.
"I'm still the fastest man in the world so he has a long way to go."
The pair struck Bolt's famous pointing pose as they larked around during the visit.
Still smarting from the defeat, Bolt said: "I think he knew that he wouldn't beat me and he wanted to make sure that he went back to London and (could say) he actually beat me, but for me it was fun.
"As I said he was playful and energetic and for me it was wonderful to meet him."
After Harry had won the impromptu race over 20 metres, Bolt jogged down the track and gave his trademark 'lighting bolt' pose with his arm pointing into the air.
The prince, still basking in the glory of his win, was not to be outdone and copied the Jamaican sprinter.
Bolt, whose 100 metre world record of 9.58 seconds was set in Berlin in 2009, gave the royal a brief coaching lesson on how start a race using blocks.
Harry, dressed in trainers, track-suit bottoms and a top in the Jamaican national colours of black, gold and green, and emblazoned with the country's name, listened intently as the sprinter told him what to do and then set the small ramps to fit his legs.
The pair lined up again to race but this time both were ready - and when an official set them off the royal streaked away as Bolt jogged down the track probably saving himself for more difficult opponents.
The sprinter later sounded a little worried that he may have given away some secrets Harry could pass on to Britain's Olympic team. "I think I taught him a few things about the start, he may just tell the people back home," he said.
PA
Join our new commenting forum
Join thought-provoking conversations, follow other Independent readers and see their replies