Tamir Rice: No charges against police officer who killed 12-year-old
The announcement comes more than 400 days after the fatal police shooting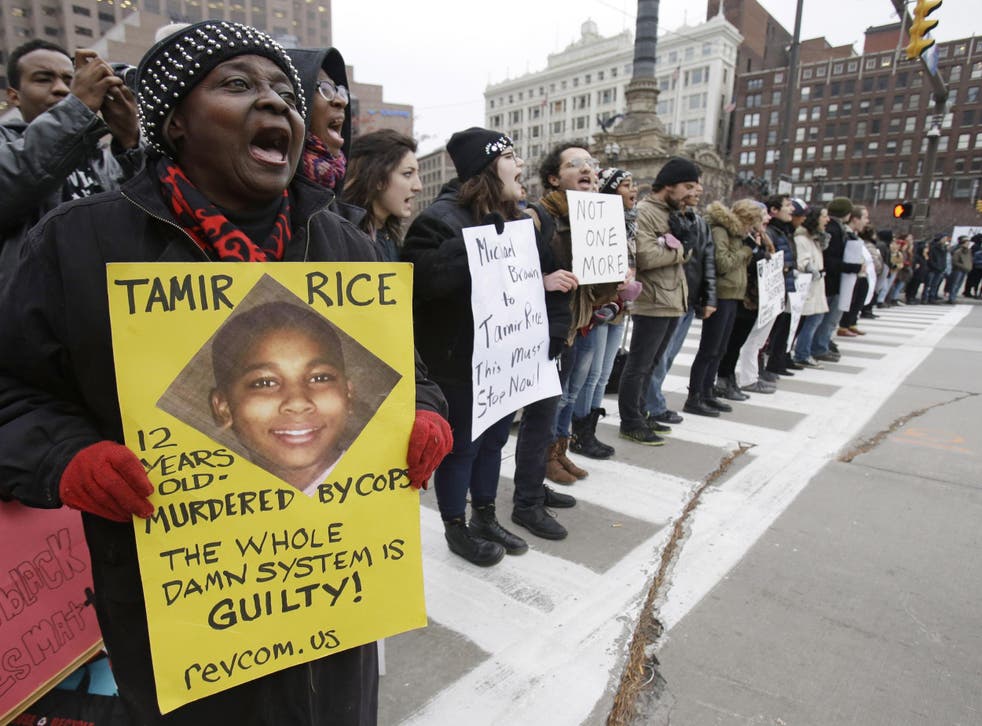 Officer Timothy Loehmann will not face charges for killing 12-year-old Tamir Rice.
Assistant Cuyahoga County Prosecutor Matthew Meyer made the announcement on Monday afternoon more than 400 days after Rice was killed for holding an airsoft gun.
"The outcome will not cheer anyone, nor should it," Mr McGinty said before calling the fatal shooting a "perfect storm of human error."
Officer Loehmann's partner 46-year-old Frank Garmback will not face charges for his role in the shooting.
CCTV of Tamir Rice shooting
"It has been clear for months now that Cuyahoga County Prosecutor Timothy McGinty was abusing and manipulating the grand jury process to orchestrate a vote against indictment," the Rice family said in a statement.
"Even though video shows the police shooting Tamir in less than one second, Prosecutor McGinty hired so-called expert witnesses to try to exonerate the officers and tell the grand jury their conduct was reasonable and justified," the statement said.
"It is unheard of, and highly improper, for a prosecutor to hire 'experts' to try to exonerate the targets of a grand jury investigation."
Subodh Chandra, the Rice family attorney, said earlier in the day that he believed both officers involved in the shooting would not be indicted.
"This is apparently how long it takes to engineer denying justice to a family when the video of the incident clearly illustrates probable cause to charge the officer," Chandra told the Associated Press.
The shooting occurred on November 22, 2014 when officer Loehmann was called to the Cudell Recreation Center when a 911 dispatcher said that a man was waving a gun. The 911 caller told dispatchers that the gun "was probably fake" but dispatchers did not relay the information to the officer and his partner.
Within 2-seconds, Officer Loehmann fatally shot the youngster, killing him with a single shot to the torso.
Shortly after the decision, small groups of protesters arrived outside the justice center in downtown Cleveland and community members began compiling a memorial at the scene of the shooting.
The incident sparked protests in Cleveland and nationwide, and prompted a Department of Justice investigation that found sweeping systemic deficiencies within the department.

The Civil Rights Division of the DOJ said that it would continue monitoring the police shooting of Rice to "determine what actions are appropriate, given the strict burdens" imposed by civil rights laws.
"We will continue our independent review of this matter, assess all available materials and determine what actions are appropriate, given the strict burdens and requirements imposed by applicable federal civil rights laws," a statement issued by the department on Monday said.
"Additionally, the Department of Justice continues in its efforts to pursue ongoing and comprehensive reform pursuant to the consent decree in the federal, civil pattern and practice case filed before Chief Judge Solomon Oliver in the United States District Court for the Northern District of Ohio."
Register for free to continue reading
Registration is a free and easy way to support our truly independent journalism
By registering, you will also enjoy limited access to Premium articles, exclusive newsletters, commenting, and virtual events with our leading journalists
Already have an account? sign in
Register for free to continue reading
Registration is a free and easy way to support our truly independent journalism
By registering, you will also enjoy limited access to Premium articles, exclusive newsletters, commenting, and virtual events with our leading journalists
Already have an account? sign in