Puerto Rico hit by another earthquake as island reels from aftershocks
Island has experienced thousands of quakes since late December, and at least one death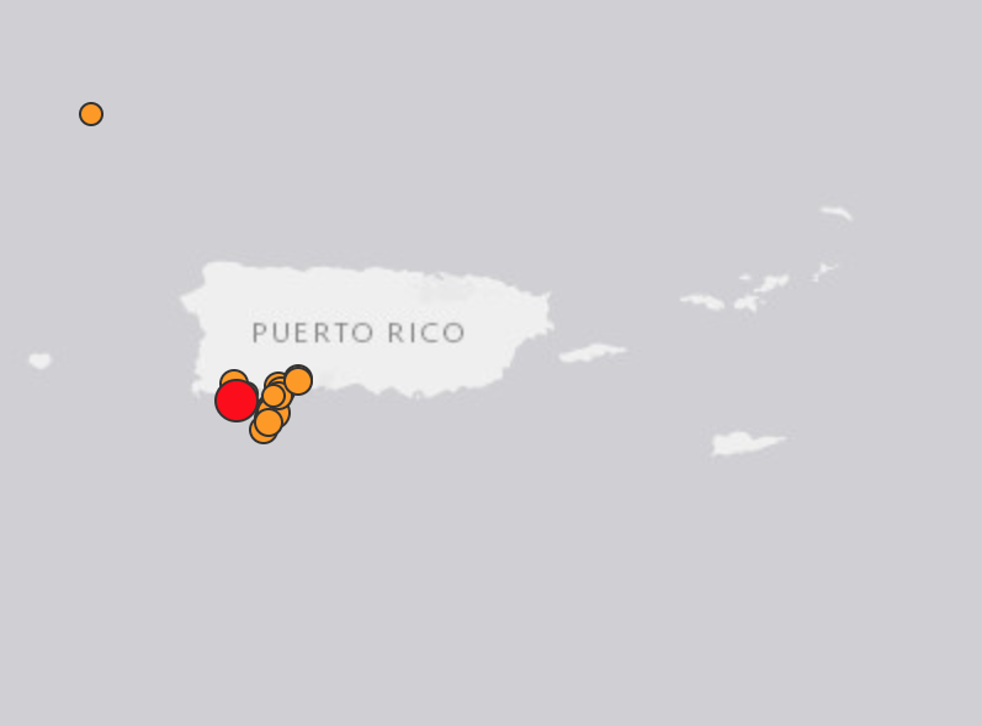 Puerto Rico has been hit by another earthquake after a string of such incidents over the past several weeks, with the latest striking inland and registering as a preliminary 5.2 magnitude quake.
The earthquake comes in the middle of a window that scientists with the United States Geologic Survey (USGS) had warned could see repeated quakes on the island, with a slight potential for a large registering at 6.4 magnitude or above in the next four days or so.
"According to our forecast, over the [next week,] there is a 4 percent chance of one or more aftershocks that are larger than magnitude 6.4," the USGS said on Monday. "It is likely that there will be smaller earthquakes over the [next week,] with 40 to 230 magnitude 3 or higher aftershocks. Magnitude 3 and above are large enough to be felt near the epicentre. The number of aftershocks will drop off over time, but a large aftershock can increase the numbers again, temporarily."
The latest earthquake struck just west of the city of Yauco on Wednesday morning, in the southwestern portion of the island where the US territory has activated more than 650 National Guard members to construct and support tent shelters across the island.
The island has been reeling since 28 December, when hundreds of earthquakes began to hit there, most of which have been too weak to feel, according to USGS. In response residents of Puerto Rico have reportedly been sleeping outside, fearing what damage potential aftershocks might bring after a series of quakes, including one earthquake that registered as a magnitude 5.9 incident on Saturday.
Bringing aid to Puerto Rico

Show all 20
"Wow," wrote one user on Twitter after the Wednesday earthquake. This "is only the 2nd I've felt and it rocked me for about 10 seconds. I'm working at San Juan!"
The message was confirmed by several other accounts claiming to be in San Juan, which is on the northeastern side of the island.
The increased earthquake activity in recent weeks has alarmed scientists as well, who have determined that the shifts in the ground can be seen from space.
On the ground, the 6.7 magnitude earthquake that hit near the island on 7 January is believed to have been the biggest to hit the island in a cenutary. One person was killed in its aftermath, and 600 buildings were damaged with a total of at least $110 mllion in damages.
Register for free to continue reading
Registration is a free and easy way to support our truly independent journalism
By registering, you will also enjoy limited access to Premium articles, exclusive newsletters, commenting, and virtual events with our leading journalists
Already have an account? sign in
Register for free to continue reading
Registration is a free and easy way to support our truly independent journalism
By registering, you will also enjoy limited access to Premium articles, exclusive newsletters, commenting, and virtual events with our leading journalists
Already have an account? sign in
Join our new commenting forum
Join thought-provoking conversations, follow other Independent readers and see their replies