Purdue shooting: Police say gunman may have been targeting a particular individual as he surrendered within moments of killing male victim
The suspect did not attack anyone else, but is not cooperating with investigators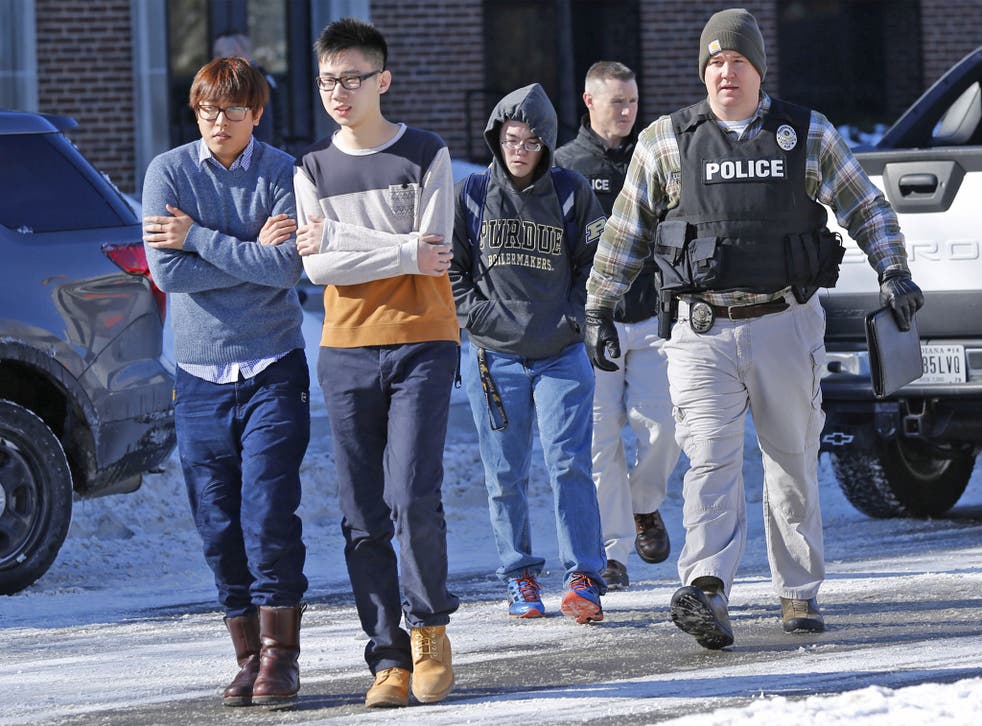 At least one person has been shot dead in the US state of Indiana after a gunman entered Purdue University, opened fire and surrendered within moments of killing a male victim, police have said.
The suspect appeared to have targeted a man in a basement classroom of the Electrical Engineering Building, police said, which he entered at around 17:00 GMT and did not attack anyone else.
"The individual entered the facility and took the actions that he took, and then immediately left the facility without any other interaction that we're aware of," Purdue Police Chief John Cox told reporters.
Neither the identity of the suspected gunman or the victim has been identified. Mr Cox said the man arrested wasn't immediately cooperating with investigators.
The suspect surrendered to a West Lafayette police officer outside the building on the 40,000-student campus, he said. Purdue University is about 60m (96km) north-west of Indianapolis.
The attack comes on the heels of at least two school shootings in the US last week. One in Philadelphia left two teenagers wounded and another in New Mexico that injured an 11-year-old boy and a 13-year-old girl.
Julissa Martinez, a nursing student from Portage, said she was in psychology class on another part of campus when she received the text message saying the university was in lockdown. She said her professor briefly kept teaching, then stopped so that students could contact people to let them know they were safe. "He tried to get everything under control because people were freaking out," she said.
James Percy, who recently toured the show Potted Potter to the theatre on the Purdue University campus, told The Independent: "We had two sell-out shows, and the audiences were lovely. Everybody we met at Purdue was so warm and welcoming, and the whole place had such a modern, cosmopolitan vibe. We were given gifts by the Purdue Quidditch Team, who again were a great bunch of smart, enthusiastic people. I'm really shocked to hear that such a cold, senseless act could take place there. My thoughts are with everybody at Purdue."
Register for free to continue reading
Registration is a free and easy way to support our truly independent journalism
By registering, you will also enjoy limited access to Premium articles, exclusive newsletters, commenting, and virtual events with our leading journalists
Already have an account? sign in
Register for free to continue reading
Registration is a free and easy way to support our truly independent journalism
By registering, you will also enjoy limited access to Premium articles, exclusive newsletters, commenting, and virtual events with our leading journalists
Already have an account? sign in
Join our new commenting forum
Join thought-provoking conversations, follow other Independent readers and see their replies