New York restaurant finds itself at centre of bizarre 'Putin burger' scandal
The burger, said to have been a special for Mr Putin's birthday, never existed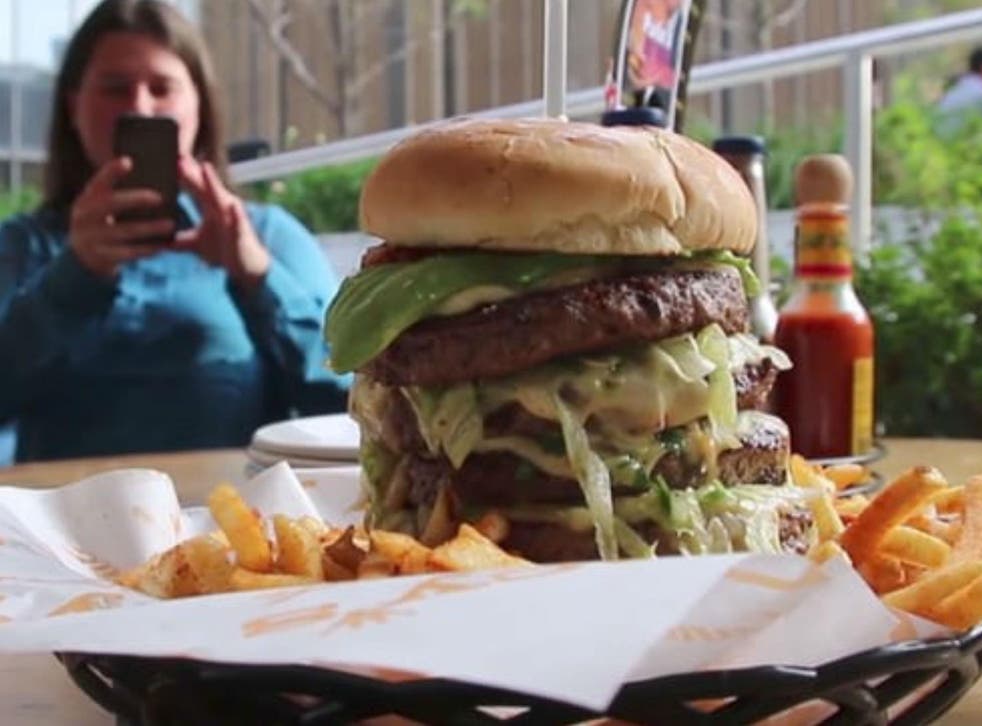 A Mexican restaurant in Manhattan has become entangled in a strange case involving Vladimir Putin's birthday, and a burger that never was.
Just across the street from Madison Square Garden, Lucy's Cantina Royale has found itself at the centre of an odd controversy after Russian state-owned media published claims last week that the restaurant had sold a burger special named after Vladimir Putin on his birthday.
"Lucy's Cantina Royale was subject of a hoax involving Vladimir Putin's birthday. Our restaurant has never celebrated Vladimir Putin's birthday in any way, shape, or form, and has never offered a 'Putin Burger'," a statement provided by manager Tim Ryan to The Independent reads.
Russian state-owned media claimed in a video last week that a waitress had told them that the restaurant had put together a five-patty burger that weighed about "1,952 grammes" — a reference to the year Mr Putin was born — to mark his 65th birthday on Saturday. The video segment, which was clearly filmed at least in part in the restaurant, shows a waitress delivering a mammoth burger to a customer and talking about how it's made.
The video reportedly also shows two barmaids confirming the waitress's claims with a glowing assessment of the Russian President.
"We believe that Vladimir Vladimirovich is an outstanding politician and a historical figure," one barmaid — identified as both Tamara and Tatiana in Russian news outlets — said in a video produced by a Russian television channel.
"We decided to devote one day a year to [Putin]," said another barmaid, identified as Darya in the video.
With dozens of tequilas lining the shelves behind the bar, and Caribbean reggae playing softly from the sound system, Lucy's hardly seems like the type of place that would boast of connections to the Kremlin. Glowing orbs illuminated in mesh hang above sky blue, yellow, and green communal tables where people chow down on tacos and burritos. A wooden sign advertises beer buckets, margaritas and "water bombs" on sale.
Mr Ryan said that a burger is available in the restaurant, which offers a variety of Mexican fare, but that it is named after their chef — not the Russian president.
World news in pictures

Show all 50
When asked for further details about the "hoax", Mr Ryan demurred, seeming somewhat baffled himself about the whole controversy, and referred to the statement.
"Lucy's completely disavows the statements made in the video, which are false," the statement said. "The employees responsible for this hoax have been suspended pending investigation."
When asked if the video was created as a school project, a potential explanation that had been suggested by some, Mr Ryan said he wasn't sure.
It's not just Lucy's that has distanced themselves from the the hoax, either. Although the video and claims were first reported and produced by Russian media, the Kremlin said on Friday they were not involved in any way. Raptly, the Russian television station that produced the video, has also removed the video after an independent journalist debunked the story, noting that employees of Lucy's had put it together, not the restaurant itself.
"We in the administration are engaged in various matters," Dmitry Peskov, a Kremlin spokesperson, told reporters on a conference call. "We haven't gotten around to burgers yet."
Mr Peskov noted, however, that it wouldn't have been unprecedented for a company in a foreign country to create products either named after Mr Putin, or using his image.
Join our new commenting forum
Join thought-provoking conversations, follow other Independent readers and see their replies