QAnon supporters suggested posing as National Guard to access capitol on inauguration day
FBI allegedly picked up 'suspicious traffic' while monitoring the threats to the 20 January inauguration of Joe Biden, according to reports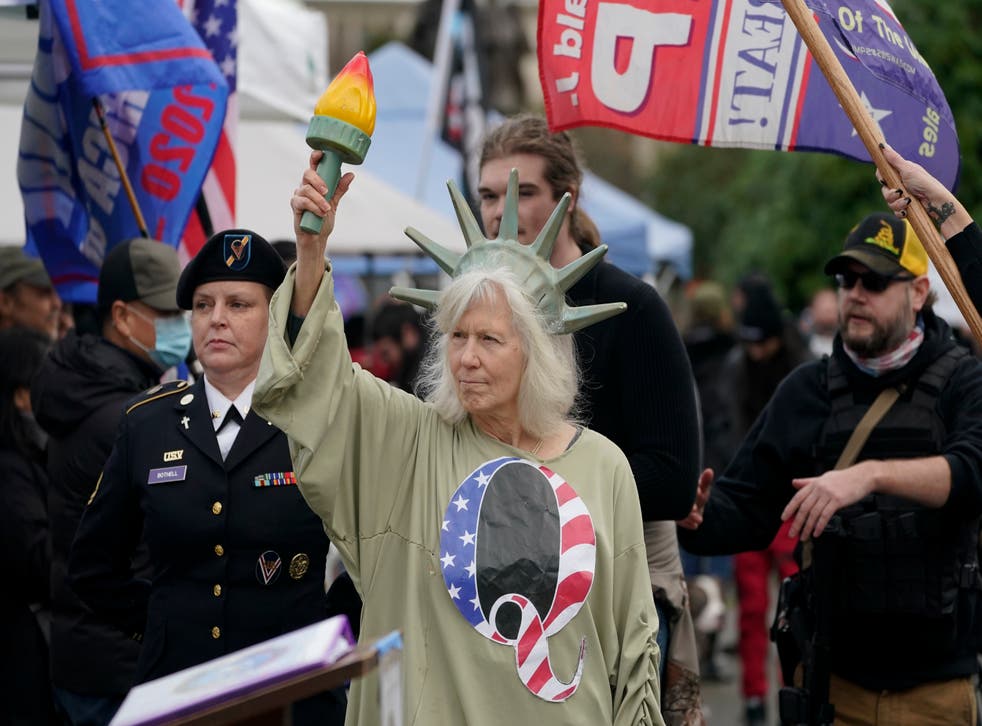 Leer en Español
QAnon conspiracy theorists had allegedly discussed posing as National Guard troops in Washington and were on the lookout for vulnerable spots in the city in an attempt to disrupt Joe Biden's inauguration ceremony, according to FBI intelligence sent to law enforcement on Monday.
The National Guard members have been warned of a threat from both "lone wolves" and adherents of QAnon, after intelligence indicated that they are planning to disrupt the swearing-in ceremony of Mr Biden, according to the intelligence briefing by FBI obtained by The Washing Post.
FBI reportedly observed far-right extremists downloading and studying maps of vulnerable locations, though it did not identify any specific plots to breach the inauguration ceremony.
Strict security measures have been put in place in the entire Washington city for president-elect Biden's swearing-in ceremony on 20 January. More than 25,000 National Guard troops and hundreds of policemen would remain alert to avoid a rerun of the 6 January violent siege of the Capitol building that left five people dead.
Security concerns intensified as law enforcement received multiple threats and intelligence of armed protests, as well as inputs of internal threat from members of security.
FBI said during the briefing that it picked up "suspicious traffic" while monitoring that suggested the possibility of people discussing posing as National Guard troops but have "nothing that points to any specific action."
"We're monitoring all incoming leads, whether they're calls for armed protest, potential threats that grow out of the January 6 breach of the Capitol, or other kinds of potential threats leading up to inaugural events and in various other targets. So we're latched up with all of our partners in that regard," FBI Director Christopher A Wray said last week.
He said there is "extensive amount of concerning online chatter" for interfering in the inauguration.
The Washington Post said it is withholding some of the information from the intelligence report at the request of FBI in order to "avoid revealing intelligence-gathering methods."
Acting defence secretary, Christopher C Miller, said in a statement on Monday that they are leaving no stone unturned in securing the capital.
Register for free to continue reading
Registration is a free and easy way to support our truly independent journalism
By registering, you will also enjoy limited access to Premium articles, exclusive newsletters, commenting, and virtual events with our leading journalists
Already have an account? sign in
Register for free to continue reading
Registration is a free and easy way to support our truly independent journalism
By registering, you will also enjoy limited access to Premium articles, exclusive newsletters, commenting, and virtual events with our leading journalists
Already have an account? sign in
Join our new commenting forum
Join thought-provoking conversations, follow other Independent readers and see their replies