Qatar claims it is victim of 'smear campaign' after extras allegedly offered money to take part in 'protest' against country outside UN headquarters
Exclusive: Event comes weeks after mysterious PR firm offered actors cash for fake demonstration near Downing Street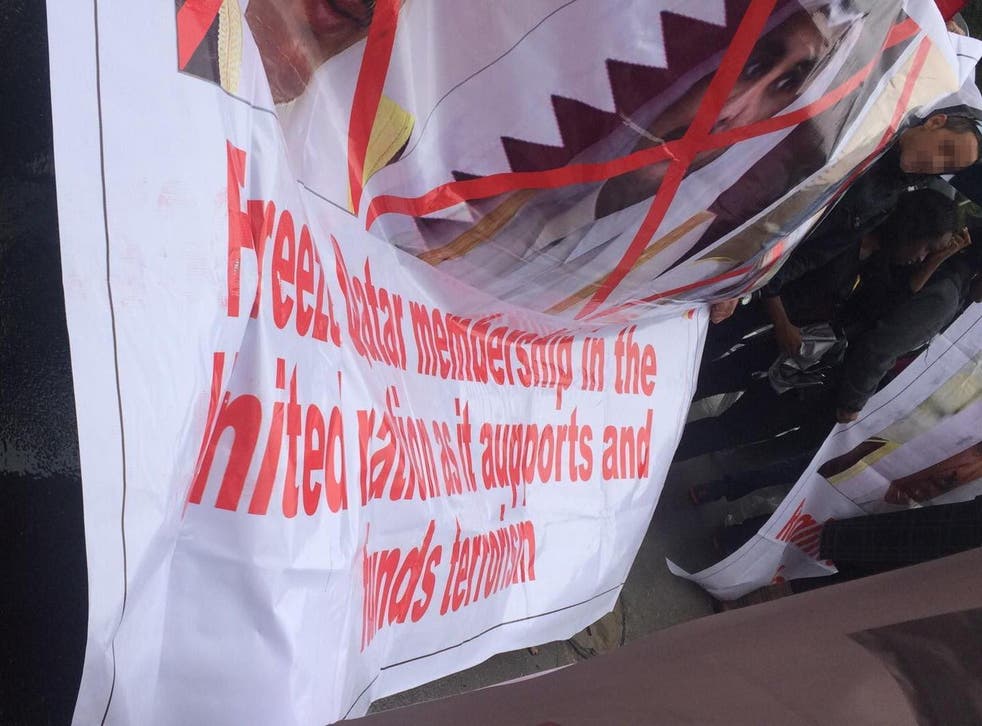 Qatar has claimed it is victim of an "international smear campaign" after extras were allegedly offered $100 (£78) to take part in a demonstration against the country outside the headquarters of the United Nations (UN).
The apparently fake protest in New York came just weeks after a mysterious PR firm offered extras cash to form an "anti-Qatar event" near Downing Street during a meeting between Theresa May and the ruler of the Arab country.
A woman who said she attended the protest told The Independent she spotted a "vague" Facebook post asking locals in Brooklyn to "wave flags" and "stand up for peace" near the UN's headquarters in Manhattan on 25 September – the same day Donald Trump delivered a controversial address to the organisation's general assembly.
There was no mention of Qatar in the post, she said, but on arrival at around 2pm found it was "clearly" a protest against the Gulf state, featuring "lots of French speakers" holding signs.
She said she was given $100 (£79) on arrival by the woman behind the message, but later left after being given an anti-Qatar flag and handed back the money.
"The group assembled by the woman who made the original Facebook post for extras were mostly folks who were French speaking – she was French also – and maybe about 30-40 of us," the 23-year-old said.
"When we walked up to the area that seemed designated for demonstrations, there was a second group of also about 40 people already protesting with the same signs our group had, except they seemed to be from Egypt – they had flags, were chanting and were playing music."
World news in pictures

Show all 50
She added: "I came home from the event, distraught and soaking wet from the rain they had us waiting in."
The woman, who wished to remain anonymous, shared with The Independent a Facebook message sent by the apparent organiser, a woman called Nezha Tagmouti.
"I am organising an event which is to promote peace in the world," Ms Tagmouti wrote. "There will be music, speeches for peace that will be before the United Nations.
"I need extras of people who will just listen to the speech, applaud and have the flags of all the countries around the world. These extras are paid $100 each."
The New York Police Department said it had no record of the protest.
Ms Tagmouti's Facebook page reveals she also attempted to hire extras for an "advert" in London on 22 July, the same day Qatar's ruler, Tamim bin Hamad Al Thani, arrived in the UK capital.
"I'm looking for extras to shoot an ad in London, Sunday from 1pm to 4pm. It's very urgent. Thank you for your help," she wrote in a post.
A Qatari diplomat told The Independent: "Qatar continues to be the target of an international smear campaign designed to damage its reputation and strip it of the 2022 World Cup.
"The campaign has repeatedly used underhand tactics, including paid protests, as part of a failed attempt to spread false accusations and manipulate opinions of Qatar in the United States, Europe and beyond.
"Yet again, the campaign has been exposed, further discrediting it's creators in the eyes of the international community."
It remains unclear why Ms Tagmouti, whose Facebook page states she lives in Paris, paid for the rally or if she acted as an intermediary for a third party.
Her LinkedIn page states she is a professor of marketing at the Institute of Management Studies, a private higher education institute in Casablanca, Morocco.
She could not be reached for comment.
Ms Tagmouti joins an unusual cast of figures apparently involved in arranging fake protests against the oil rich state.
President Trump says Qatar is a major funder of terrorism
The Independent revealed in August a little-known artist from south London, Lesley Genda, and a French woman behind a fake PR agency, Lola Tirand, were both involved in attempts to pay actors to join the fake protest outside Downing Street.
The incident came amid an ongoing economic blockade against Qatar by other Gulf states. The row has led to a public relations war on European and US soil.
Register for free to continue reading
Registration is a free and easy way to support our truly independent journalism
By registering, you will also enjoy limited access to Premium articles, exclusive newsletters, commenting, and virtual events with our leading journalists
Already have an account? sign in
Register for free to continue reading
Registration is a free and easy way to support our truly independent journalism
By registering, you will also enjoy limited access to Premium articles, exclusive newsletters, commenting, and virtual events with our leading journalists
Already have an account? sign in
Join our new commenting forum
Join thought-provoking conversations, follow other Independent readers and see their replies