Rachel Corrie was killed in Gaza by the IDF. 20 years on, her parents are still fighting for justice
Exclusive: In the two decades since their peace activist daughter died, Cindy and Craig Corrie have been unable to hold anyone accountable. But they have not given up their hopes for peace, they tell Andrew Buncombe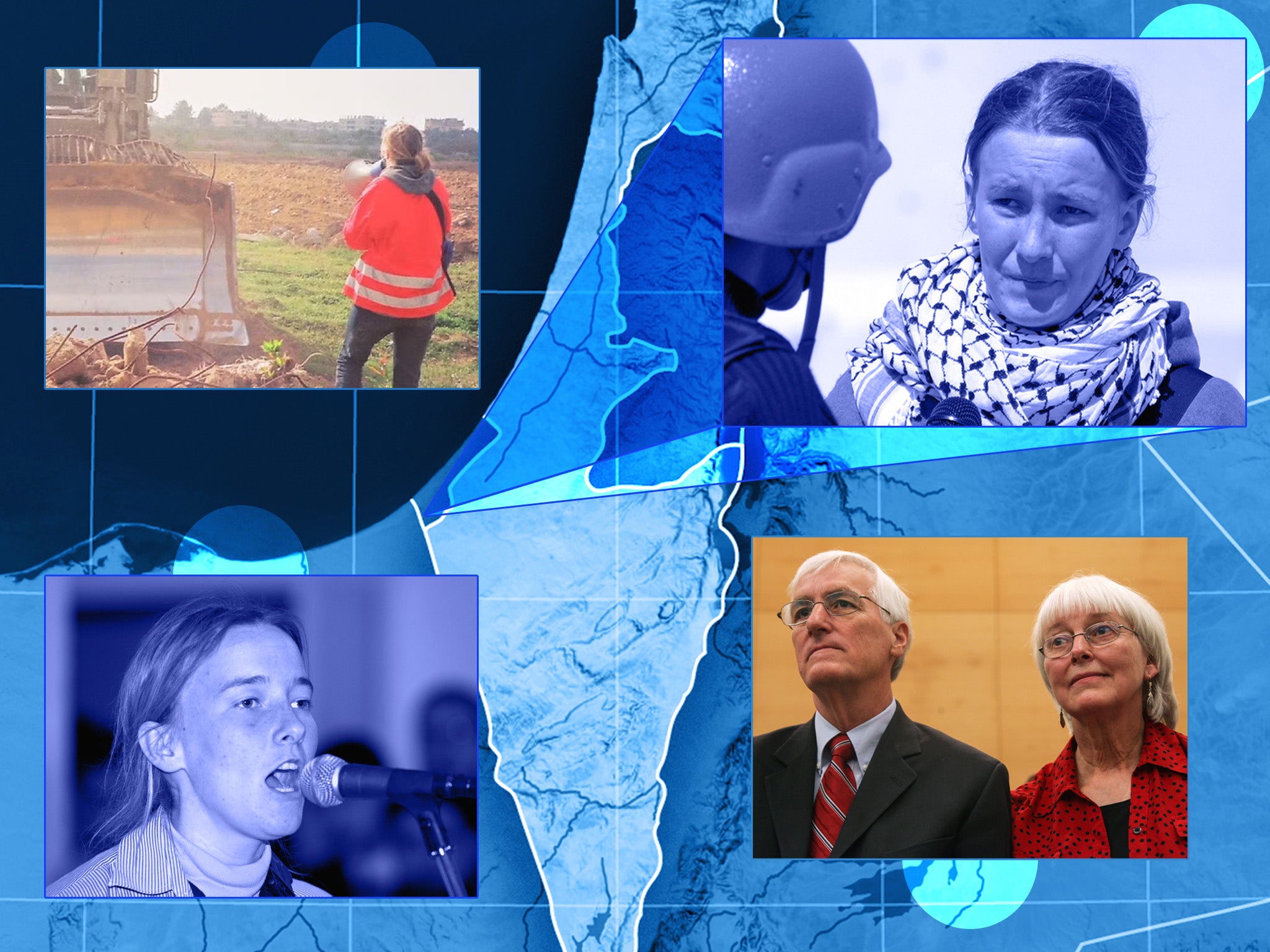 There was no good way to receive such news.
Rachel Corrie's mother, Cindy, remembers her other daughter, Sarah, and Sarah's husband calling on the phone. It was obvious something was wrong.
There had been some "very sad news" and it was about Rachel, she was told. The young activist had travelled to Gaza two months earlier to try and protect the lives and homes of Palestinians.
Is she dead, her mother asked immediately? She put her question in such a blunt way, she says, in the hope of being able to quickly rule out the worst. But there was no escaping the truth. Yes, they believed she was dead. They had seen it on the news.
Cindy picked up the cordless phone and carried it to Rachel's father, Craig, who was doing laundry in another room, busy with the most mundane of chores.
They then made a flurry of calls, mainly to other members of Rachel's family, wanting to break the details personally rather for them to also see the news on the TV. They also spoke to the State Department. Craig called his boss. "I have no idea what's happened in my life," he told him. "But it's completely changed."
It is almost 20 years since that terrible day — March 16, 2003 — when they learned their daughter had been killed in southern Gaza, crushed by a 60-tonne D9 bulldozer built by Caterpillar Inc and operated by the Israeli Defense Forces (IDF). Rachel had been part of a group of Palestinian and international activists seeking to halt the destruction of Palestinian property. That day, they they had been acting as human shields to stop the flattening of a home in the Rafah refugee camp occupied by the families of two brothers, Khaled and Samir Nasrallah.
The fact that countless thousands of Palestinians have died in the two decades since then — the majority, Palestinians argue, killed illegally by Israeli forces — sickens Rachel's parents. They are aware of criticisms that the publicity afforded their daughter's death was vastly more than when a Palestinian is killed. The two facts help motivate them to continue their work at the foundation they created in their daughter's name.
Within days, they realised their daughter's death had set them on a different course. There was no going back. There was no time travel trick to bring back their "magical and caring" child, who had dreamed of being a poet or dancer.
She had been killed, but they had to find a way to keep living, for the sake of their other children — Rachel also had a brother, Chris — for themselves, and for the cause for which Rachel had given her life.
They were part of a club of which nobody seeks membership: parents or relatives of a loved one lost too early, whether through police violence, a school shooting, or else a rare disease the world knows little about. Even back then, they were wary of the oft-touted talk of "achieving closure". Accountability, perhaps, felt more appropriate — but they are far still from securing that.
Just as those individuals seek some meaning from campaigning for greater gun regulations, or police reform, the Corries gained focus by trying to continue their daughter's work, and by telling her story. In doing so, they are acting in the way their daughter expressly asked of them.
In the final email to her parents, sent four days before her death, she wrote: "Hi Papa, Thank you for your email. I feel like sometimes I spend all my time propagandising Mom, and assuming she'll pass stuff on to you, so you get neglected. Don't worry about me too much, right now I am most concerned that we are not being effective. I still don't feel particularly at risk. Rafah has seemed calmer lately."
She added: "Thanks also for stepping up your anti-war work. I know it is not easy to do, and probably much more difficult where you are than where I am."
After her death, some of Corrie's writings were collected by the family and published under the title Let Me Stand Alone: The Journals of Rachel Corrie. (Those writings would also form the basis of a play, My Name is Rachel Corrie, written by Guardian journalist Katherine Viner and actor Alan Rickman. Rickman directed the play when it was performed in London.) One email contained in the collection was a lengthy letter she had written to her mother on February 27, 2003: "Just want to write to my Mom and tell her that I'm witnessing this chronic, insidious genocide and I'm really scared, and questioning my fundamental belief in the goodness of human nature. This has to stop. I think it is a good idea for us all to drop everything and devote our lives to making this stop. I don't think it's an extremist thing to do anymore."
The Corries say they have met many parents confronting other, sometimes similar tragedies.
"I think the most pressing thing for the families, for the survivors, is to not have that pain felt by another family," says Corrie's father.
They feel because their daughter asked them so unequivocally to devote themselves to her cause, and that because they are financially in a position to do so, the burden of having to make a decision has been removed. They established the Rachel Corrie Foundation as a vehicle for this work.
"Some of that is salvation," he adds. "You get to work on something. It's better than just having no meaning after such a large loss."
***
Rachel Corrie was born in April 1979 in Olympia, the capital of the western state of Washington. She was the youngest of three children and would enjoy what her parents said were the benefits of a middle-class lifestyle.
She was educated at state school and for higher education attended Evergreen State College, a liberal institution where students can design their own degree courses. It was there she first became politically aware, and joined Olympians for Peace and Solidarity, a group affiliated with the International Solidarity Movement (ISM), a Palestinian-led organisation that uses non-violent efforts to confront Israeli army tactics.
In her final year, Rachel wanted to see Gaza firsthand. While she received no course credits for her writings from there and while she travelled in her own time, her parents considered it an extension of her education.
Before setting off, she wrote: "We are all born and someday we'll all die. Most likely to some degree alone."
She added: "What if our aloneness isn't a tragedy? What if our aloneness is what allows us to speak the truth without being afraid? What if our aloneness is what allows us to adventure – to experience the world as a dynamic presence – as a changeable, interactive thing?"
Corrie and the other volunteers agreed to act as human shields, placing themselves in the way of the armoured bulldozers the IDF were using to clear Palestinians. This happened against the backdrop of what came to be known as the Second Intifada, an uprising spread over several years against what Palestinians considered major abuses. It involved suicide bombings and rocket attacks by Palestinians, and targeted killings and aerial bombardment by the IDF. Much of the world was looking away. In late March 2003, a few days after Corrie's death, the US and UK invaded Iraq, purportedly in search of weapons of mass destruction.
When Corrie was killed on March 16, 2003, her death was witnessed by many others, including a number of other peace activists, who would later testify to what they saw. One activist, American Greg Schnabel, would tell the media Rachel had been wearing an orange fluorescent jacket and was "clearly" visible to the bulldozer driver as well as to the soldiers in the tank.
"As the ground continued to move Rachel went down on her knees. The bulldozer continued to move forward. Rachel began to become buried beneath the dirt. Still it did not stop," he said.
Rachel Corrie's father 'appalled' as court says Israeli military not responsible for daughter's death
He said once the bulldozer backed away, he and other activists rushed forward to try and help
"She was obviously in terrible condition. Her upper lip had been split open and was bleeding," he said, adding that they called an ambulance. "She was breathing but she was losing consciousness rapidly. Within a minute she was no longer able to give us her name or speak. We continued to talk to her, encouraging her, breathing with her, and telling her we loved her."
Twenty minutes or so later, Rachel Corrie was dead.
The autopsy was conducted by chief pathologist Yehuda Hiss. It was not released publicly but a copy passed to Corrie's parents concluded she died as a result of "pressure on the chest (mechanical asphyxiation) with fractures of the ribs and vertebrae of the dorsal spinal column and scapulas, and tear wounds in the right lung with hemorrhaging of the pleural cavities".
Corrie's parents and other activists quickly blamed the IDF. But Israel rejected those claims of responsibility, saying what had happened was an accident and even questioning the accounts of the witnesses.
In April 2003, a report by the IDF said: "Contrary to allegations, Ms Corrie was not run over by a bulldozer, but sustained injuries caused by earth and debris which fell on her during bulldozer operation. At the time of the incident Ms Corrie was standing behind an earth mound and therefore obscured from bulldozer crew's view." It also accused Corrie and other members of the International Solidarity Movement of "illegal, irresponsible and dangerous" behaviour.
***
A central, relentless part of the Corries' struggle has been to try and secure accountability. They cannot bring their daughter back. But they believe that someone or something — maybe several people, countries or organisations — should accept responsibility for the death of their daughter. They have used legal challenges to try and pin blame against both the makers of the bulldozer and the Israeli military. Those efforts have failed.
In 2005, Corrie's parents, along with four Palestinian families whose relatives were killed or injured, filed a civil action against the Texas-based Caterpillar Inc. The company has provided such equipment to the IDF since 1967. Corrie's parents and their co-plaintiffs argued the Caterpillar bulldozers had been paid for by US taxpayers and provided to Israel as part of the $3.3bn Israel receives from Washington every year. They accused Caterpillar of a series of offences, including war crimes and extrajudicial killing.
They argued that because Caterpillar knew the equipment would be used illegally, they were party to the crimes it was used for. The case was dismissed by an appeals court in 2007 without the merit being tested, as the court said it couldn't hear it without questioning whether it was appropriate for the government to dispatch such equipment to Israel.
"A court could not find in favor of the plaintiffs without implicitly questioning, and even condemning, United States foreign policy toward Israel," the court said. "In this regard, we are mindful of the potential for causing international embarrassment were a federal court to undermine foreign policy decisions in the sensitive context of the Israeli-Palestinian conflict."
Caterpillar failed to respond to inquires from The Independent. The IDF and the Israeli foreign ministry also did not respond. A spokesperson for Israel's Embassy in Washington DC said The Independent's questions would be passed to officials in Israel.
The Corries have made five trips to Gaza to see where their daughter was killed, and remain in touch not just with other activists who knew Rachel, but with the family whose home they were trying to save. They have seen Caterpillar equipment used by the IDF.
Corrie's mother says she now feels "slightly offended" whenever she sees a piece of Caterpillar equipment on an American road, no matter what it is.
"Because of how I have seen that company's equipment — that our government has paid for — utilized," she says. "I always remember: it was a Caterpillar machine that was used to do this. And… through the years, we and many others have challenged Caterpillar Incorporated... because they continued to conduct those sales and probably still do."
In Israel, the parents had little more luck. In 2010, they sued the IDF and Israel's defence ministry, seeking a judgment and compensation.
The driver of the bulldozer, who the judge ordered should not be publicly identified and testifed from behind a screen, claimed he could not see their daughter.
In 2012, Judge Oded Gershon ruled against the parents, clearing the Israeli military and the driver of any wrongdoing. He said Corrie was herself responsible as she had put herself in such a perilous place through choice. "She did not move away as any reasonable person would have done," the judge said. "But she chose to endanger herself… and thus found her death."
That judgment was later upheld by the nation's Supreme Court.
"We are disappointed and not surprised by the verdict," Corrie's father told CNN at the time. "The international humanitarian law has been really ignored in this verdict as in the lower courts."
Looking back now at the judgment, the Corries say they were unable to find someone who could be held accountable for their daughter's death, or for what they argue is Israel's "violent occupation" of Palestinians. They say they have also been unable to impact America's policy towards Israel, which, with few exceptions, is one of unquestioning support by top elected officials of both parties.
"People will say we were trying to find justice. I don't even know what that word means anymore," says Corrie's father. "I think you have to look to South Africa for some of the ways that you might be able to find justice."
But he says he does feel that inability to find accountability has taken its toll: "All of this has to be recognised, and amongst all this violence now what I think we're witnessing is the killing of hope, and hope is what you have that's the first thing you need to survive."
***
The anniversary of Corrie's death comes as relations between Israel and the Palestinian authorities are at some of their most fraught.
Donald Trump prioritised strengthening the hand of Israel over the demands of Palestinians. This move resulted in the Abraham Accords, a series of agreements to normalise relations between Israel, the United Arab Emirates, and Bahrain. These historic deals have been largely welcomed. But Palestinians feel overlooked and Mahmoud Abbas, chairman of the Palestine Liberation Organization, has been largely sidelined.
Violence has continued unabated and surged to levels not seen for years. A series of attacks last year carried out by Palestinians took place as Israel launched Operation Breakwater, a major crackdown.
In January, one day saw the deadliest Israeli army operation in the occupied West Bank since 2005. Troops killed nine Palestinians, including gunmen and a 61-year-old woman, during a raid against suspects in the Jenin refugee camp. Dozens more were injured.
The rolling violence has resulted in the highest death toll in the West Bank since 2004. Nearly 150 Palestinians were killed by Israeli troops last year, according to Israeli human rights group B'Tselem. That figure includes Palestinian American journalist Shireen Abu Akleh, also killed in the Jenin refugee camp.
Observers say the situation has become worse since the re-election last November of Benjamin Netanyahu as Israel's prime minister, heading up a right-wing coalition government.
Among the politicians now in government who were once considered beyond the fringe of even Israel's extreme politics is Itamar Ben-Gvir. Ben-Gvir has called for Palestinians "disloyal" to Israel to be expelled and is a former member of the banned Kach party, which is considered a "terrorist" organisation in the nation. Netanyahu appointed him his minister of national security. His personal visit to Jerusalem's most sensitive religious site — the Al-Aqsa Mosque compound — triggered outcry, and he has spearheaded the country's recent crackdowns.
***
The Corries have never disclosed where they placed their daughter's remains. But there is a memorial to her inside Evergreen State College, which centres on a piece created by international artist and Evergreen graduate Ross Matteson. It is entitled "Reflecting on Peace and Justice" and is a bronze and polished steel representation of a dove on the tip of a pyramid.
When the memorial was established, Corrie's mother told those in attendance she had put off going to see it until the public opening.
"I wanted to share my first encounter with the memorial in this very special place with all of you, who have come to dedicate this remembrance of Rachel and her commitment to peace with justice, and peace with compassion," she said. "And also to dedicate the call to awareness and action that the memorial and Rachel's story require of us."
The Corries always hold some event to mark the anniversary of their daughter's death, and try to include various elements in that event — one to build community, and one to educate people. They know that the 20th anniversary will feel more consequential.
"I think for each of our family members, it's different. There's the very, you know, personal reflection that we do," says Corrie's mother. The events held by the foundation provide a focus, she adds.
Corrie's father says that over the years they have gotten to know "sadly too many families" impacted by the Israel-Palestine conflict. They have friends among the Palestinians who have lost loved ones, and friends among the Israelis who have been similarly bereaved.
He says every family he knows wants to stop more deaths: "Obviously, if you look at the last month, we've all failed in that effort. miserably, right. But you you have to try. You have to do everything you can and we've certainly met good people along that way trying to do that. But I think that's what gathers us together."
Join our commenting forum
Join thought-provoking conversations, follow other Independent readers and see their replies