Radio host uses body as shield to protect 'right-wing' protester being punched and kicked on ground
'I was scared they were going to kill him'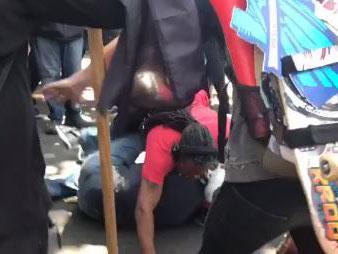 An award winning radio host turned himself into a human shield to protect an man thought to be a far right demonstrator who came under attack at an counter racism rally in Berkeley, California.
Al Letson, who was covering the demonstration for Reveal, received praise for putting himself between the flying fists and using his own body to stop the violence.
The attackers were dressed in black and carrying an anarchist flag.
There were sporadic confrontations at Sunday's protest, which was organised in response to a planned anti-Marxism demonstration.
It was later cancelled for safety reasons but some far right activists still turned up.
Some of the far right supporters were targeted by counter protesters, many dressed in dark outfits.
Video footage apparently caught some of these people kicking and punching a man on the floor.
One was holding an anarchist red and black flag and used it to hit the victim, who is believed to be a far right supporter.
Mr Letson, wearing a red t shirt, can be seen running into the melee and putting himself between the attackers and the man.
He placed his body over the man, while attackers are still kicking him, and shouted "stop!" several times.
Other people joined him to deescalate the situation.
"I was scared they were going to kill him," Mr Letson later told Reveal. "So the only thing I could think was I wanted to get on top of him to protect him."
The publication's Editor in Chief, Amy Pyle, said: "Our editorial policy is clear: we are unbiased observers not participants.
"However, in reviewing the video, it is clear that Al did not take sides. Instead, he responded as any of us might if we saw another human in distress."
Broadcaster Christopher Hayes tweeted: "Tremendous admiration for the guy who calmly jumps in to stop it."
Donald Trump's international Presidential trips
Show all 22
Sunday's rally is reported to have been was largely peaceful for several hours until the protesters in black overran police barricades around the protest area in an attempt to target the few far right demonstrators who arrived.
Berkeley Police Chief Andrew Greenwood said officers were told not to actively confront the anarchists. He applauded officers' restraint, saying it forestalled greater violence. Six people suffered injuries, including two who were hospitalised, and one officer was injured while making an arrest and several others were hit with paint.
There were 13 arrests on various charges including assault with a deadly weapon.
Join our commenting forum
Join thought-provoking conversations, follow other Independent readers and see their replies