Rapper adopts puppy thrown at him by white woman in shocking 'Karen' video
Rapper Glo Mula has now adopted puppy 'Movie'
Graeme Massie
Los Angeles
Tuesday 13 October 2020 16:26 Comments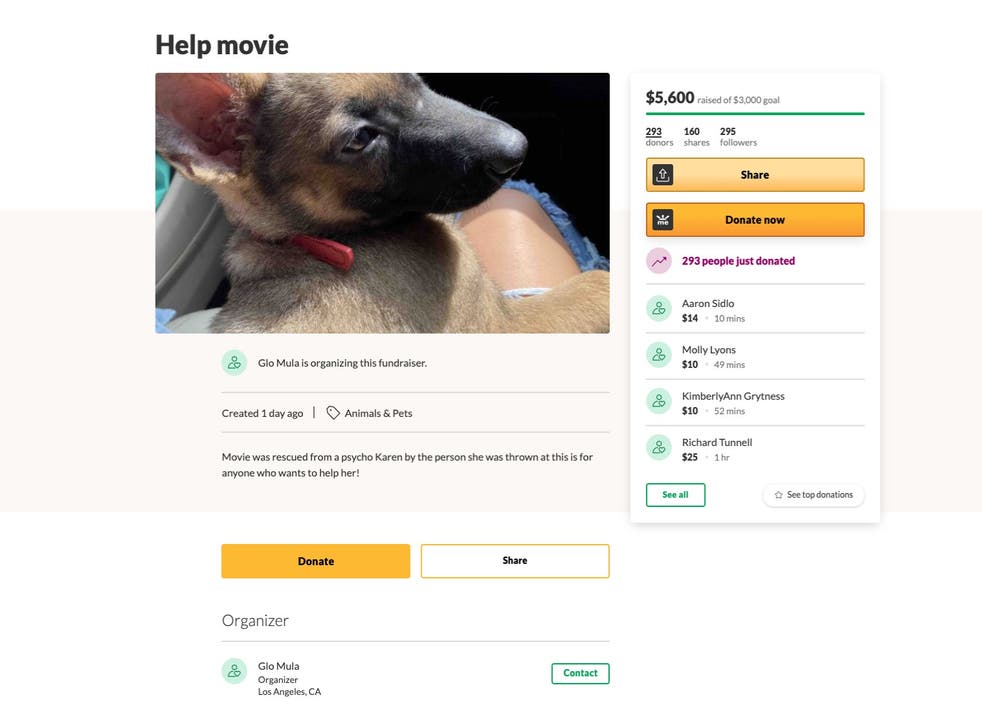 A white woman was caught on camera tossing a puppy at a black man after they got into a verbal altercation in California.
Now the puppy cruelly thrown in the latest viral "Karen" video has been adopted and given a home by the man, who is a rapper known as Glo Mula.
The bizarre incident was capture on video and posted to Instagram, where it has been watched more than 2.5 million times.
The video contains strong language.
It shows the confrontation between the woman, who is holding the Belgian Malinois puppy, and the man in the middle of a street.
During the incident the woman directly referred to his race as she paced around with the dog in her arms.
When the man asked the woman if the puppy belonged to her she threw the frightened animal at him.
The man then grabbed the puppy and told her, "This is not your dog no more."
During the incident the woman also told the man that she has a "mental health record" and accused him of stealing the dog.
Glo Mula has now posted a picture of him and the energetic puppy, which has its own Instagram account and more than 213,000 followers.
He also set up a GoFundMe account to provide for the dog.
"Movie was rescued from a psycho Karen by the person she was thrown at this is for anyone who wants to help her," he wrote.
The "Karen" meme is used for a white woman that acts in an entitled or privileged way.
Register for free to continue reading
Registration is a free and easy way to support our truly independent journalism
By registering, you will also enjoy limited access to Premium articles, exclusive newsletters, commenting, and virtual events with our leading journalists
Already have an account? sign in
Join our new commenting forum
Join thought-provoking conversations, follow other Independent readers and see their replies