Fisherman catches rare blue lobster off US coast and donates it to science
Greg Ward of Rye, New Hampshire, gives unusual crustacean to Seacoast Science Center after catch beats odds of one in three million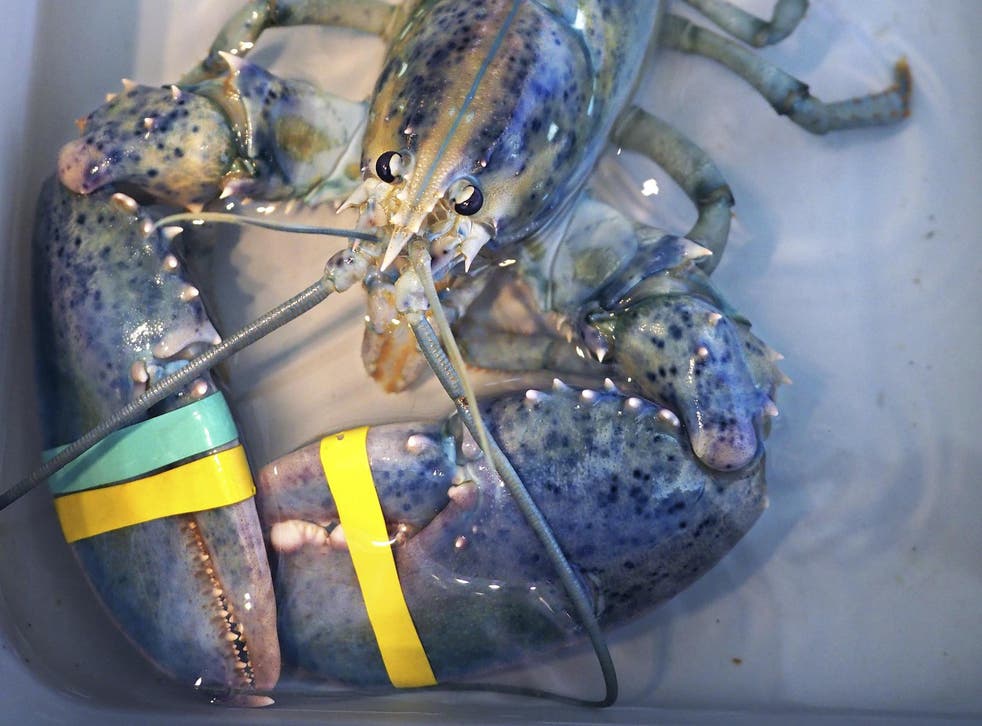 A New Hampshire lobsterman has joined an elite club after catching a rare blue lobster.
Greg Ward initially thought he had snagged an albino lobster when he examined his catch off the coast Monday where New Hampshire borders Maine.
The Rye lobsterman who has been fishing for 32 years quickly realised his hard-shell lobster was a unique blue and cream colour.
'This one was not all the way white and not all the way blue,' Ward said. 'I've never seen anything like it.
'Usually, the stronger lobsters are usually the reddish brown colour but this one still had a hard shell,' he told The Portsmouth Herald.
The oft-cited odds of catching a blue lobster are one in three million. But no one knows for sure.
Ward says the lobster is unlike anything he's ever seen.
'Blue lobsters are still pretty uncommon,' Royer said. 'We'll get about five or six calls every summer. Every time we get a call about an albino lobster, I get a little sceptical just because they are so rare.'
He gave the rare crustacean to the Seacoast Science Center in Rye to study and put on display.
Centre aquarist Rob Royer says Ward's blue lobster will go on display in the 'exotic' lobster tank once it acclimates to the water.
The tank already holds a bright orange lobster and a calico covered lobster.
He said it currently has another blue lobster on display, a bright orange lobster and a calico covered lobster.
The Gulf of Maine, which includes the coast on New Hampshire, has one species of lobster, Homarus americanus, the American lobster.
Weird & Wonderful: life in the deep sea

Show all 11
Normally appearing brown or dark green in nature prior to boiling, scientists say just one lobster in three million is blue - the result of a genetic defect that causes them to produce an excessive amount of protein.
The blue lobster is no different to a regular lobster - it is only the mutation that influences the lobster's outer shell colour.
Associated Press
Join our new commenting forum
Join thought-provoking conversations, follow other Independent readers and see their replies