Raul Castro: Cuba's president accuses US of "illegally training" dissidents inside its diplomatic compound in Havana
Claim comes as countries seek to normalise relations after 50 years of tension
Andrew Buncombe
Tuesday 12 May 2015 18:53 Comments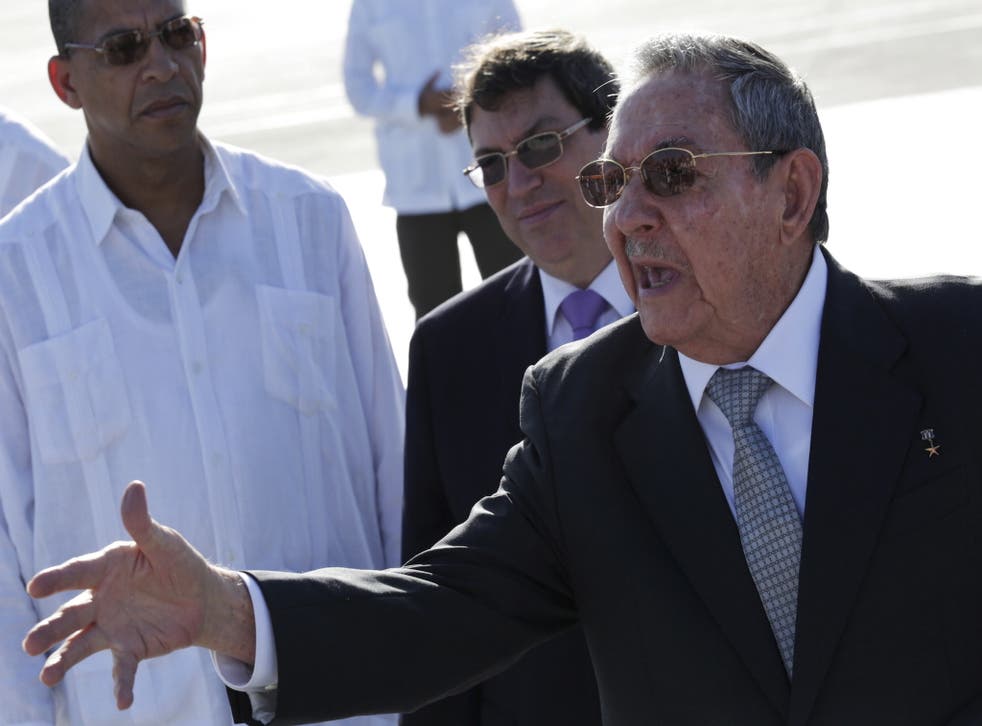 Cuba's leader has voiced concern over what he described as "illegal training" for dissidents inside the US diplomatic compound in Havana.
Speaking to reporters at the international airport as he was seeing off French President Francois Hollande, Raul Castro said the US and Cuba would likely post full ambassadors to each others countries once Cuba was removed from a State Department list of state sponsors of terrorism, due to take place later this month.
Mr Castro and President Barack Obama are engaging in cautious diplomatic two-step after the two countries agreed to try and normalise relations for the first time in 50 years. Part of that process would involve the operation of full embassies with an ambassador, rather than just a consul.
But on Tuesday, Ms Castro expressed concern that the US diplomatic mission was being used to encourage dissidents and train journalists. He said he had raised this issue last month with Mr Obama at a regional summit on Panama.
"What I told [the Americans], concretely to the president, what most concerns me is that they continue doing illegal things. For example, graduating independent journalists," he said, according to Reuters.
"They give them I don't know how many classes, on screen, in teleconferences from the United States. I don't know if they give them a diplomat and of course they give them their corresponding monthly payment."
The news agency said the US mission, known as an "interests section" and technically contained within the Swiss Embassy, has offered classes in journalism, English and how to use the Internet. Cuba sees them as an attempt to undermine the country and meddle in its internal affairs, which would be a violation of international conventions on diplomacy.
Cuba operates its own so-called interests section in Washington DC, again technically as part of the Swiss Embassy.
Cuba tightly controls its state-owned media and blocks websites from independent journalists, who are typically critics of the one-party political system and denied official press credentials.
President Barack Obama in April announced his decision to remove Cuba from the terror list, which was seen a major obstacle for the opening of full embassies. A 45-day waiting period that would give Congress time to take action on Obama's decision ends on May 29.
Register for free to continue reading
Registration is a free and easy way to support our truly independent journalism
By registering, you will also enjoy limited access to Premium articles, exclusive newsletters, commenting, and virtual events with our leading journalists
Already have an account? sign in
Join our new commenting forum
Join thought-provoking conversations, follow other Independent readers and see their replies