Record-breaking 14-foot gator meat was donated to Mississippi soup kitchens
The record-breaking gigantic alligator has been turned into meat to help feed local soup kitchens in the area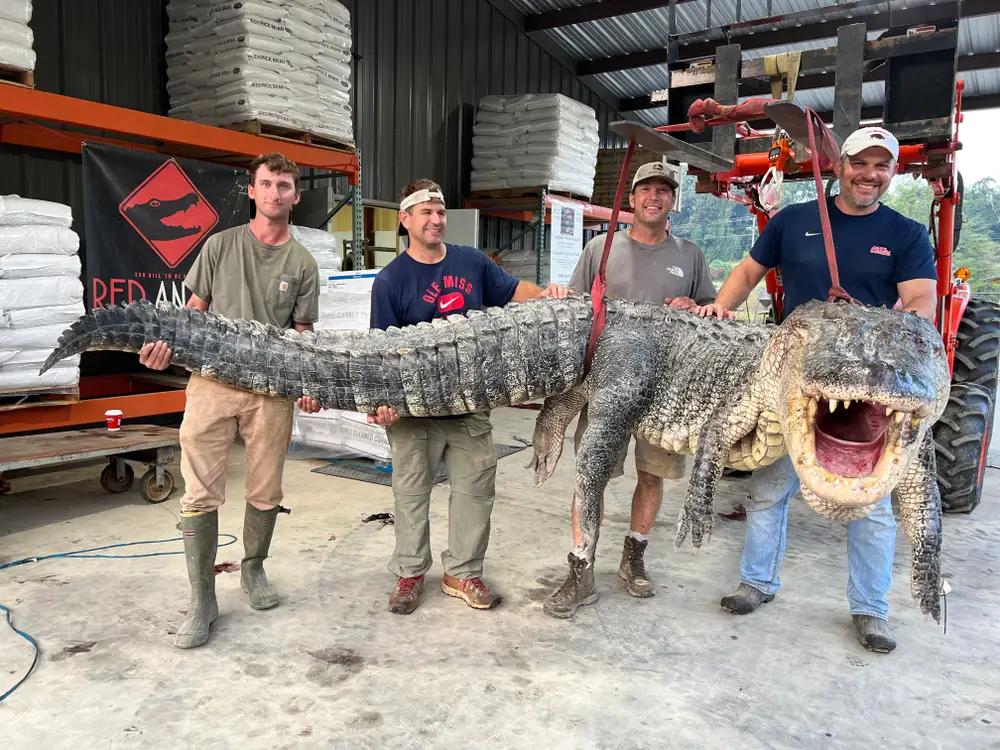 The meat from an 800-pound alligator that was caught on Saturday in Mississippi has been donated to soup kitchens in the state.
The hide of the gator will also become the skin of leather goods. Local conservationists say that capturing this gigantic predator will bode well for the local wildlife and will also keep people and pets safer.
The monster gator, measuring over 14 feet, was caught by four hunters on the Yazoo River and broke Mississippi's size record, according to the Mississippi Department of Wildlife, Fisheries and Parks. The previous gator who held the title was also 14 feet, and weighed just over 766 pounds, Fox News reported.
Around 380 pounds of alligator meat was donated to soup kitchens and other nonprofit organisations in the area, Shane Smith, who caught the gator and is the owner of Red Antler Processing, told Insider.
"The most interesting fact about this catch is that 18 years ago, I believe in 2005, a local resident of Vicksburg, Mississippi, called the game and fish department and reported this alligator as a threat to them," Mr Smith relayed to the outlet. "And they came out and caught this alligator, and they put a little tag on his toe — kind of like a little earring, but they put it on as the webbing of its foot — and they released it into the Yazoo River. And here, 18 years later, these guys caught this alligator about 22 miles upriver from where they released it back in 2005."
This record-breaking catch weighed a huge 802.5 pounds and had a belly girth of 66 inches, the department confirmed on Facebook.
Mr Smith said: "It was surreal. You know, I've seen a lot of big alligators as a processor and as a hunter, but this one was just unlike anyone I've ever seen. It was truly amazing," he said to Insider.
Alongside Mr Smith, Will Thomas, Don Woods, Tanner White and Joey Clark all are credited with having caught the huge predator.
"We got on the water right at dark," Mr Thomas said, recounting their strategy to The Washington Post. "We were seeing a lot of alligators. It was a calm night. We saw a lot of eight-footers, 10-footers, but that's not what we were after. We've been hunting these things a long time. We've killed a lot of 12-footers."
After spotting the "humongous" back of the scaly beast, Mr Woods said they got a hook around him at 9pm, and held on until 10pm. "He broke my rod at that point. We hooked him eight or nine times and he kept breaking off… The crazy thing is he stayed in that same spot. There was no moving him. We couldn't do anything with him," said Mr Thomas.
After an exhausting night of catching and dropping the gator, they finally seized him.
Within hours of being caught, the gator was taken to Smith's meat processing centre, where it took them four hours to break down its body. Half of this time was carefully removing the skin so the quality would be good enough to be turned into leather.
They vacuum-sealed the meat ready to be distributed to soup kitchens around their area.
Join our commenting forum
Join thought-provoking conversations, follow other Independent readers and see their replies