How 'red flag' laws could help stop American mass shootings
Since the shooting in Parkland, Florida, over a dozen states have passed 'red flag' laws. Since the recent mass shootings in Texas and Ohio they are being more widely seen as a way of preventing more tragedies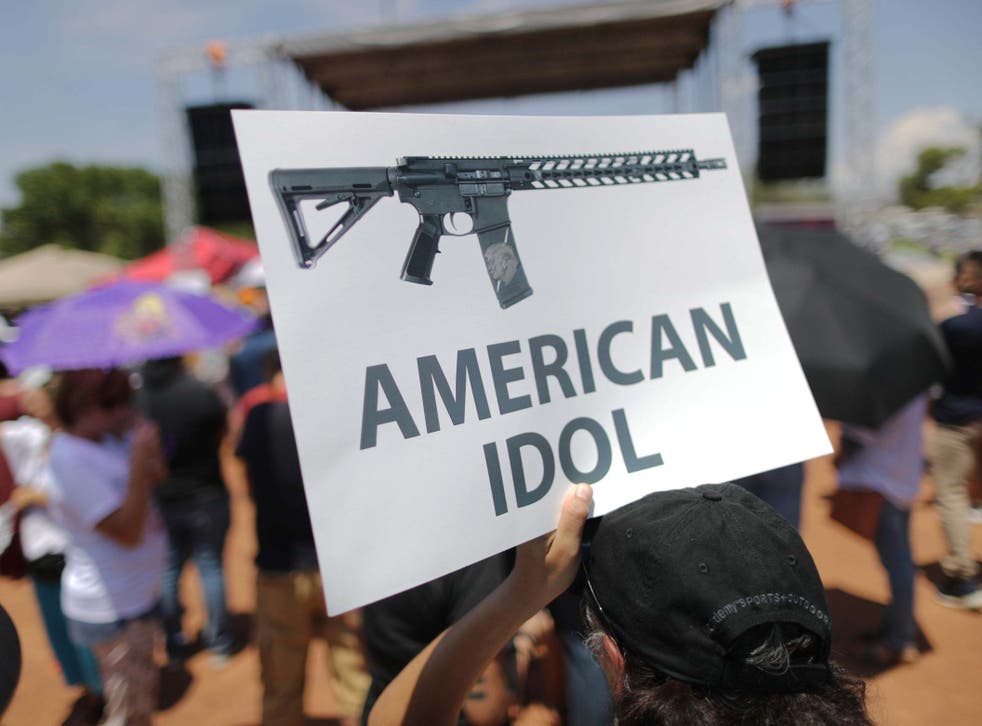 Last December, 20-year-old Dakota Reed drew the attention of American law enforcement after he posted troubling threats on the internet, claiming a plan for mass slaughter.
Just two weeks after a shooting at a Pittsburgh synagogue left 11 people dead, Reed appeared to promise to carry on in the dark American tradition of violence, in a post on one of seven Facebook accounts he apparently kept, and used to spread hateful messages. "I'm shooting for 30 Jews," he wrote.
But Reed never had the chance to make good on those threats in the way that the Pittsburgh shooter and others who have carried out mass violence in recent years have.
Instead, when police were notified by worried observers of the posts, they simply took his guns from him using an extreme risk protection order (also known as "red flag" orders) – a measure that a team of researchers at the University of California Davis School of Medicine has announced could be one of the most effective tools to stop mass shootings, and one Donald Trump is reportedly considering at the national level in the wake of the shootings in El Paso and Dayton.
According to the new report, that instance in Washington is among at least two cases where the so-called red flag laws have stopped a credible threat of a mass shooting. Reed had 12 firearms taken from him.
El Paso mass shooting: 20 killed at Walmart store

Show all 39
The other instance occurred in 2018, after an 18-year-old man described the massacre at Marjory Stoneman Douglas High School in Parkland, Florida, just one day earlier as "fantastic". He later made concrete threats, including a plan to commit a mass shooting at his high school, leading authorities to confiscate the 14 firearms he owned using a red flag law that was signed in April, just two months after Parkland.
Vermont and Washington are among 17 states, plus the District of Columbia which includes the capital, where extreme risk protection orders have been pushed through, according to the gun control advocacy group Giffords, with the first of those laws dating all the way back to 1999, when Connecticut led the way with their first-in-the-nation bill.
But it wasn't until the shooting in Parkland that the laws really gained momentum. Before 2018, just five were on the books. And, since then, 13 laws have been signed across the country, including in states such as Florida, which has had a Republican governor and legislature, and a reputation for bowing to the American gun lobby.
Donald Trump calls for mental institutions in response to gun control question
"In the wake of tragedies like Parkland, and other mass shootings, we connect these dots after the fact, and it begs the question of why not enact and empower people to prevent these strategies?" said Sam Levy, counsel with the gun control advocacy group Everytown for Gun Safety.
The movement across the country to pass the laws following Parkland – which, as it turns out, may have been avoided as the shooter had a long and well documented history of brushes with the police and trouble at school – seeks to do more than address mass shootings, though. Other forms of gun violence could be helped by the laws, too.
Suicides, for instance, made up roughly 60 per cent of the 39,773 gun-related deaths in 2017 in the United States, the last year that data was available from the Centre for Disease Control and Prevention, and red flag laws could mean a watchful eye from a friend or family member could help protect a person with suicidal thoughts.
In the new study, 159 records of the protection orders reviewed between 2016 and 2018 found that none of those individuals ultimately committed homicide or killed themselves with guns.
"We've found it to be impactful, especially in terms of firearm suicides," Mr Levy said.
In terms of process, the laws vary, but they generally allow people to petition a court to remove someone's guns, their magazines, and their ammunition in the case of emergencies. The courts can do so for, in some cases, up to three weeks. In California, a judge can extend the confiscation order for up to a year.
Amy Hunter, a spokeswoman for the National Rifle Association (NRA), told The Independent that the gun rights group could support certain red flag laws, but only if due process rights in the US constitution are honoured.
Those who write the laws say they write the measures with those concerns specifically in mind. Ms Hunter declined to list which red flag laws the NRA actually supports, or if it supports any federal red flag bills that have been introduced.
"To safeguard the rights of law-abiding gun owners, Extreme Risk Protection Orders at a minimum must included strong due process protections, require treatment, and include penalties against those who make frivolous claims," Ms Hunter said in an email.
Across the United States, the laws are widely supported, as are many forms of gun control that have been largely kept from becoming law at the federal and state level as a result of the vast influence of the NRA.
Support free-thinking journalism and attend Independent events
That support comes from the likely suspects – Democrats – but also from Republicans, 70 per cent of whom said in a recent poll that they support allowing family members to seek gun restraining orders (support drops to 60 per cent among Republicans when asked if they support letting police seek out these orders).
And, with the recent shootings in Dayton, Ohio, and El Paso, Texas, highlighting once again how these laws could avoid tragedy – the shooters had expressed violent plans previously – a renewed focus has been placed on them. Virtually all of the Democrats running for the 2020 nomination to take on Donald Trump have backed them.
"I think there's momentum," Mr Levy said, considering how quickly many states have acted in the last 18 months. "There are very few policies that have grown at that rate, ever, in the history of our movement."
Join our new commenting forum
Join thought-provoking conversations, follow other Independent readers and see their replies