'Refugees Welcome' banner removed from Statue of Liberty
Activists illegally unfurled the banner on Tuesday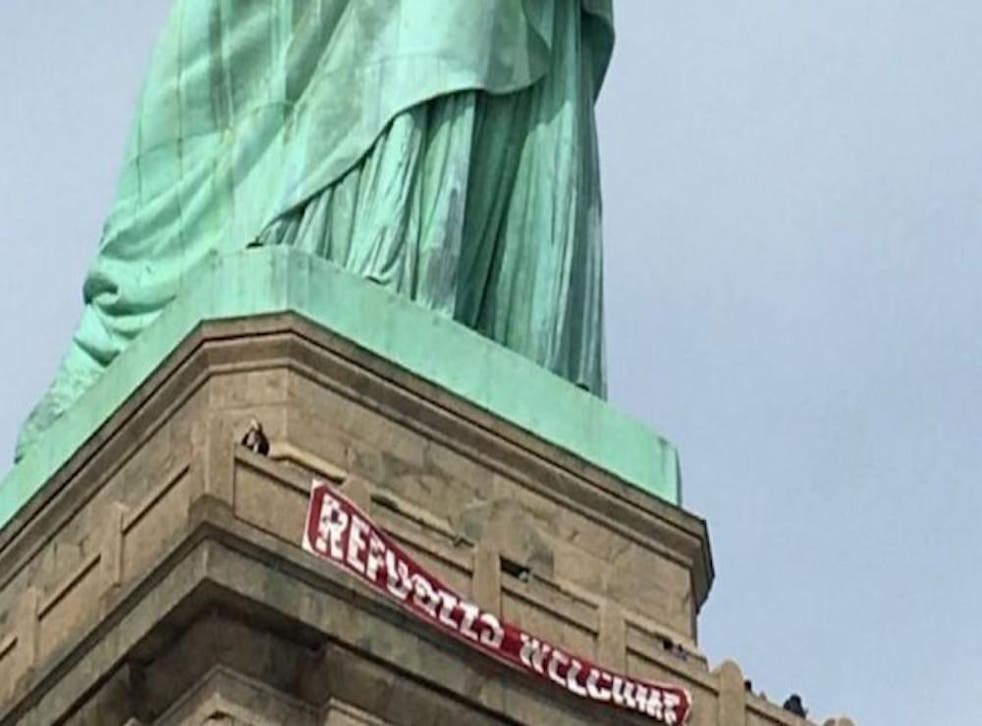 National Park police are investigating who illegally placed a "Refugees Welcome" on the base of the Statue of Liberty on Tuesday afternoon.
The banner, which measured 3-feet by 20-feet, was unfurled atop the statue's pedestal just before 1pm. It was affixed to the public observation deck by nylon rope and rangers removed the banner nearly an hour later.
An activist only identified as David told Fusion that he was one of the people behind the banner.
"This was first conceived in response to what's been called the 'travel ban' of the Trump administration, which I think flies in the face of the founding principals of the United States," he told the news outlet. "I think."
President Trump is expected to sign a new executive order in the name of protecting America from foreign terror networks. His first order banned citizens from seven majority Muslim countries and was blocked in a federal court last month.
Later in the day, an activist group named "Alt Lady Liberty" claimed responsibility for the display.
"Almost all Americans have descendants from somewhere else," the group said in a statement to CNN. "Immigrants and refugees make this country great. And turning away refugees, like we did to Anne Frank, does not make us great. Refugees are welcome here, Muslims are welcome here and immigrants are welcome here.
"And it's not just our ancestors. Every American knows an immigrant or a refugee. We wanted to send a reminder about America when we're at our best — the country that's a beacon of freedom to the world, built by immigrants. Walling off countries or entire religions is against our values. That's what the Statue of Liberty stands for."