Republican presidential nomination: White House bid turns apprentice, Marco Rubio, against master, Jeb Bush
The precocious son of Cuban immigrants may have youth on his side, but his erstwhile mentor is raising more funds for a 2016 run
David Usborne
Sunday 15 February 2015 01:00 Comments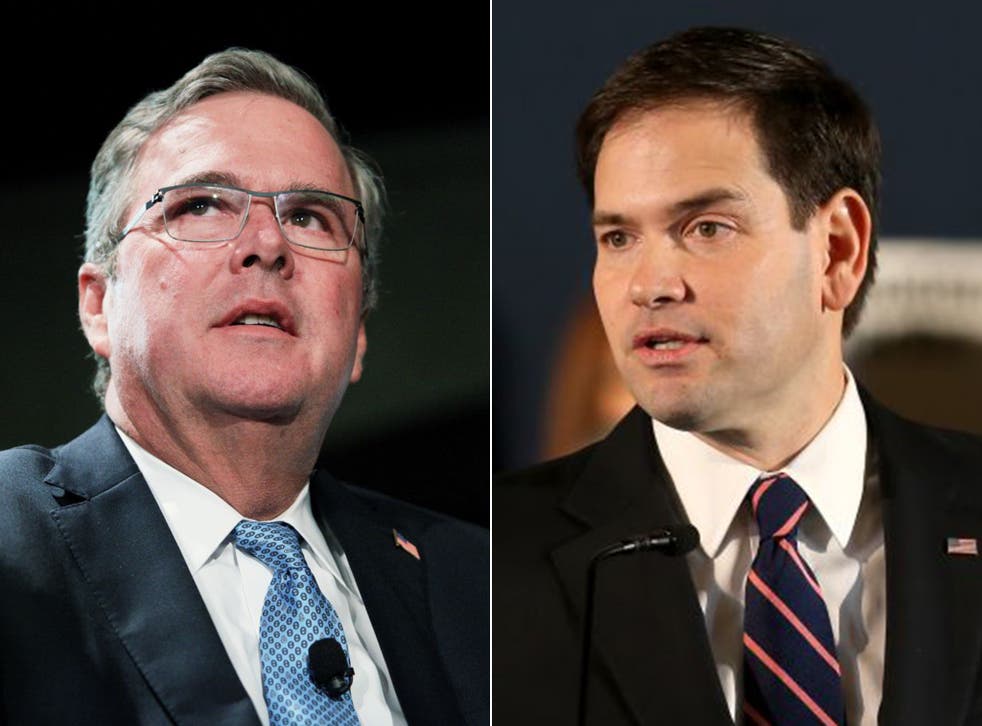 When a precocious Marco Rubio was scaling the perilous pole of Republican politics in Florida, eventually becoming a US senator, he always had the support of an influential patron – Jeb Bush. But higher office now beckons and that master-apprentice bond is suddenly under severe strain.
This may be one of the more gripping sub-plots of the contest for the Republican nomination for president in 2016. Few doubt that Rubio, a son of Cuban immigrants, would like to be one of the runners and is preparing to leap in. But doing so will pitch him against the man to whom he owes so much: Jeb, brother of George W, son of George H W, and the former governor of the state.
The two men, Rubio, aged just 43, and 62-year-old Bush, have spent the past several weeks darting about the land, wooing donors as well as party activists, ahead of formally declaring their candidacies. Their paths will cross three weekends from now when they are due to share a stage to address grassroots conservatives in Iowa, the caucus state that traditionally kicks off the formal process of winnowing out the field.
When Rubio snagged victory in his 2010 senate race, propelled in part by members of the Tea Party, it was Bush, Florida governor until 2007, who took the stage at his victory party to lavish him with praise. He almost wanted to "cry with joy", he declared. Rubio for his part has been on the record as saying that Bush was the man "I most admire in Florida politics". Both grew their power bases in Miami.
Now that they are set to collide, it is the younger man who risks suffering the greatest damage. It's not just that he will be questioned about the importance he places on loyalty. The bigger problem for Rubio is that Bush, as the older, longer established player, threatens to lure away much of the support, talent and money in Florida that Rubio could otherwise have taken for granted.
Indeed, Bush's fundraising juggernaut appears to be eclipsing his rival's. At one Manhattan bash for Bush last week – at the Park Avenue home of private-equity titan Henry Kravis – about 25 people paid at least $100,000 (£65,000) each just to get in the door. Another six events are planned for Bush's political action committees, reported The Washington Post, including one next weekend in Palm Beach, Florida. "I think they will come up with an eye-popping figure," veteran Republican fundraiser Fred Malek told the paper.
Bush's advisers have argued that the fundraising effort is merely an attempt to catch up with those of other Republican senators with an eye on a run for the White House in 2016 – including Rand Paul in Kentucky, Ted Cruz in Texas and, yes, Mr Rubio.
Key to the cash drive will be the "undecideds" – the donors who haven't come out for a candidate yet. Among them, hedge-fund manager Paul Singer and New York Jets owner Woody Johnson are yet to back a particular political horse.
Bush and Rubio's likely visions for the country are set to overlap in several important respects. Both have ties to the Latin community that could help harvest much needed support for their party from Hispanics. Rubio has his Cuban ancestry. Mr Bush is married to a Mexican and he speaks fluent Spanish. They have also, at different times, expressed degrees of enthusiasm for immigration reform.
Rubio in recent days has tried to downplay his Jeb predicament, insisting that, were he to run, his eye would be on the White House, not on his rivals. "There's nothing personal," about this, he told National Public Radio. "I wouldn't be running because I'm against anybody else in the field. I would be running because I believe I have something unique to contribute at this time."
However, he has begun gently to separate himself from his one-time mentor, suggesting that while he and Bush were associated with each other they were not really close. "I never worked for him," he attempted. "I was never a staffer of his." And he Rubio is sending another message about Bush. Isn't he, well, a bit old and isn't his name a bit familiar?
"I think it's important for this country at this stage in our history to move towards the future," Rubio told the Des Moines Register last week. "I'm grateful for the service people have given our government and our nation in the past, but I think the time has come for a new generation of leadership in this country."
True, he didn't mention his old political patron by name. But he didn't really need to.
Register for free to continue reading
Registration is a free and easy way to support our truly independent journalism
By registering, you will also enjoy limited access to Premium articles, exclusive newsletters, commenting, and virtual events with our leading journalists
Already have an account? sign in
Join our new commenting forum
Join thought-provoking conversations, follow other Independent readers and see their replies