McCain blood clot surgery delays Senate vote on Trump's replacement for Obamacare
The absence of Senator McCain currently leaves the Republicans short of the votes they need to advance the legislation
Sean Sullivan
Sunday 16 July 2017 10:34 Comments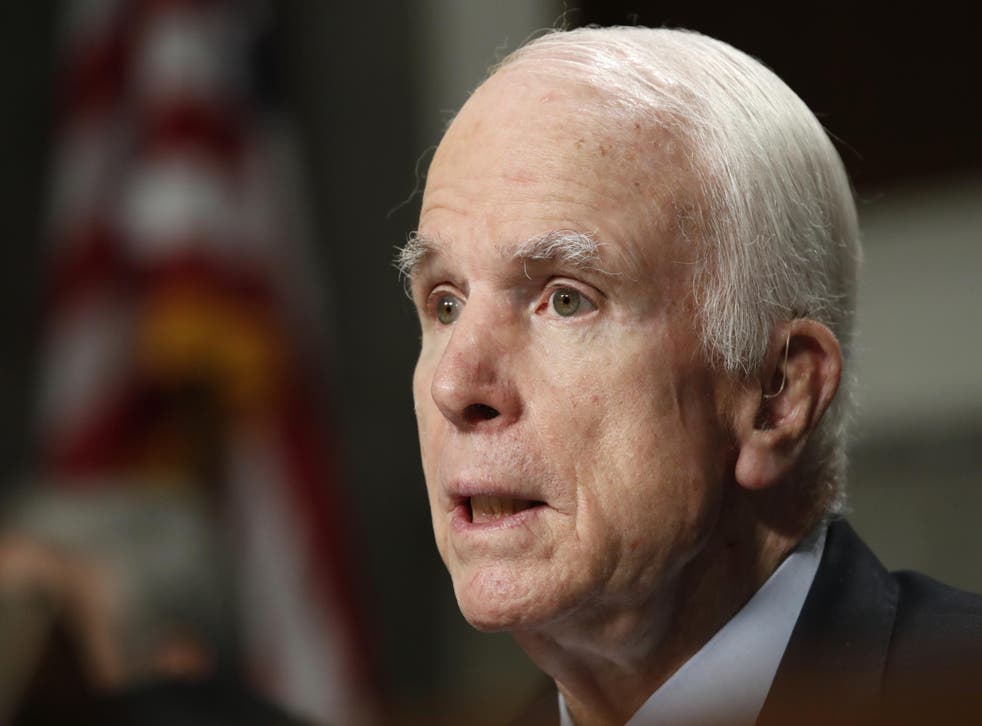 Senate Majority Leader Mitch McConnell (R-Ky), put off plans late on Saturday to vote on a bill to overhaul the nation's healthcare system next week, after Sen. John McCain (R-Ariz), announced he would be at home recovering from surgery, leaving Republicans short of the votes they needed to advance the legislation.
McCain underwent surgery in Phoenix on Friday to remove a blood clot from above his left eye. "On the advice of his doctors, Senator McCain will be recovering in Arizona next week," said McCain spokeswoman Julie Tarallo. A statement from the Mayo Clinic Hospital in Phoenix said the senator is resting at home "in good condition" and that "the surgery went very well."
In a statement on Saturday night, McConnell said that "while John is recovering, the Senate will continue our work on legislative items and nominations, and will defer consideration of the Better Care Act,"
Unless at least one of two Republican senators dropped their opposition to moving ahead on the bill, or a vote was postponed until McCain returned, the bill would not have had the support to proceed.
Two Republican senators - Rand Paul of Kentucky and Susan Collins of Maine - have said they will not vote yes to even proceed to the bill. Along with all 48 senators in the Democratic Caucus - and without McCain - their opposition would be enough to block the bill from proceeding to debate. There are 52 Republican senators.
Paul spokesman Sergio Gor said he still planned to vote against proceeding to the bill. A Collins spokeswoman did not immediately respond to a request for comment.
Copyright The Washington Post
World news in pictures

Show all 50
Register for free to continue reading
Registration is a free and easy way to support our truly independent journalism
By registering, you will also enjoy limited access to Premium articles, exclusive newsletters, commenting, and virtual events with our leading journalists
Already have an account? sign in
Join our new commenting forum
Join thought-provoking conversations, follow other Independent readers and see their replies