Rex Tillerson's 23-word North Korea statement leaves people baffled
South Korea's Ministry called Pyongyang's missile launch a 'reckless provocation'
Narjas Zatat
Wednesday 05 April 2017 18:37 Comments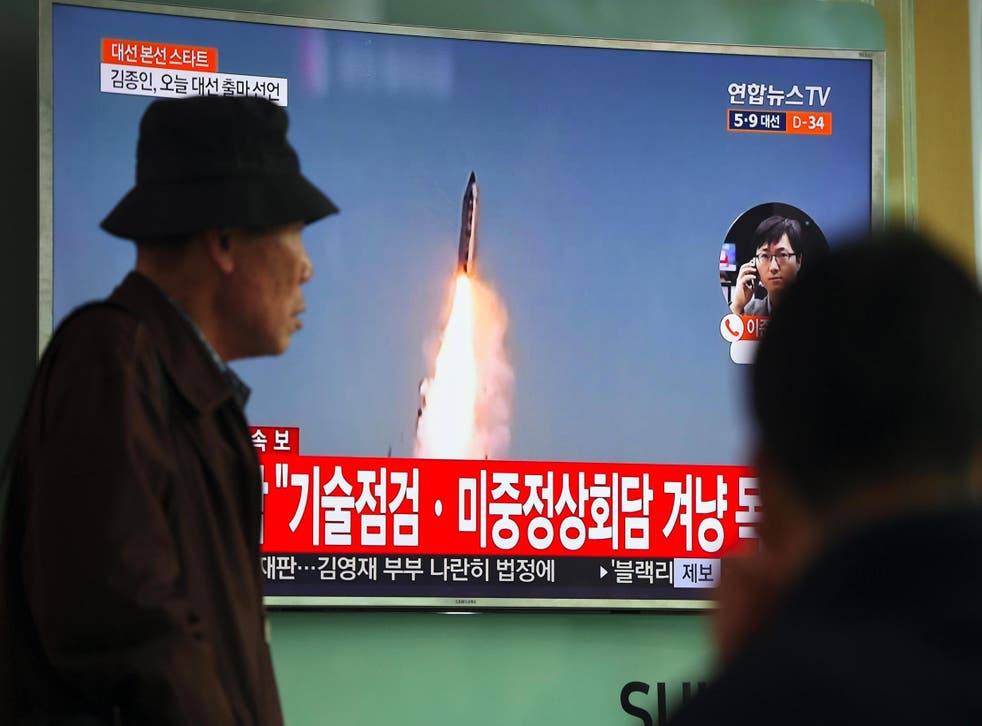 A missile fired by North Korea into the Sea of Japan span out of control and the test ended in a "fiery crash", a senior US defence official has said.
The muted response to Pyongyang's latest missile test from US Secretary of State Rex Tillerson raised eyebrows on Wednesday, as other countries in the region issued strong condemnations.
The test came a day before Chinese President Xi Jinping's visit to the US for a meeting with President Donald Trump in Mar-a-Lago, Florida.
But Mr Tillerson's brief statement on the matter read simply: "North Korea launched yet another intermediate range ballistic missile. The United States has spoken enough about North Korea. We have no further comment".
South Korea's Foreign Ministry called the latest missile launch a "reckless provocation" and Japan's Chief Cabinet Secretary Yoshihide Suga said the country lodged a strong protest over the issue.
Ahead of Mr Xi's visit, the US has been pushing for China to be more assertive in its efforts to pressure North Korea into stopping its nuclear programme and missile testing, and Mr Trump warned that "if China is not going to solve North Korea, we will".
The Florida summit is expected to touch upon the subject of the nuclear threat from the country.
The unnamed senior US defence official told the Associated Press the extended-range Scud missile suffered an in-flight failure and fell into the sea off North Korea's east coast, according to US imagery and assessments.
Initial reports suggested an advanced KN-15 medium-range missile was used, the first known test of which by North Korea was in February. But unlike the KN-15, which uses solid fuel, the missile fired on Wednesday used liquid fuel and was fired from a fixed location, rather than a mobile launcher, the official said.
The South Korean military said the missile was fired from land near the east coast city of Sinpo and flew only about 60 km (40 miles).
The launch of objects using ballistic missile technology is a violation of UN Security Council resolutions.
Given Mr Trump's previously strong words, some were left confused by the State Department's response that the US has "spoken enough" about the issue.
Some people have been criticising the statement's brevity, calling it "generic and non-responsive".
The missile launch also follows annual military drills between the US and South Korea, which North Korea sees as a rehearsal for a potential invasion of their territory.
Earlier in March North Korea fired four ballistic missiles that flew approximately 1,000km (620 miles), and three of them landed in waters that Japan claims as its exclusive military zone.
Ralph Cossa, president of the Pacific Forum CSIS think tank in Honolulu, said he was expecting North Korea would do something to coincide with the Trump-Xi summit, perhaps conduct a nuclear test. The missile launch may be a precursor, with more to come as the summit starts Thursday, he said.
"I've joked before that they don't mind being hated but they definitely hate to be ignored," Cossa said.
Recent satellite imagery shows possible preparations for a test at North Korea's main nuclear test site, including the laying of communication cables used to initiate a test and collect data.
Analysts say North Korea might also time nuclear and long-range rocket tests to the 15 April birthday of North Korea founder Kim Il-sung, the late grandfather of current leader Kim Jong-un.
Register for free to continue reading
Registration is a free and easy way to support our truly independent journalism
By registering, you will also enjoy limited access to Premium articles, exclusive newsletters, commenting, and virtual events with our leading journalists
Already have an account? sign in
Join our new commenting forum
Join thought-provoking conversations, follow other Independent readers and see their replies