Richard Collins III: Father of black student murdered in suspected hate crime accepts his son's degree
'I'm in no place to feel very many emotions beyond sadness and just deep sense of personal loss'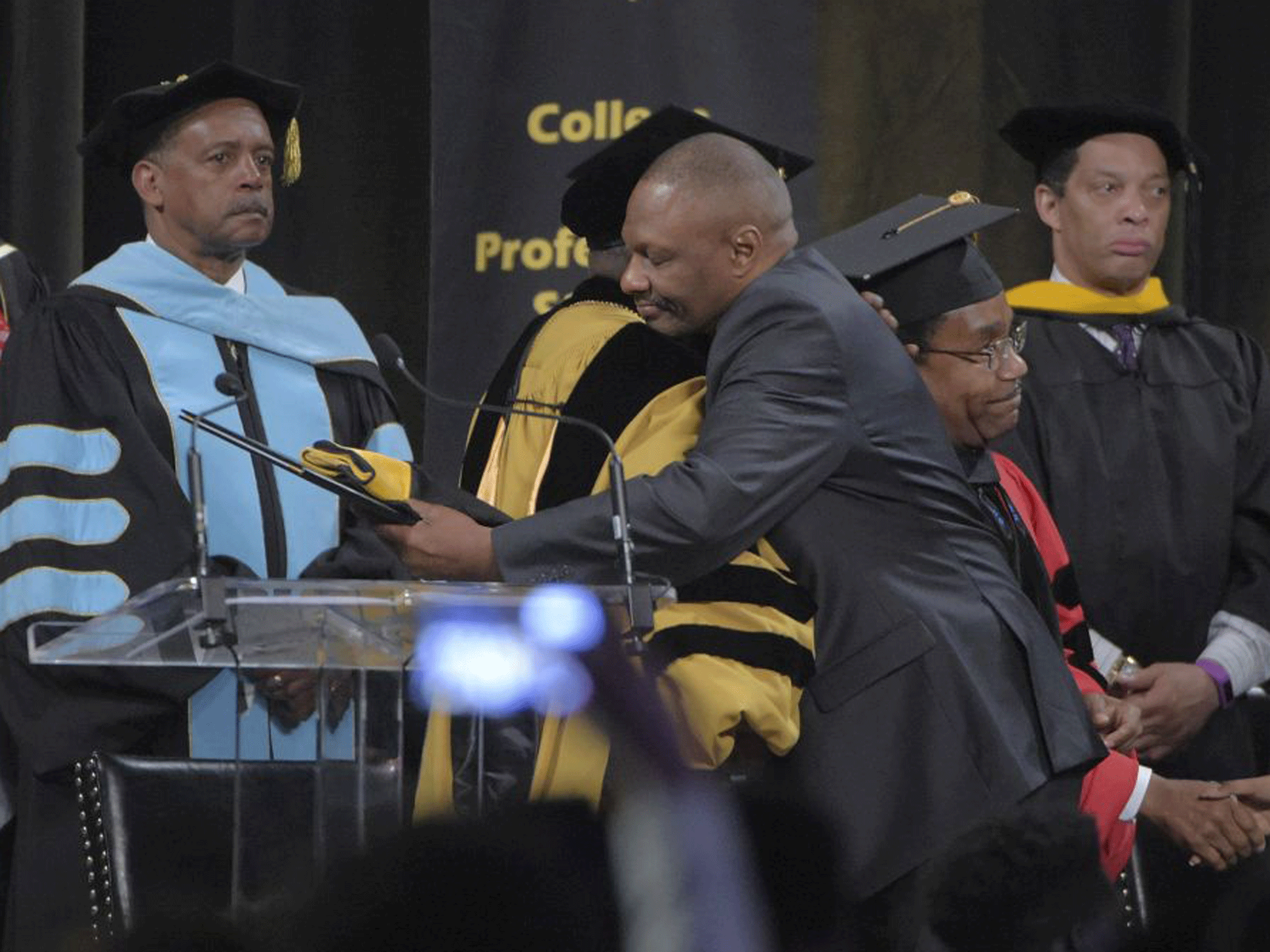 The father of a black student who was murdered in a suspected hate crime, has accepted his son's degree.
In an emotional ceremony at Maryland's Bowie State University, Richard Collins Jr was cheered as he took the podium.
"I really have not tried to process motive or intentions behind this yet," he told NBC News before the ceremony. "I'm in no place to feel very many emotions beyond sadness and just deep sense of personal loss."
His son Richard Collins III, a 23-year-old newly commissioned Army officer, was stabbed to death over the weekend, days before he was due to accept his Business Administration degree.
Police have charged 22-year-old Sean Urbanski with his murder.
As he was a member of a racist Facebook group called Alt-Reich: Nation, the FBI have joined the investigation because it could be a possible hate crime.
He is alleged to have stabbed Mr Collins as he waited with friends for an Uber taxi near the College Park campus just north of Washington DC.
After approaching the group, Mr Urbanski, a student at the nearby University of Maryland, allegedly said: "Step left, step left if you know what's best for you."
After Mr Collins refused Mr Urbanski stabbed him in the chest and fled the scene. Mr Collins later died in hospital.
The attack was caught on CCTV and a knife was recovered, police said.
At the graduation ceremony, Mr Collins' graduation gown was draped over front row chairs.
Member of online hate group accused of knifing young black soldier to death on campus
Bowie State President Mickey Burnim asked graduates to remember Mr Collins.
"Let us pause now in a moment of silence and contemplation of what each of us might do to promote greater peace, harmony and love that seems to be so lacking in our country and our world today," he said.
Indeo Ragsdale, a friend of Mr Collins from Bowie State's officer training program, said he would be "truly missed. "
He said: "It's sad that it happened up the street from here, but it's out of our control. We're not focused on the negativity today. We're focused on the positivity. Collins was a joyful person."
Additional reporting by AP
Join our new commenting forum
Join thought-provoking conversations, follow other Independent readers and see their replies