Richard Spencer vows to carry on protests in Charlottesville because 'I always win'
'We'll be back here 100 times if necessary. I always win. Because I have the will to win, I keep going until I win'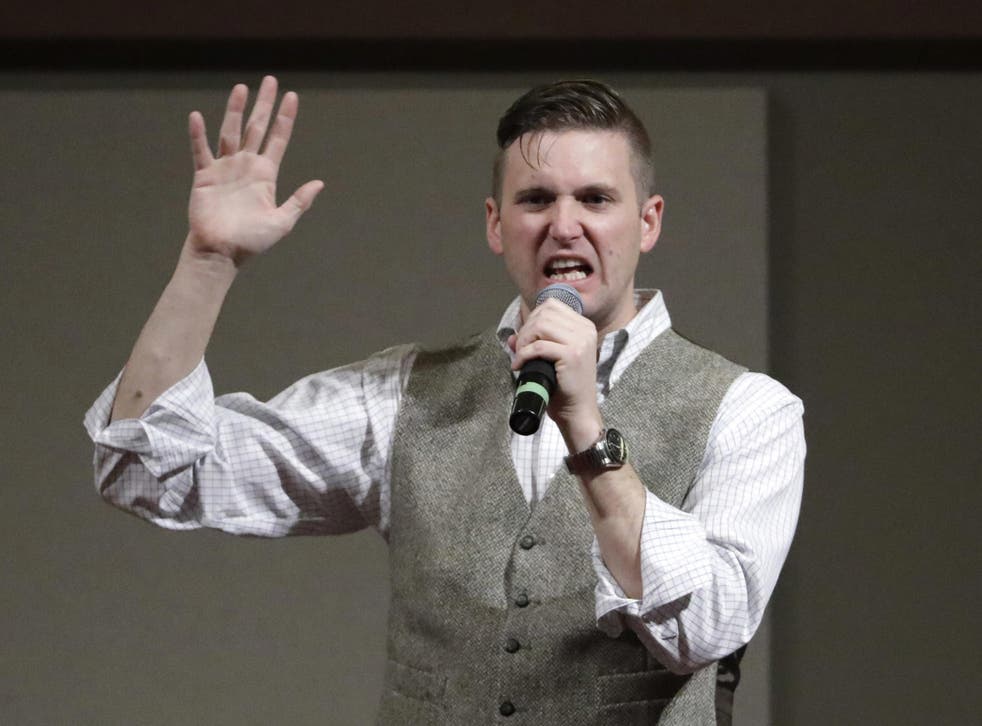 A white nationalist who organised the rally in Charlottesville has vowed to carry on protesting, despite the violent clashes which left one person dead and 35 injured.
Richard Spencer, who heads up the white nationalist National Policy Institute, told the Daily Mail that he had "the will to win" in the battle not to pull down the statue of a Confederate General, Robert E Lee.
"We're going to be back here and we're going to humiliate all of these people who opposed us," he said. "We'll be back here 100 times if necessary. I always win. Because I have the will to win, I keep going until I win."
Mr Spencer took to Twitter to blame the Mayor of Charlottesville, Mike Signer, for the violence. He said the attempt to halt the protest was an attack on free speech, and claimed that "Charlottesville was a total set-up".
Mr Spencer is a leading figurehead in America's white nationalist movement and attracted worldwide attention after he chanted "Heil Trump" during a presidential election campaign speech in 2016. Some members of the audience responded with Nazi salutes.
The doctor's son has claimed he invented the term "alt-right" which he considers to be a term about white identity rather than white supremacy.
A graduate of the University of Virginia, he has called for "peaceful ethnic cleansing" to stop what he calls the "deconstruction" of European cultures.
His promise flies in the face of the instruction from Virginia Governor Terry McAuliffe, who told the white nationalists to "go home" after they descended on the usually quiet university town in droves.
"You are not wanted n this great commonwealth," Mr McAuliffe told the protesters, who included members of the Klu Klux Klan as well as neo-Nazi and so-called alt-right groups, who clashed with counter-protesters and police.
"You are not patriots. You came here today to hurt people and that is not patriotic. My message is clear that we are stronger than you. You will not succeed. There is no place for you here and there is no place for you in America."
Heather Heyer, 32, was killed after a man slammed his car into the protesters before reversing at speed, flinging bodies into the air and leaving another 19 injured.
A 20-year-old, James Fields, has been charged with her murder.
Violence on the streets of Charlottesville

Show all 9
It followed ugly clashes with fist fights breaking out in the street and pepper spray released onto the fighting crowds.
Authorities eventually declared the protest an "unlawful gathering" and later announced a state of emergency.
President Trump faced widespread criticism after he at first failed to explicitly name white supremacists as the aggressors in the clashes, blaming hatred "on many sides".
Join our new commenting forum
Join thought-provoking conversations, follow other Independent readers and see their replies