Richard Spencer: Who is the white supremacist speaking in Florida? And how are people protesting?
Thousands are expected to protest Mr Spencer's speech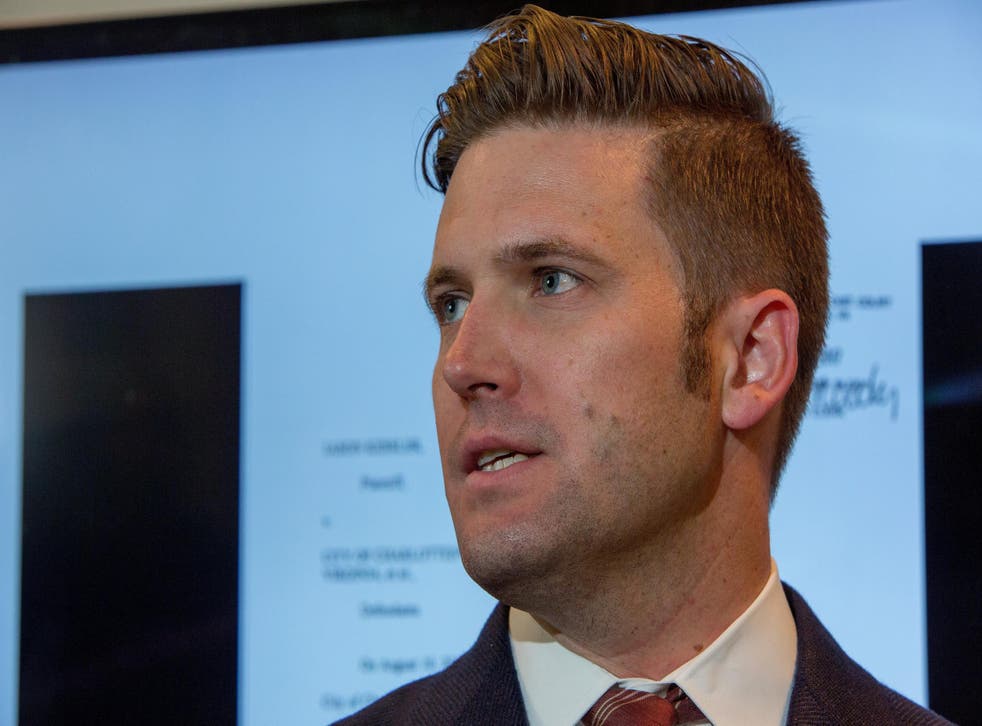 The University of Florida (UF) was on high alert on Thursday, as white supremacist Richard Spencer prepared to take the stage for a speech on campus.
Approximately 700 tickets were available for the event, but hundreds more were expected to protest outside. Scores of police also arrived on campus. Classes were cancelled and roads were closed in areas near the event. The Florida Governor declared a state of emergency.
Why did one man's speech generate such an outcry? Here's what you need to know.
Who is Richard Spencer?
Mr Spencer is a white supremacist – and self-proclaimed white nationalist – who runs the National Policy Institute. His think tank aims to "to elevate the consciousness of whites, ensure our biological and cultural continuity, and protect our civil rights," according to its mission statement.
Mr Spencer claims to have invented the term "alt-right," which is now used to describe a group of loosely organised, far-right believers who reject traditional conservatism in favour of more white supremacist, anti-Semitic beliefs.
Mr Spencer was also scheduled to speak at the Unite the Right rally in Charlottesville – a white supremacist rally that erupted into violence and left dozens injured and one dead.
Why has his appearance in Florida caused controversy?
The University of Florida originally rejected Mr Spencer's application to speak, citing safety concerns. In a statement, UF President Kent Fuchs called Mr Spencer's rhetoric "racist," "repugnant", and "counter to everything the university and this nation stands for".
But the university later backed down, after the National Policy Institute threatened to file a free speech lawsuit. The President signalled his disappointment with the decision in an email to students and faculty.
Students have since taken up the banner of protest, with more than 3,500 signing on to a petition calling the decision "abhorrent" and "unacceptable".
"This event is an opportunity for the 'alt-right', neo-Nazis, and active Ku Klux Klan in Florida to rally on campus and intimidate students as well as Gainesville residents," the petition read. "This decision is not just about free speech; it is about student safety."
How are people reacting to it?
Alt-right leader Richard Spencer punched in the face during inauguration protest
Aside from signing petitions, students have also organised physical protests at UF for the day of the speech. More than 3,000 have RSVPed on Facebook to a protest called, "No Nazis at UF - Protest Richard Spencer".
Participants plan to march to the Phillips Centre, where Mr Spencer will be speaking at 2:30 pm. The organisers say they want a peaceful protest, to "show solidarity as a community in the face of those that wish to incite fear and violence against the most marginalized amongst us."
Florida Governor Rick Scott has also declared a state of emergency in the surrounding Alachua County. The declaration places the Florida National Guard on standby and allows the Alachua County Sheriff to call on specialised security forces from across the state.
The goal, officials say, is to prevent another Charlottesville.
What happened in Charlottesville?
Violence on the streets of Charlottesville

Show all 9
Hundreds of neo-Nazis, KKK members, and other white supremacists descended on Charlottesville on the weekend of August 11 for the Unite the Right rally. Many marched on the University of Virginia, carrying tiki torches and chanting slogans like, "Jews will not replace us".
The rally ultimately devolved into violence between attendees and counter-protesters. Virginia Governor Terry McAuliffe declared a state of emergency, and Virginia National Guard troops were sent in. Dozens of people were injured in the clashes, and one counter-protester was killed.
What has Mr Spencer said in the past?
Mr Spencer has been unapologetic about his view that white people should have their own nation, separate from people of colour. He once told a Vice reporter that he dreamed of "a new society, an ethno-state that would be a gathering point for all Europeans".
"It would be a new society based on very different ideals than, say, the Declaration of Independence," he added.
Mr Spencer has also called Martin Luther King Jr a "fraud and a degenerate," and called the word "racist" a slur. In a speech at Texas A&M University, he claimed that America "does belong to white people, culturally, politically, socially, everything".
"We defined what America is," he said.
Register for free to continue reading
Registration is a free and easy way to support our truly independent journalism
By registering, you will also enjoy limited access to Premium articles, exclusive newsletters, commenting, and virtual events with our leading journalists
Already have an account? sign in
Register for free to continue reading
Registration is a free and easy way to support our truly independent journalism
By registering, you will also enjoy limited access to Premium articles, exclusive newsletters, commenting, and virtual events with our leading journalists
Already have an account? sign in
Join our new commenting forum
Join thought-provoking conversations, follow other Independent readers and see their replies