Richard Spencer's wife details years of alleged domestic violence against her
Nina Kouprianova claims Spencer once dragged her down the stairs to force her to watch a film and he would wake her up screaming at her and telling her to kill herself
Maya Oppenheim
Women's Correspondent
Tuesday 15 January 2019 18:08 Comments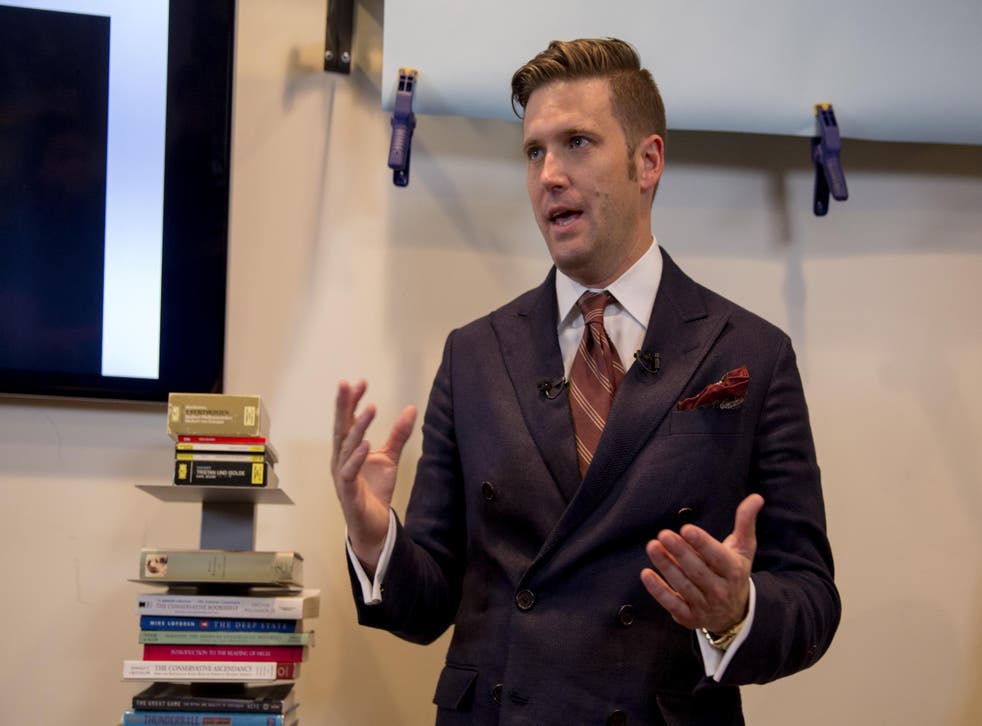 Richard Spencer's wife has spoken out about the years of alleged domestic abuse she suffered at his hands during their eight-year marriage.
Nina Kouprianova has accused the far right leader, who is credited with coining the term "alt right", of physically, emotionally and verbally abusing her, according to divorce filings in the Flathead county district court in the US state of Montana.
The allegations in the divorce filings became public last October after multiple attempts by Spencer to keep them under seal.
Ms Kouprianova, who has two children with Spencer, has now spoken out about the alleged abuse the white supremacist subjected her to.
His wife told The Huffington Post Spencer once dragged her down the stairs to force her to watch a film and he would wake her up screaming at her and telling her to kill herself.
The pair were married during a small ceremony in Niagara Falls in August 2010 and had a larger ceremony in Whitefish in the Rocky Mountains in 2011.
His wife alleged that the film incident happened when she was in bed with a stomach bug just days before the 2011 ceremony when Spencer asked her to watch a James Bond film with him in the basement.
Ms Kouprianova, who has her own ties to the Russian far right, claims Spencer dragged her down the stairs by her legs and hair after she said no.
She claims he pushed her down and held her by the neck and jaw when she was four months pregnant in July 2014 and pushed her into a stove on another occasion when she was also pregnant.
The Huffington Post article includes multiple screenshots of text messages that Spencer sent Ms Kouprianova telling her to kill herself.
Alt-right leader Richard Spencer punched in the face during inauguration protest
"I hope you kill yourself. I would actually respect you," reads a screenshot of a message he apparently sent to her.
She claims she has hours worth of recordings of Spencer screaming at her.
Spencer denies ever physically abusing his wife but did admit to yelling at her.
"I get frustrated. She makes me frustrated," he told the Huffington Post.
The far right posterboy added: "It's tough talk, words said in anger. There is a red line between actually doing something."
Spencer previously told The Associated Press that he was "not an abusive person" and that his wife was "never in a dangerous situation".
Of the allegations made by Ms Koupriianova, Spencer said in an affidavit that "I dispute many of her assertions".
Spencer helped organise the "Unite the Right" rally in Charlottesville in August 2017 which saw neo-Nazis, KKK members and "alt-right" supporters descend on the ordinarily quiet university town.
Tensions between fascists and counter protestors turned deadly after a 20-year-old man, who officials say had Nazi sympathies, deliberately ploughed his car into the crowd of peaceful anti-fascist demonstrators and killed a female civil rights activist.
Violence on the streets of Charlottesville

Show all 9
Spencer, who had his gym membership revoked in 2017 after a university professor accused him of being a neo-Nazi mid workout, sparked outrage when he made a number of allusions to Nazi ideology during a speech at a conference in Washington in 2016.
"Hail Trump! Hail our people! Hail victory!" he declared, prompting audience members to leap to their feet in applause, with several appearing to make drawn-out Hitler salutes.
Register for free to continue reading
Registration is a free and easy way to support our truly independent journalism
By registering, you will also enjoy limited access to Premium articles, exclusive newsletters, commenting, and virtual events with our leading journalists
Already have an account? sign in
Join our new commenting forum
Join thought-provoking conversations, follow other Independent readers and see their replies