How one terminally-ill woman fought for years for the right to die - but then changed her mind
"Unless you go through it, you don't know what you would do": For Katie Kim, the option to decide how she would die was enough, writes Danielle Zoellner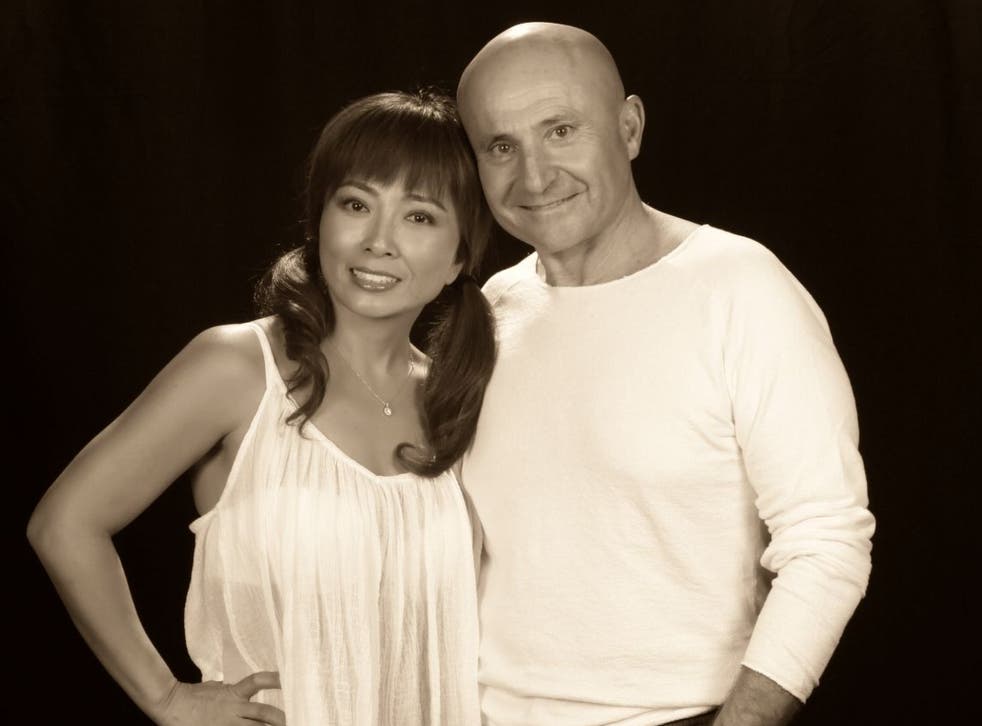 After New Jersey passed its Aid in Dying for the Terminally Ill Act in August 2019, Katie Kim was the first resident to publicly say she wanted to utilise the end-of-life option.
Ms Kim was diagnosed in 2015 with Multiple System Atrophy (MSA), an incurable neurological disorder that impacts the body's involuntary functioning – such as breathing, bladder control, and motor control. The prognosis for the terminal illness is seven to nine years.
Even though she received her official diagnosis in 2015, Ms Kim's battle with MSA actually started in 2011 when she first developed symptoms of "uneasy walking" and sleep problems. Doctors at the time diagnosed her with a REM sleep disorder – a diagnosis that sometimes comes before it's determined a patient has a Parkinson's-like disease.
Ms Kim was then misdiagnosed with Parkinson's disease in December 2013, a disorder in the central nervous system that impacts movement, before it was determined two years later she actually had MSA.
"She was in an incredible amount of pain," Ms Kim's husband, Freddy Kalles, told The Independent about his wife's condition towards the end.
Once medical aid in dying passed in New Jersey in 2019, Ms Kim had battled MSA for more than seven years, including the time when she was misdiagnosed.
In order for someone to use medical aid in dying in New Jersey, the patient is required to have a terminal illness with a prognosis of six months or less. They also must be evaluated by two separate doctors, receive a mental health examination, and be capable of self-administering the drug.
Mr Kalles did not want his wife to die – whether it be from her terminal illness or with the assistance of medical aid in dying. But he supported his wife when she considered the end-of-life option given how much pain she was in.
"I never wanted her to leave," he said. "I loved her so much that I didn't want to lose her. But then I loved her so much that I understood that by letting her go, she'd be better off because she was in so much pain."
"She was afraid to die"
The passing of New Jersey's Aid in Dying for the Terminally Ill Act hit a snag after State Superior Judge Paul Innes imposed a temporary restraining order on 14 August, just 14 days after the law went into effect.
This restraining order blocked doctors and pharmacists from complying with patients' wishes to access the end-of-life option, and it came because Yosef Glassman, an Orthodox Jewish physician in New Jersey, said the law impeded on his religious beliefs and oath he took to become a doctor.
But Ms Kim's story resonated with the public, and it was shared widely as the passing of the law was revisited in court. The temporary restraining order was ultimately thrown out a few weeks later and state residents were allowed to access medical aid in dying if they qualified.
Two doctors and a psychiatrist evaluated Ms Kim in September 2019 and determined she physically and mentally qualified to use the end-of-life option.
At the time, Ms Kim was bedridden and reliant on an oxygen tank and tracheostomy tube to breathe.
The tracheostomy tube was placed in 2017 after 90 per cent of her throat closed up, inhibiting her ability to breathe on her own. Doctors told Ms Kim and her husband that she would have to live with the tracheostomy tube for the rest of her life.
Her vocal cords also faced attack from MSA, and she was losing her ability to speak.
When Ms Kim went to her second doctor to confirm if she wanted the prescription drug to end her life after vocally advocating for it, she surprised her husband and doctor with her response.
"She said, 'no', and I was surprised," Mr Kalles said. "I was shocked."
Ms Kim later changed her mind a couple days later and asked for the drugs on what Mr Kalles described as a "bad day", but ultimately she decided to forgo the option.
Come October 2019, Ms Kim no longer qualified for medical aid in dying because she could not physically administer the drug on her own, which is a requirement under the law.
"She was afraid to die when it comes down to it," Mr Kales said. "Even though she had all [of the qualifications], she decided not to follow through."
The end-of-life option is available in nine states and the District of Columbia. But because a patient inquires about the option does not mean they necessarily follow through.
About 25 to 33 per cent of patients prescribed the medication end up not taking it, according to a 2019 study published in JAMA Network Open. The study analysed all the data about patients who sought the end-of-life option in Oregon, the first state to pass medical aid in dying, and Washington state.
"About one-third of patients die without taking the drugs, which may suggest that patients only wanted the security of having a way out, but it could equally indicate that they died before using the drugs or changed their minds about using them," Dr Daniel Sulmasy, acting director of the Kennedy Institute of Ethics and professor of biomedical ethics at Georgetown University and critic of the law, wrote in written commentary that accompanied the study.
"The illness was eating away at her"
Although Ms Kim opted out of using the drug, Mr Kalles said he thought that further proved the benefits of the law.
"For those that want to take the medicine and put it in the fridge so that it's there for them to have when they are ready, then they can do it," he said. "The law is good for those that are ready to use it. I would advocate for it."
From October to January, Ms Kim's health further deteriorated as she battled her terminal illness. Her weight dropped down to around 70lbs, with her tailbone and vertebrates protruding out from underneath her skin.
"She didn't look like a person anymore," Mr Kalles said. "It was terrible. The illness was just eating away at her body."
During those months, and many years prior, Mr Kalles made grand efforts to increase Ms Kim's quality of life, including bringing in an at-home facialist, taking her to restaurants, and bringing hospice into their Fort Lee, New Jersey home to avoid putting her in a care facility.
"We're not a wealthy family, but I did whatever I could to make her last couple of years as great as possible," he said.
This included a two-and-a-half week trip to France and Italy, and another trip to Israel in the early years of her diagnosis before Ms Kim lost her ability to walk.
Ms Kim then died on 31 January, 2020, from her illness.
When speaking to The Independent, Mr Kalles said he thought his wife likely regretted not following through with medical aid in dying given the suffering she experienced in her final months.
"In hindsight, she probably regretted it," Mr Kalles said.
"I loved her, but she couldn't even talk anymore," he added about her final months. "She couldn't even move a finger. She would blink for yes or no. If she didn't blink, it was 'no'. If she blinked, it was 'yes'. That's how bad it was."
Ms Kim was on both morphine and methadone in her final months, narcotics prescribed to minimise severe pain.
"If she was awake, she wanted to be numb," he said.
One reason opponents cite against medical aid in dying has to do with religious beliefs. Ms Kim identified as a Buddhist and Mr Kalles is Jewish.
People accused Ms Kim of "not being religious enough" because she considered the end-of-life option, Mr Kalles said. But he held a different perspective on the matter.
"Unless you go through it, you don't know what you would do," he said. "The pain and the agony and seeing the tailbone come through her skin is just terrible ... No human being should have to go through that."
Mr Kalles was with his wife for 12 years before she died. The couple got married following her 2013 Parkinson's disease misdiagnosis.
"Half the time we were together, she was sick," he said, "but we had an incredible relationship."
Join our new commenting forum
Join thought-provoking conversations, follow other Independent readers and see their replies