Rio 2016: Open water swimming platform collapses just off Copacabana beach
The starting platform sank after it was hit by a storm
Matt Payton
Monday 15 August 2016 18:40 Comments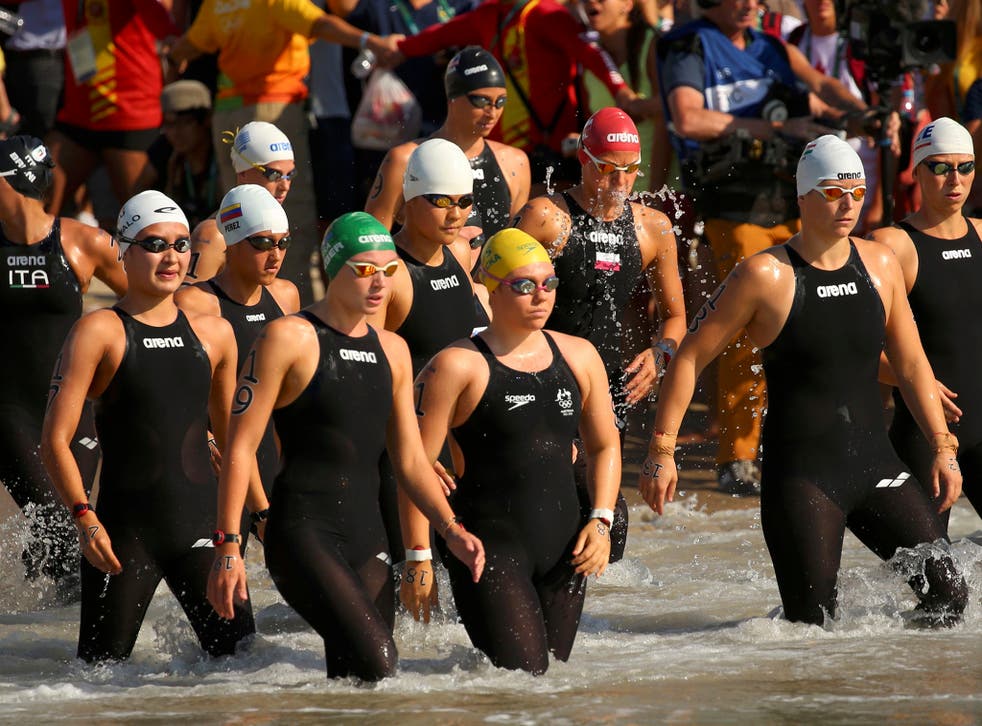 Competitors in the Olympic marathon swimming event were forced to swim out from the beach after the official starting platform collapsed and sank just off Rio de Janeiro's Copacabana beach.
The pontoon platform was hit by a storm days before the event was due to start, leaving just a concrete block behind.
The organisers had already come under criticism for hosting the event in the open waters just off the Brazilian shore.
At London 2012, the event was held in the Serpentine Lake in the capital's Hyde Park.
Olympic organisers were unable to replace the pontoon in time for the event,
Further chaos occured at the beginning of the women's competition when the starting gun was heard before the official flag was raised.
This late complication added to the already gruelling 10km race where swimmers must avoid the crush of opponents while fighting energy-draining waves.
Serious health and safety concerns were raised over the use of Copacabana bay for the race as the water was found to contain 1.7 million times the viral level thought to be risky in the US or Europe.
Some competitors are planning to combat the pathogens they may ingest by using antibiotics and even drinking flat Coca-Cola.
Rio 2016 Olympics - in pictures

Show all 74
New Zealand Olympic marathon swimmer Kane Radford told The Independent of his approach to the use of the bay: "We've got stuff afterwards if we feel even the slightest bit sick.
"So that way we know we'll be alright. And at the end of the day, if you get a little bit sick, it's after the race.
"You can worry about it then. It's the Olympics. It's something you worry about once you're done."
Register for free to continue reading
Registration is a free and easy way to support our truly independent journalism
By registering, you will also enjoy limited access to Premium articles, exclusive newsletters, commenting, and virtual events with our leading journalists
Already have an account? sign in
Register for free to continue reading
Registration is a free and easy way to support our truly independent journalism
By registering, you will also enjoy limited access to Premium articles, exclusive newsletters, commenting, and virtual events with our leading journalists
Already have an account? sign in
Join our new commenting forum
Join thought-provoking conversations, follow other Independent readers and see their replies