Rio 2016: Gunnar Bentz is next Olympic swimmer to apologise for 'armed robbery' story
The athlete insisted, however, that two security guards at the petrol station did point guns at them, which video footage had 'skipped' over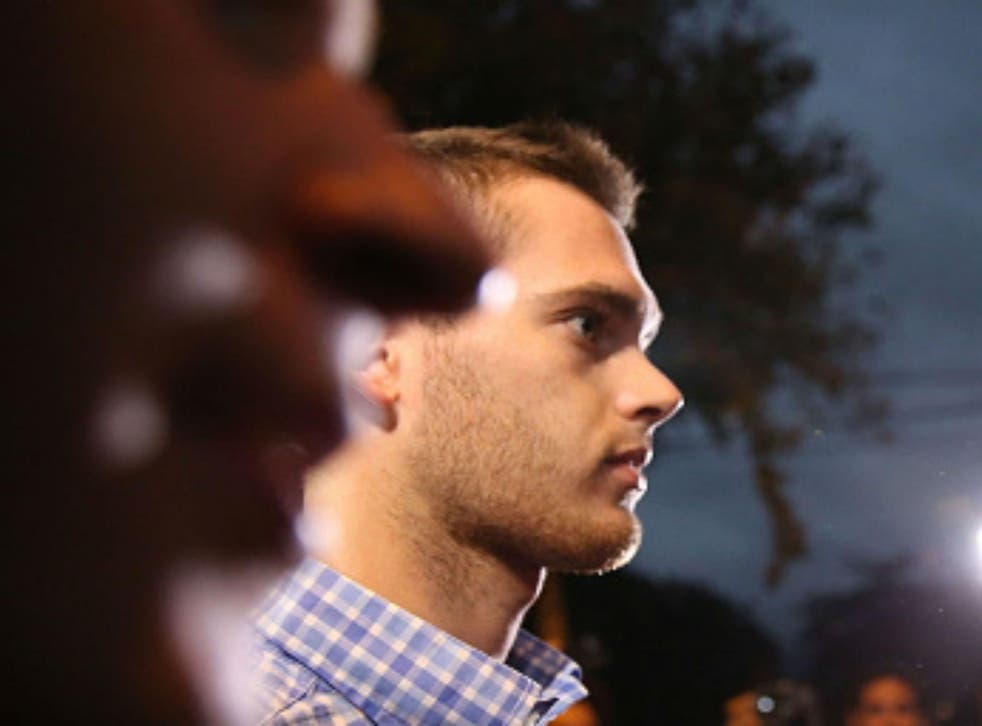 Gunnar Bentz is the second of the four disgraced US Olympic swimmers to apologise for the story of an "armed robbery" in Rio, but has insisted that video footage of the incident has "skipped" over the security guards pointing guns at the athletes.
Mr Bentz, along with teammates Ryan Lochte, James Feigen and Jack Conger, claimed they were held up at gunpoint at a petrol station on their way back to the Olympic Village after a party, but their story appeared to unravel after the release of CCTV footage showed inconsistencies with their story.
"I regret this situation has drawn attention away from the Olympics, which have been hosted so incredibly well by Brazil and its citizens," said Mr Bentz.
The apology comes shortly after the US Olympic Committee sought to draw a line under the incident, issuing an apology to the Brazilians and ordering one swimmer to pay reparations of $10,800 (£8,259).
In what threatened to become a diplomatic embarrassment, American officials hastened to add that the athletes' behaviour was unacceptable.
"The behaviour of these athletes is not acceptable, nor does it represent the values of Team USA or the conduct of the vast majority of its members," Scott Blackmun, chief executive of the United States Olympic Committee, said in a statement.
Teammate Mr Lochte, the most high profile athlete of the four, gave a full account of the supposed robbery to NBC news, saying the team was hauled out of their taxi and their valuables were taken at gunpoint.
CCTV footage later disputed their account, and Brazilian police claimed the athletes made up the story to cover up their vandalism of the petrol station, including public urination and breaking a door, and recommended the team face charges.
Ryan Lochte CCTV released
Within hours, the team was trying to travel back to the US, but Mr Bentz and Mr Conger were escorted off a plane at Rio de Janeiro airport by authorities who required further testimony, while Mr Lochte had already flown home two days previously.
Mr Bentz insisted that Mr Lochte did not break a door, but that he did pull down a framed metal advertisement that had been fastened to the wall. He also admitted that the team urinated at the back of the building.
Despite questions having been raised over their story, Mr Bentz said that the two security guards did point their guns at the swimmers and demand money for damages.
"[…] the second guard drew his weapon and both guards pointed their guns at us and yelled at us to sit on a nearby sidewalk," he said.
US Olympic Swimmers Were Not Robbed - Rio Police Chief
"Again, I cannot speak to his actions, but Ryan stood up and began to yell at the guards. After Jack and I both tugged at him in an attempt to get him to sit back down, Ryan and the security guards had a heated verbal exchange, but no physical contact was made."
He added that the team gave the guards about $50 in total, in US dollars and Brazilian real.
"Without question, I am taking away a valuable life lesson from this situation," said Mr Bentz.
"In everything I do, I am representing my family, my country and my school. I will not take that responsibility lightly."
US swimmers escorted to Rio airport police unit
In a post on Instagram, Mr Lochte said: "I want to apologise for my behaviour last weekend – for not being more careful and candid in how I described the events of that early morning and for my role in taking the focus away from the many athletes fulfilling their dreams of participating in the Olympics."
Register for free to continue reading
Registration is a free and easy way to support our truly independent journalism
By registering, you will also enjoy limited access to Premium articles, exclusive newsletters, commenting, and virtual events with our leading journalists
Already have an account? sign in
Register for free to continue reading
Registration is a free and easy way to support our truly independent journalism
By registering, you will also enjoy limited access to Premium articles, exclusive newsletters, commenting, and virtual events with our leading journalists
Already have an account? sign in
Join our new commenting forum
Join thought-provoking conversations, follow other Independent readers and see their replies