The migrants risking it all on the deadly Rio Grande
Trump's immigration clampdown has pushed an increasing surge of Central Americans into the harsh river currents at the US border. Zolan Kanno-Youngs reports from Texas
Tuesday 18 June 2019 12:37 Comments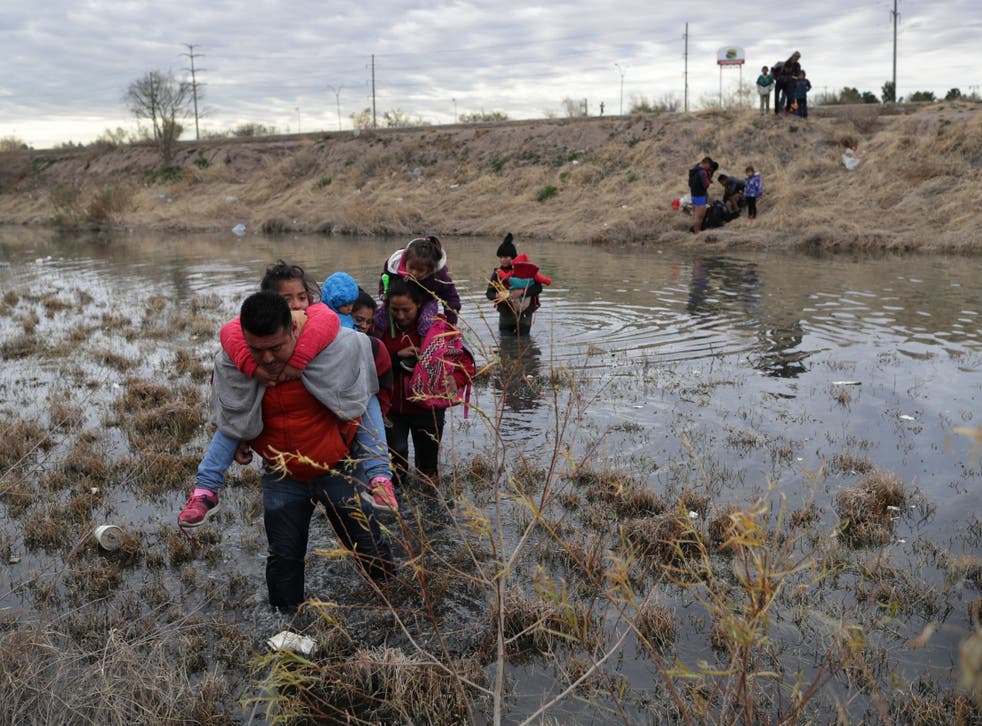 The 19-year-old pregnant migrant wades towards the US shore, deep enough in the Rio Grande for waves to splash against her waist. Pushing through the river's current, and mindful of an alligator lingering upriver, she guides her friend's crying 10-year-old boy towards a US border-patrol rescue boat. As the boat carries them on the final leg of their journey to the United States from Honduras, the young woman waves back to a group on Mexico's riverbank cheering her rescue.
The day before, border-patrol agents at the Eagle Pass river crossing in South Texas had found the body of a man too decomposed to be easily identified. A couple of days earlier, a video of a man desperately trying to swim against the current before going limp and sinking circulated in Mexican news media. And in early May, border-patrol agents at Eagle Pass pulled the body of a 10-month-old baby from the Rio Grande after a raft carrying nine migrants overturned. Only five survived.
"The sad moments are the deaths. Unfortunately, we've seen some of those," says Bryan Kemmett, the border-patrol agent in charge of Eagle Pass, a town of 29,000 about an hour from the larger Del Rio. "The more troubling ones, the ones more recently, are the small infants. When you see the small infant and you hear the infant dying, you think about your own children."
Migrants have for years traversed the Rio Grande on makeshift rafts to cross illegally into the United States. But facing a surge of families from Central America, border-patrol agents are now pulling dozens of migrants, including young children, from the harsh current of the river almost every day. President Donald Trump's repeated threats and attempts to limit immigration have not deterred migrants. The US Customs and Border Protection agency took more than 144,200 into custody in May, the highest monthly total in 13 years.
Policies that separated migrant children from their parents, forced asylum seekers to wait in Mexico for their day in court and detained teenagers in camps likened to juvenile prisons have done little to stem the immigration flow. So far in the current federal fiscal year, which began on 1 October, border-patrol agents have rescued at least 315 migrants from a 209-mile stretch of the Rio Grande – up from 12 migrants the year before.
Earlier this month, a 40-year-old migrant woman collapsed at the Eagle Pass station about 30 minutes after crossing the river. She was declared dead at a hospital, and the authorities were investigating the cause of her death.
Migrants who are interviewed for this article at Eagle Pass say they are well aware of the risks. But they also say they were convinced by human smugglers and by other migrants that crossing the Rio Grande, which can take about five to 10 minutes, was the fastest and least complicated way to start their requests for asylum, given the Trump administration's clampdown at legal ports of entry.
"The whole world crosses through the river," says Yevy Leiva, 28, who steered a raft across the Rio Grande with his son and two other migrants. Nine days later, he waits in a shelter in Del Rio, packed with scores of other migrants, for a bus to Dallas to stay with friends. Only migrants who show visible distress or who are travelling with a child are rescued by border-patrol agents. And while far more migrants trying to slip into the United States die on land – from dehydration or other dangers in the desert and brush – the number of deaths in the Rio Grande is rising at an alarming rate.
Over the past two fiscal years, at least 11 people have drowned in the Del Rio sector of the Rio Grande. By comparison, the border patrol recovered the remains of four people from the river from fiscal 2015 to fiscal 2017.
Randy Davis, the acting deputy chief patrol agent of the border patrol for the Del Rio sector, blames the deluge of migrants on the human smugglers who are increasingly exploiting this stretch of the Rio Grande as a comparatively untapped path into the United States.
Since 1 October, border-patrol agents in the Del Rio sector have arrested nearly 18,000 migrant family members – compared with 1,387 during the first eight months of fiscal 2018. Agents in the sector have also rescued nearly three times as many migrants in the water than agents in other sectors along the border with Mexico, taken together.
Some of them were infants who had to be flown to a hospital in San Antonio after they nearly drowned, Kemmett says. Davis says he expects to find more bodies. "There have been hundreds and hundreds of rescues," Davis says. "I'm trying to keep them all straight in my mind. I would suspect there are other individuals out there that were never reported missing that we will eventually recover at some point in the future."
The US border patrol has issued warnings in Mexico about the dangers of crossing the Rio Grande, and Kemmett says migrants have been urged to at least wear life jackets before making the attempt. He says the river's levels have risen about 3ft because of a water release from a nearby hydroelectric dam and excessive rainfall. While the Rio Grande is shallow in some areas, other parts dip without warning to a depth of 8ft. Debris ricochets along the riverbed, and the banks are littered with inflatable tubes and Styrofoam noodles that migrants use to stay afloat.
The river levels are expected to rise again soon and the dam releases to irrigate crops in and around Eagle Pass and to provide electricity for the town. Underscoring the dangers to the migrants, an alligator hid among river weeds one afternoon last month, floating just high enough to show the spikes along its back.
"They're navigating the currents, they're navigating the river itself, and now you have alligators," says Kemmett, a 24-year veteran of the border patrol. "An alligator is not going to know the difference between a child and a chicken, or any other small animal." Migrants often head to the Rio Grande with one change of clothes as well as their identification and other documents in a plastic bag. After crossing successfully, some change into the dry clothes before they are taken to a border-patrol facility to be processed.
Walking along the riverbank in Eagle Pass, Kemmett stops to examine a shirt left in the weeds near the water. It belonged to a baby. "We're seeing a lot of families," he says. "But within those families, we're seeing more and more younger infants. Trying to cross the river with a 2-month-old strapped to your chest or your back is not easy."
"It's not easy to begin with," Kemmett says, "but now you're trying to hold on to your child. And the desperation and the panic gets in there, and then they start to struggle." Once they cross the Rio Grande and touch US soil, the migrants are taken into custody by the border patrol. They are processed in centres that were built to detain migrants before they were deported.
But the sheer number of incoming migrants – many of whom are seeking asylum and are travelling with children who, by US law, cannot be detained for more than 20 days – has created an overwhelming backlog in cases and crowding at the border processing facilities. As a result, the vast majority of migrants who illegally enter the United States are told to report to court at a later date and are released. From there, the migrants search out relatives or other places to stay while their cases wind their way through immigration court.
Last month, the Trump administration began flying migrants from overcrowded centres elsewhere in the Rio Grande Valley in Texas to Del Rio to be processed. But agents in Del Rio say the processing facility there was also overcapacity; earlier this month, the authorities there built a tent city to house migrants. Storage areas that had been used for border-patrol equipment in Del Rio "are now storing baby formula, diapers, additional extra space for blankets, heat blankets they can wrap up in", Davis says.
Most of the migrants who are caught by the border patrol come to the United States to escape poverty in their home nations, Kemmett says, and do not appear to be the criminals that Trump has warned of in his campaign to limit immigration. Agents in Del Rio say there is no sign that the surge of migrant families will decline.
Kemmett says the border-patrol agents he oversees are becoming "battle fatigued". He also questions why migrants would knowingly put their children in that type of danger in attempting the perilous journey to the United States.
For some of the immigrants, it is the only way to protect their families. Barefoot and balancing his 8-year-old daughter on his shoulders, Angel Gabriel, 39, crosses the Rio Grande and into Eagle Pass on a hot afternoon.
He steadies his 32-year-old wife as they walk into the river current; she tightly grips their barefoot 16-year-old son. Border-patrol agents meet the family in the middle of the river and bring them to land. As soon as agents finish patting down Gabriel to ensure he is not carrying weapons or drugs, he rushes to his family members and embraces them. All four of them weep.
"Truly thankful," Gabriel says through tears as he sits in a border-patrol van with his family. He says they left Honduras after being attacked. "Thankful to the power of the United States that they helped us get out," Gabriel says. "I feel thankful that my family is OK."
A few hours earlier, a pregnant Honduran woman took her first steps on US soil. She had briefly reconsidered crossing the Rio Grande after seeing pictures on Facebook a day earlier of an alligator in the river. But turning her head, she revealed a bruised jaw – the evidence of what she said was an attack by her domestic partner in Honduras.
The woman, who said she was to give birth in about a week, wanted to apply for asylum in the United States and hoped to create a good life for her soon-to-be-born son. "The life with my partner was a risk," she said as she looked at the river. "So this is nothing compared to that."
© New York Times
Register for free to continue reading
Registration is a free and easy way to support our truly independent journalism
By registering, you will also enjoy limited access to Premium articles, exclusive newsletters, commenting, and virtual events with our leading journalists
Already have an account? sign in
Join our new commenting forum
Join thought-provoking conversations, follow other Independent readers and see their replies