Rio 2016: Brazil prepares to host the Olympics in a country with a pre-9/11 notion of security
Although the country might be used to heavily armed criminals and police in its cities, it is largely unfamiliar with international terrorism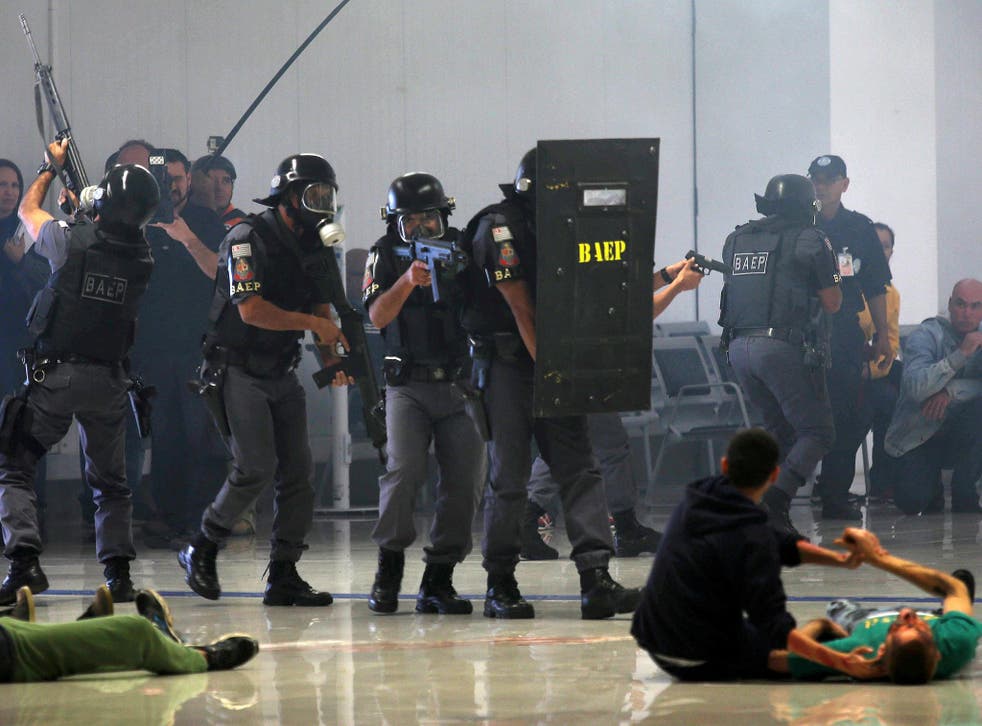 Here in Brazil, it's not unusual to hear bloodcurdling screams in the airport; they're usually just the sounds of teens playfully chasing each other through the terminal. It's also not unusual to see suitcases sitting near the boarding gates, left by travelers who wandered off to get a coffee.
In many ways, Brazilians live in a pre-9/11 world. Although they might be used to heavily armed criminals and police in their cities, they are largely unfamiliar with international terrorism.
But just this month, with the Olympic Games looming, a series of incidents have raised even the most violence-numbed eyebrows here. On 15 July, Brazilian authorities deported a French-Algerian physics professor who in 2012 had been convicted in France of providing logistical advice to terrorists.
Two days later, a Brazilian group pledged allegiance to the Islamic State via the messaging app Telegram. And in the past few days, a dozen sympathisers of the Islamic State have been arrested after they allegedly discussed a possible attack on the Games, which will begin on 5 August.
South America's largest country has had virtually no experience with the kind of attacks by Islamist extremists that have rattled European and US cities. Many people treat the terror threat with lightheartedness. For the Carnival celebrations in February, they might dress up as Osama bin Laden and make edgy jokes about bombings.
But reality has begun to set in. At a news conference last week, the secretary of security for the state of Rio de Janeiro, José Mariano Beltrame, told reporters that an anti-terrorism centre was functioning in Brasilia with 50 police officers, and that he plans to send at least 80,000 security personnel into the streets of Rio during the Games, which is double the number deployed in London in 2012. "We are ready, the plans are finished," he added.
When asked at whether he was concerned about the possibility of a terrorist attack during the Games, which are expected to attract as many as 500,000 visitors, Beltrame responded: "Of course we are worried. But Brazil is a low-threat country."
Brazil does rank very low on assessments such as the Global Terrorism Index, published by the New York-based Institute for Economics and Peace. On its list of countries affected by terrorism, the United States ranks 35th, while Brazil ranks 74th.
Still, this country is not free of possible threats. The justice minister, Alexandre de Moraes, last week announced an operation against a dozen Brazilian men who had allegedly talked about training in martial arts and buying firearms for a possible attack on the Games. He described the men as "amateurs" who expressed support for Islamic State but had never trained with the group in Iraq or Syria.
In response to the terror threat, authorities have conducted security exercises and rolled out some new security procedures. On a recent Saturday, an underground metro station in Rio – the stop fans will use to attend basketball and cycling events – closed so police in riot gear could storm the cars in a training exercise.
A few days later, Brazilian travelers arrived at Rio's airports to find massive lines and confusion as authorities introduced heightened security screenings – including pat-downs and luggage checks – that were previously only required for international flights.
Last week, the government launched a campaign equivalent to the "If You See Something, Say Something" campaign in the United States. Its mantra is "Fica Ligado", which in Rio de Janeiro slang means "pay attention", and the accompanying posters show a woman tugging on the sleeve of a police officer as she points to a lone backpack.
Some experts are concerned these measures come too late. "You don't want to be completely altering some security fundamentals at the last minute," says Patrick Skinner, director of special projects for the Soufan Group and a former CIA case officer specialising in counterterrorism. "You want to roll that out in stages and see how it goes and work it out, because even in the greatest bureaucracy there are going to be a lot of glitches." He adds that fixing security problems two weeks before the Olympics is "a recipe for disaster".
Other cities that have hosted the Olympics have had ample experience with terrorism. Far-left terrorists set off bombs in Athens just a few months before the Games there in 2004, and Russia was also recovering from domestic bomb attacks in the run-up to the Sochi Winter Olympics in 2014.
Skinner notes that, as with most Summer Olympics, the geography of the 2016 Rio Games is sprawling and "there will be no shortage of targets [because] what terrorists are looking for is crowds, from bars to beaches".
David Schanzer, director of the Triangle Center on Terrorism and Homeland Security at Duke University in North Carolina, says a good Olympic security plan should include "having people on hand who can be flexible, field emergency units on hand who are able to respond, and clear communication".
Whether Brazil will have everything it needs is not clear. Officials at the Health Secretariat of Rio said that certain hospitals were earmarked to receive Olympic visitors, but many of those facilities are located far from competition sites. For example, people needing serious medical attention while at the events along Copacabana beach will be transported to a hospital in Gavea, which is close to a half-hour trip away on an ordinary day.
Security secretary Beltrame emphasises that in recent years Brazil has hosted a series of major international events with few security problems, from the Rio+20 climate change conference to the World Cup. But even though they may not fret about terrorism on a day-to-day basis, many Brazilians fear that their country is ill-prepared for its possibility.
"I wasn't worried before the Nice attacks," says 28-year-old Marilia Domingues, a medical resident in Rio, referring to the recent massacre of 84 people by a Tunisian-born man who drove a truck into a crowded promenade in the French city. "But now, I think about how crowded the sidewalks here are during the World Cup or Carnival or New Year's, how every bar and every restaurant is full, and I can't help but think, how hard could it be to drive a truck into a crowd in Rio?"
© Washington Post
Join our new commenting forum
Join thought-provoking conversations, follow other Independent readers and see their replies