Rivals turn on Perry as debate cuts up rough
Michele Bachmann condemned him for ordering the vaccination of 12-year-old girls against the HPV virus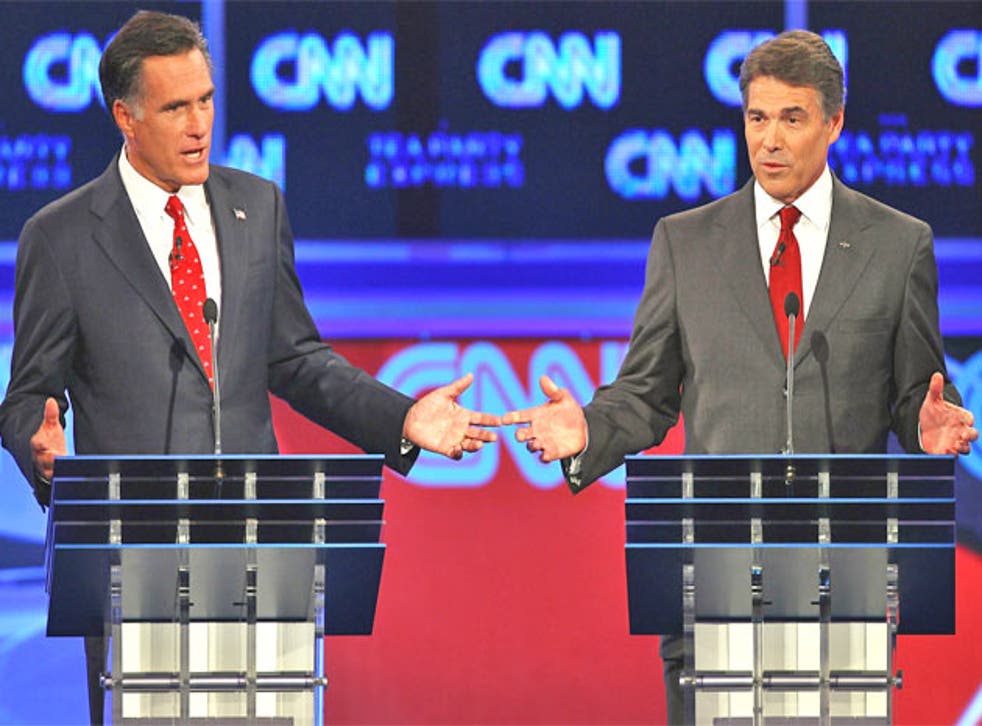 The pack seeking the Republican nomination spent yesterday attending to the bruises received during a querulous televised debate with the front-runner Rick Perry emerging the most roughed up, notably over his views on the Social Security and his record as Governor of Texas.
If being attacked by everyone else on the stage is the natural cost of being the front-runner, the Monday night debate in Tampa, Florida, may nonetheless have helped expose weaknesses in the grinning Perry façade that may not easily be patched up. More than once he was booed by an audience that was heavily stacked with Tea Party activists.
Leading the attacks on Mr Perry, who has soared in the polls since declaring early last month, was Mitt Romney. Eager to reclaim his lost front-runner status, the former Governor of Massachusetts assailed him for having compared Social Security, the fund that pays pensions in the US, to a Ponzi scheme and suggesting it be scrapped.
But perhaps even more troublesome for the Texas Governor will be the executive order he gave obliging 12-year-old girls in his state to be vaccinated against the sexually-transmitted HPV virus. On that topic, the main running against him was made by Michele Bachmann, who in recent weeks has seen a grave sagging of support.
"To have innocent little 12-year-old girls be forced to have a government injection through an executive order is just wrong," Ms Bachmann said, before doing more damage by pointing out that Mr Perry had received a campaign donation from the top lobbyist of the pharmaceutical company that makes the vaccinations. Mr Perry's record of doling out favours to big donors in Texas is another area where dangers may lurk.
The race for the nomination has become super-heated as Republicans are beginning to calculate that whoever is chosen might have a real shot at denying President Barack Obama a second term. The greatest challenge for Mr Perry will be soothing fears that he may be too conservative to win the general election. For Mr Romney it will be to demonstrate that Mr Perry's views make him too risky as the party's choice.
The woes of Mr Obama, which are mostly traceable to the sputtering recovery, may seem deeper than ever this morning after votes are counted in a special New York election to replace the former Democrat Congressman Anthony Weiner, who was forced to resign over inappropriate Facebook postings. The district in New York City has voted Democrat for over 80 years, but there are signs that this time it may go to the Republicans. Mr Perry also came under scrutiny on Monday for suggesting that building a fence along the US-Mexican border is not the answer to illegal immigration, and for approving tuition aid for the children of illegal immigrants attending Texas schools.
Mr Romney echoed others on the stage in suggesting that Mr Perry cannot be given all the credit for the economic success of his state , particularly in the area of job creation. When Mr Perry took over in 2000 he found a state with no local income tax, vast energy reserves, as well a state legislature and a Supreme Court already controlled by Republicans.
"If you're dealt four aces, that doesn't make you, necessarily, a great poker player," he said.
Book embarrasses Palin
Bristol Palin was so angry about her mother's pregnancy with son Trig that she also wanted to get pregnant, according to her former boyfriend Levi Johnston, who has written a book to cash in on his time with the Palin family.
Johnston says that when Bristol found out her mother, former Alaska Governor Sarah Palin, was expecting a baby she responded that she should be having a baby, not her mother. He says she told him in March 2008: "Let's get pregnant."
He also says Palin, who is still to reveal if she will challenge for the Republican presidential nomination, wanted to be called Mommy Sarah, not grandma.
In Bristol Palin's own book, she says she lost her virginity to Johnston on a camping trip. Johnston claims Sarah Palin also had an idea to adopt Bristol's baby to "avoid a scandal" but the young couple wouldn't allow it. AP
Register for free to continue reading
Registration is a free and easy way to support our truly independent journalism
By registering, you will also enjoy limited access to Premium articles, exclusive newsletters, commenting, and virtual events with our leading journalists
Already have an account? sign in
Register for free to continue reading
Registration is a free and easy way to support our truly independent journalism
By registering, you will also enjoy limited access to Premium articles, exclusive newsletters, commenting, and virtual events with our leading journalists
Already have an account? sign in
Join our new commenting forum
Join thought-provoking conversations, follow other Independent readers and see their replies